* Center Square…
House Minority Leader Jim Durkin, alongside Chicago Fraternal Order of Police President John Catanzara and former Chicago Police Department Officer Robert Mizera, criticized Gov. J.B. Pritzker at a Tuesday news conference for his handling of the Prisoner Review Board.

Mizera, a former CPD officer, was shot and injured by Kensley Hawkins in 1980. Hawkins later would be convicted of the murder of a 65-year-old man and was sentenced to almost 100 years in prison.

He is now out of prison after being commuted by Pritzker and his appointed Illinois Prisoner Review Board.

"Mr. Hawkins was zealously represented by Department Counsel Lisa Schoedel at Jenner & Block, as part of [Illinois Prison Project's] pro bono program," an April 28 statement from Jenner & Block said. "Ms. Schoedel's commitment and dedication to Mr. Hawkins and his case paid off: Last week, she received a call from the Illinois Governor's Office, telling her that Mr. Hawkins would be coming home."

Mizera said he learned of his attacker's release via an email and has had no further discussion with Pritzker or his administration about the decision.

"On April 22nd, 2021, I was informed by email that Mr. Hawkins had been released from prison with no reason given," Mizera said at Tuesday's news conference. "The governor did not call me, he did not ask me what I thought and he probably did not care, so that's my dealing with Governor Pritzker and his release of people who obviously should still be in prison."

Catanzara asked the residents of Illinois to think about what would happen to them in this situation.

"If an officer cannot get justice, and their families cannot get justice, what does the average person think is going to happen to the monsters that murder their loved ones?" Catanzara said.

Durkin, R-Western Springs, called the clemency a sign of disrespect to law enforcement.

"Today I am here to talk about Governor Pritzker's continuing lack of respect and continuing attack on our police officers, those currently on the force and those who have already served, and the victims of crime in this state," Durkin said.

Pritzker has granted clemency to more than 20 individuals previously convicted of crimes since taking office.
I emailed Durkin's spokesperson to ask if Hawkins had been arrested since his release more than a year ago. No reply.
* From the governor's office…
The leader of the Republican Party standing with a racist zealot spewing lie after lie while using racist language like "savages" is unfortunately the new norm. If Leader Durkin truly cared about making our state a safer place to live, he would have voted to provide funding for more Illinois State Troopers, to build and staff a new crime lab to process evidence, and expand violence interruption programs. While Leader Durkin continues to lie about what the criminal justice reform bill does, advocates for survivors who worked on the law say "it increases safety for survivors." Gov. Pritzker is focused on solutions, not tired talking points.

BACKGROUND

Kensley Hawkins spent 40 years in prison after being convicted of attempted murder based on the conduct of his co-defendant under the theory of accountability. He was 70 years old with a number of health conditions at the time he was granted parole.

From advocates who worked on the bill: https://www.sj-r.com/story/opinion/columns/guest/2021/04/24/opinion-end-cash-bail-good-illinois-survivors/7343437002/

• "That's not what we consider advocating for survivors, nor is the tendency of some law enforcement officials to use survivors as an excuse to justify total opposition to reform, all the while ignoring the lived experiences that informed these structural changes.

Contrary to the false arguments advanced by opponents, the new pretrial system will not simply release every person arrested for a crime. For example, it will ensure people held for forcible felonies, including domestic or sexual violence, are kept for up to 48 hours. It will give the state time to gather information about whether someone poses a threat to others. It is a welcome reform to the current practice of releasing people who can pay the bond with minimal regard for the threat they may pose to survivors."




In @Rep_Mazzochi's district a person abusing his wife was arrested & released immediately- even though he owns firearms. This practice will end under the #PretrialFairnessAct -with 24 hr detention required. #thisiswhatsafetylookslike cc: @endmoneybond https://t.co/NddydUJLkB

— The Network: Advocating Against Domestic Violence (@CMBWNTheNetwork) January 20, 2022

The end of sexual harm includes the end of oppressive practices in the criminal legal system. As survivors and allies who advocate for victims' rights, CAASE wholeheartedly supports the PFA and will fight for its implementation. #EndMoneyBail #DefendPFA https://t.co/U2wMXbJAtM

— Chicago Alliance Against Sexual Exploitation (@TheCAASE) January 20, 2022

Who is John Catanzara?

• According to the Citizens Police Data Project, he has been the subject of 50 allegations — more than 96% of Chicago police officers.
• Once suspended for 30 days following an investigation into allegations of domestic abuse in 2003.
• Reprimanded following an investigation into an allegation of excessive force in 2003.
• Suspended for six days following an investigation into allegations of conduct unbecoming an officer by associating with a felon while off-duty in 2003.
• Suspended for 20 days following an investigation into allegations of conduct unbecoming by associating with a felon while off-duty in 2004.
• Suspended for 10 days for insubordination in 2005.
• Suspended for 15 days following an investigation into an allegation of a personnel violation at an Old Town tavern in 2007.
• Suspended for 20 days after the Chicago Police Board found him guilty of violating department rules by working as a private security guard while on medical leave for a back injury in 2008. Supt. Garry McCarthy had sought to fire him.
• According to the Chicago Tribune, then-Police Supt. Jody Weis sought to fire Catanzara in 2008, accusing him of failing to follow orders to complete a psychological exam, but the Chicago Police Board cleared Catanzara of wrongdoing.
• Suspended for 10 days following an investigation into miscellaneous personnel violations in 2013.
* Durkin "savages" quote…
There is a provision in [the SAFE-T Act] which for the first time is going to allow a defendant, a defendant to be able to compel the victim of crime to appear at a detention hearing starting January 1. … We have a responsibility to protect victims, not to feed them to the savages, is what JB Pritzker and the Democrats have done under this legislation.
…Adding… From a contemporaneous news report…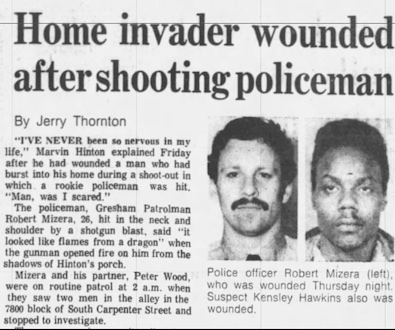 * And a debunking of Durkin's actual claim…
At a press conference today, opponents to the #PretrialFairnessAct used gender-based violence victims to make false and repeated claims. The fact is that the PFA makes it *harder* for defense attorneys to call victims to the witness stand in detention hearings. #twill pic.twitter.com/i8AMtaF10l

— Chicago Alliance Against Sexual Exploitation (@TheCAASE) February 9, 2022
* Statement from the Illinois Prison Project…
The Illinois Prison Project represented Kensley Hawkins in his clemency petition alongside Jenner & Block through our pro bono program. It's no surprise proponents of failed, carceral policies would rather resort to racist dog whistles and political grandstanding than engage with substantive, evidence-based solutions that actually make our communities safer.

Mr. Hawkins was released in April 2021, just six years short of his estimated release date, after having spent almost four decades behind bars. His medical conditions put him at an increased risk of death from COVID-19 at a time when the virus had already infected tens of thousands of people in Illinois prisons.

Mr. Hawkins was convicted under the controversial theory of accountability, a legal doctrine that allows for a person to be convicted of a crime they not only didn't commit but also didn't plan, agree, or intend to commit, and at which they were not even present.

He has not been arrested since his release more than a year ago. You can watch Mr. Hawkins share his story here.
47 Comments












































































































































Sorry, comments for this post are now closed.