* Click the pic, which was taken at a Darren Bailey bus tour event, and you'll see the signs are paid for by both Mary Miller's and Bailey's campaigns…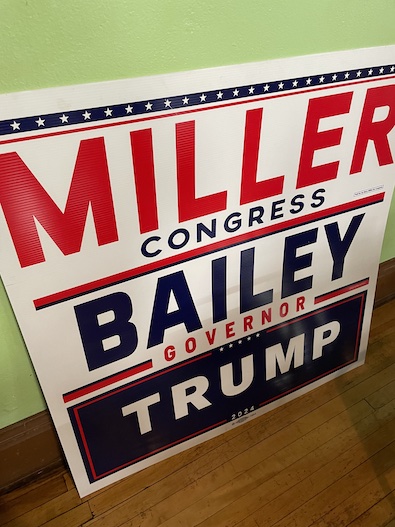 The signs are also out in the wild, I'm told.
Man, if Bailey doesn't get this Trump endorsement in Quincy later this month, a whole lot of folks are going to be bummed out, and not just among his faithful followers, if you catch the drift.
But if he does get it, the coverage will likely drown out everything else until primary day.
* Meanwhile, from the DGA…
Ultra-Conservative Darren Bailey Becomes Clear Front-Runner in GOP Race for Illinois Governor

With less than two weeks until the primary, far-right extremist Darren Bailey has broken into a commanding lead, becoming the clear front-runner in the Republican race for Illinois governor.

Today, a new independent poll showed Bailey up by a whopping 18 points — the fourth poll to show him leading the pack in the past couple of weeks. Add that to last night's endorsement from uber-conservative Congresswoman Mary Miller and former Trump advisor Steve Cortes' company on the campaign trail, and Bailey seems to be clearing a path to the nomination.

Meanwhile, Richard Irvin — best known for dodged questions, corrupt pay-to-play deals, and half-truths — has flailed for weeks, but these lagging numbers may be the final nail in the coffin. With the primary just days away, Irvin's praying for a miracle to even come close to making up Bailey's huge lead.

"The numbers don't lie. With just days to go until the primary, ultra-conservative Darren Bailey is clearly the front-runner in the race for governor — and his lead is only growing," said DGA Illinois Press Secretary Yael Sheinfeld. "A Governor Darren Bailey is a danger to Illinoisans everywhere. With his far-right extremist stances on everything from abortion to guns to COVID, Darren Bailey is far too conservative for our state."
38 Comments »

















































































































This is not Facebook, so uncivil comments, profanity of any kind, rumors and anonymous commenters will not be tolerated and will likely result in banishment.