* Tom DeVore added the red highlighting on this piece when he posted it to Facebook and thanked the Democratic Party of Illinois for the exposure. This primary just gets weirder and weirder by the day, man…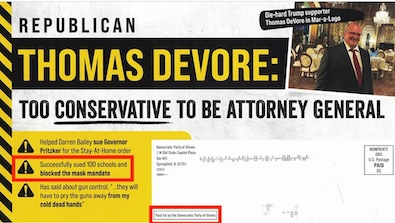 The governor and DPI are empowering the Republican fringe. Hope that doesn't backfire on them.
…Adding… From the Steve Kim campaign…
Illinois Democrats began sending mail pieces today in an effort to promote Steve Kim's primary opponent, a downstate lawyer embroiled in personal lawsuits and character questions. In what has become a habit for JB Pritzker and his Democrat allies, they are meddling in another Republican primary to get the nominee who is easier to beat in November.

Steve Kim is the biggest threat to Kwame Raoul's incumbency, and JB Pritzker knows it. An experienced attorney, Steve isn't afraid to take on the corrupt political machine that Illinois Democrats have cultivated for decades.
* More outside money boosting Mary Miller and dinging Rodney Davis…
NEW FEC F24
CLUB FOR GROWTH ACTION
$386,222-> #IL15https://t.co/5k099puMxH pic.twitter.com/iJIbB6b1O4

— CATargetAlt (@CATargetAlt) June 21, 2022
* 2019 story about Mary Miller's first congressional race…
Gray is one of six Republicans and four Democrats who filed for the post. One of the other Republicans is Mary Miller, wife of state Rep. Chris Miller, R-Oakland. Rep. Miller was at the Statehouse on Wednesday and had a quick answer when asked why his wife would be better for the district than Gray.

"The biggest thing is, she actually lives in the district that she's running for," Miller said. "That's always a bonus. She's lived there for 40 years and knows the people there."

One entry in Gray's resume is being Trump's Illinois and Missouri state director leading up to the 2016 primaries. That didn't sway Rep. Miller, who said living outside the district would be a political "death sentence."

"I think the old term was carpetbagger," he said.
Rodney Davis campaign today…
"Politician Mary Miller is a carpetbagger because she's running in a district she doesn't live in, and Mary's husband Chris agrees. He attacked another Republican not too long ago for being a 'carpetbagger' since they didn't live in the district, also calling it a political 'death sentence.' Chris Miller says a lot of things, but he's right on this issue. Mary Miller just wants to be in Congress. She doesn't care about her community since she's abandoning her neighbors and most of her constituents to run somewhere else. Rodney Davis is the only Republican candidate in the 15th District who actually lives in the 15th District." - Aaron DeGroot, Davis campaign spokesperson
* Snarky email…
Hi Rich,

Newman got endorsed by her Field Director, Ben Goldberg along with 11 other former Warren volunteers.

This could shake up the race in the closing days.
* Click here for the full report. NALEO…
The National Association of Latino Elected and Appointed Officials (NALEO) Educational Fund today released its 2022 Illinois and Chicago Latino Voter Profile, offering a comprehensive analysis of the Latino electorate in Illinois and Chicago — including demographic trends and population growth. With the Illinois Primary taking place next week on June 28, the profile examines the political factors shaping the state's Latino electorate, such as the outcome of the 2020 Census and the recent redistricting. The profile also includes projections of how the Illinois Latino population is expected to show up to the polls for the state's November elections.

According to the projections, more than 353,000 Latinos in Illinois will be casting ballots this November, mirroring 2018's historic turnout numbers and marking a 62.2 percent increase from 2014. In addition, Illinois' Latino voters are expected to be younger than non-Latino voters, with 18–24-year-olds comprising 15 percent of registered Latinos, compared to 7 percent of non-Latinos. Similarly, 25 percent of Latino registered voters are 25–34-year-olds, compared to 16 percent of non-Latinos.

"Latino candidates are poised to make history in November, with the prospect of two Latinos being elected to Illinois' congressional delegation for the first time," said NALEO Educational Fund CEO Arturo Vargas. "Latino turnout may build on the momentum of past political seasons like that of 2018, but this momentum will not be sustained without early and robust engagement of Latino voters by candidates and campaigns. Latinos value electoral participation and care about the people who represent them, and it is critical that those seeking their votes address the community's needs and priorities.

Key Findings Include:

• More than 353,000 Latinos in Illinois will cast their ballots in November 2022, marking a 62.2 percent increase from 2014.
• The Latino share of all Illinois voters in 2022 is expected to be 7.9 percent, which mirrors the Latino share in both 2018 and 2014.
• Twelve percent of voting-age citizens in Illinois are Latino.
• Latino registered voters in Illinois tend to be younger than non-Latinos, with 18–24-year-olds comprising 15 percent of registered Latinos, compared to 7 percent of non-Latinos. Similarly, 25 percent of Latino registered voters are 25–34-year-olds, compared to 16 percent of non-Latinos.
• Between 2010 and 2020, Illinois' population decreased from 12.83 million to 12.81 million, decreasing 0.1 percent. During the same period, the state's Latino population grew from 2 million to 2.3 million, increasing 15.3 percent. By comparison, the state's non-Latino population decreased by 3.0 percent.
• In 2021, 134 Latinos served in elected office in Illinois — with 87 percent serving at the local level, including county, municipal, school board, and judicial officials.

Several factors will further shape the political landscape for Illinois' midterm elections, including the redistricting that followed Census 2020, the competitiveness of congressional and statewide contests, and the effectiveness of voter engagement efforts targeting the Latino community.
* Press release…
With less than one week left until the June 28th primary, Liz Brown-Reeves, candidate for 15th Democratic State Central Committeeman, is finishing strong with major endorsements and union support.

"There is no one in the 15th Congressional District who better represents the values of Democrats and can position our party for success during these uncertain times, and that is why I am proudly endorsing my good friend Liz Brown-Reeves for Democratic Central Committeeman," said former State Senator Andy Manar. "I have known Liz for twenty-two years, and in that time she has fought tirelessly to get things done in the statehouse on behalf of working families and organized labor. From running campaigns to fundraising for candidates up and down the ballot, she has the experience we need right now when so much is at stake for both our party and our democracy."

As part of his endorsement, Manar contributed $30,000 in support of Liz's campaign.

Manar joins the long list of supporters for Liz Brown-Reeves's campaign including:
Governor JB Pritzker
Secretary of State Jesse White
Former Congressman Jerry Costello
Assistant Majority Leader Representative Jay Hoffman
Senator Doris Turner
Former State Representative Julie Curry
UA (Plumbers & Pipefitters) Illinois PAC
IBEW Local 15
Painters District Council 14
Laborer's (LIUNA) Midwest Union
Police Benevolent & Protective Association
Mid-America Carpenters
Chicago Land Operators & Joiners
SMART Union

"I am so humbled and excited to receive the endorsement of former Senator Manar. No one has done more for the citizens of downstate Illinois than Andy," said Liz Brown-Reeves. "Organized labor has also been the backbone of my career and I would not be where I am today without the partnership and support of unions throughout Illinois."
* Sad news…
John Fritts, former Lee County treasurer and campaign manager for a his cousin, 74th District candidate Bradley J. Fritts, died Monday in a two-car crash in rural La Salle County near Earlville. […]

"John, who was managing Brad's campaign for Illinois State Representative, was killed in a car accident in Earlville, IL Monday afternoon. Several family members were also in the car and Brad was sent to the hospital with non-life threatening injuries.

"Please keep the family in your prayers as they deal with this sudden tragedy. John is known best for his smile. We love him very much."
* More…
46 Comments









































































































































Sorry, comments for this post are now closed.