* Jonathan Jackson finally released his disclosure report…
IN-PERSON MEDIA AVAILABILITY: 2 p.m. TODAY

Jacqui Collins Available In-Person to Comment on Jonathan Jackson's Problematic and Unethical Financial Conflicts

After hiding his financial disclosure report for weeks and finally filing it late, direct investments include: oil and gas, Raytheon, Blackstone, big pharma

Who: State Senator Jacqui Collins (D-Chicago)

What: Jacqui Collins is available to provide comments and take questions about Jonathan Jackson's financial disclosure report linked here showcasing investments that no member of Congress should have – especially a Democrat.

After hiding his financial disclosure report for weeks and finally filing it just days before Election Day, direct investments include: oil and gas, defense contractor Raytheon, affordable housing crisis perpetrator and Trump-funding Blackstone, big pharma, Amazon and Wal-Mart.
Also, if you check Jackson's campaign "Issues" page, at the top of the list is crypto. Hmm.
* All you probably need to know about this candidate in one endorsement…
Grassroots organization, Stand for Health Freedom, endorses Judge John A. Noverini and calls all voters in the Illinois Supreme Court District 2 to vote for Noverini in the Republican Primary on June 28th.

The organization published on its website and social media accounts that "Stand for Health Freedom supports candidates who make and protect policy to support individual and family choice in matters of health and bodily autonomy. We believe John Noverini will defend and expand these rights for Illinois residents … Judge Noverini says he is fully committed to doing everything within his power as a Justice on the Illinois Supreme Court to make sure government works as it was originally intended – limited in scope and in accordance with the Constitution." Stand for Health Freedom was established in 2019 and has been dedicated to the facilitation of protecting human, parental and Constitutional rights. SHF encourages communication between constituents and their elected officials.

"My calling has always been, and will remain, to defend the Constitution and safeguard our God-given liberties," Noverini said. "Every morning before I walk into court, I pray for wisdom. I pray for Godly wisdom. And I remind myself that it is my job to preserve, protect, and defend the Constitution."
* Meanwhile…
Today, the Lake County Federation of Teachers, AFT Local 504, announced its endorsement of Judge Elizabeth Rochford for the Illinois Supreme Court's Second District. The union represents over 5,500 teachers, school-related personnel and support staff in twenty-two councils located throughout Lake County, and is a member of the Illinois Federation of Teachers.
* Club for Growth backing Lauf…
Club for Growth PAC endorsed Catalina Lauf for Illinois' 11th Congressional District.

"Over the past few years, Democrats have run Illinois into the ground and that's why it's so important that we elect conservatives like Catalina Lauf to help turn the state around," said Club for Growth PAC President David McIntosh. "Lauf is a true free-market conservative who will fight back against Joe Biden's stimulus spending that has led to runaway inflation and she will fight for school choice and Illinois families. She is a great Hispanic conservative and the perfect candidate to help bring jobs and economic prosperity back to Illinois."

Current Democrat Representative Bill Foster (CFGF Lifetime Rating 8%) is running for re-election.
* Speaking of Club for Growth and outside money…
NEW FEC F24
CLUB FOR GROWTH ACTION
$146,279-> #IL15https://t.co/cJHqEocGqJ pic.twitter.com/ed1q6M0×1k

— CATargetAlt (@CATargetAlt) June 22, 2022
NEW FEC F24
CONSERVATIVE OUTSIDER PAC INC
$414,429-> #IL15https://t.co/S4vYb8BLcW pic.twitter.com/r5bg3×27j2

— CATargetAlt (@CATargetAlt) June 23, 2022
NEW FEC F24
STRONG LEADERS FUND
$538,643-> #IL15https://t.co/hFMl3PZpz6 pic.twitter.com/55v7sfErN4

— CATargetAlt (@CATargetAlt) June 23, 2022
* Kinda like shooting political bullets at a dead political horse, but whatevs. Tribune with some late oppo…
When Richard Irvin became mayor of Aurora five years ago, he named Michael Pegues — a close childhood friend — as one of his most trusted aides at Aurora City Hall.

In addition to naming Pegues as Aurora's chief information officer, Irvin also empowered him to help run OnLight Aurora, a quasi-city agency that managed and sold access to government-owned, high-speed internet lines.

But by 2018, Pegues' leadership came under scrutiny. Records show that, while he was chairman of OnLight's board, it sponsored events for his wife's upstart business. And two contractors told police that Pegues fired them for not paying to sponsor his wife's events.
* An interesting take…
The Madigan factor also weighs heavily in Addison Democratic Rep. Kathleen Willis' bid for a sixth term representing the 77th House District, which spans portions of west suburban Cook and DuPage counties.

Willis, 60, became majority conference chair under Madigan and regularly used her campaign fund to help candidates in key races for House Democrats.

But Willis was among the 19 House Democrats who came together in January 2021 to oppose Madigan's reelection as speaker. The lone member of House leadership to take that stand, Willis also briefly put herself into consideration to be the next speaker.

Nonetheless, her long-standing relationship with Madigan has helped inspire a challenge from Triton College trustee Norma Hernandez, 31, who has the backing of progressive U.S. Rep. Jesus "Chuy" Garcia.

"I honestly think that the reason I have a primary is because of that," Willis said. "And I tell the people in my district I'm asking for their support to prove that I did the right thing by going against Madigan."
Garcia likely isn't backing Hernandez for that reason, but it's true that some trade unions are still upset at her for that flip, among other things.
* Personal PAC…
Dear Rich,

The critical upcoming 2022 Illinois election that our state is facing hits on a deeper note to State Representative candidate Gregg Johnson. Gregg lost his mother when he was just eight years old.

Until news of the leaked draft ruling to overturn Roe v. Wade, Gregg "was always secure in the fact that no other eight-year-old boy was going to go through this. So, that was a gut punch."

Gregg's mother, Shirley Hunter Johnson, was single and pregnant with her fourth child when she passed away in 1972 due to a medical condition called severe preeclampsia. This condition made her pregnancy very risky to carry to term and because of the lack of abortion access in a pre-Roe v. Wade world, Shirley and her family suffered exponential consequences.

Gregg is running for State Representative in the 72nd district to fight to protect reproductive rights, stand up for others, and make sure nothing like what happened to him and his family can happen again.

You can read more about Gregg's story here.

Finally, please remind everyone you know to get out and vote for pro-choice candidates fighting for our reproductive freedom, and to ensure that we never go back to the days of unnecessary tragedies. You can view our full list of endorsed pro-choice candidates here.
* Looks like some shenanigans are afoot…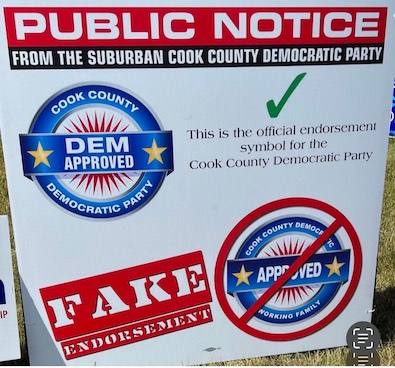 * On the left, Darren Bailey. On the right, Illinois Republican House candidate Matthew Rauschert…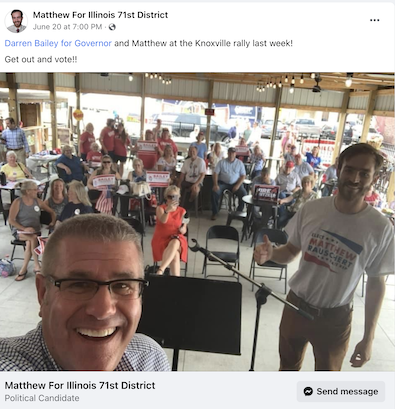 Thanks to the magic of opposition research, click here for an interesting little Rauschert video. Nice Coke shirt, dude. /s
* More…
* Rep. Tarver, seeking another term, lays out accomplishments, positions and character
19 Comments
























































Sorry, comments for this post are now closed.