* Greg Bishop scored an interview with former President Donald Trump ahead of his Quincy visit. Greg's first question was "Why endorse Congresswoman Mary Miller over Congressman Rodney Davis?"…
Well, she's somebody I've gotten to know. She's a high quality person. She's been all for me all the way. And you know, you have to remember that, and that she's just a very good person and a very MAGA person. And I said I'd do it a long time ago. Rodney said some very negative things about me at points. And I said, 'Well, you know, you got to remember that also.' And Mary's been just terrific, a tremendous supporter.
Please pardon all transcription errors.
* "Among the Republicans running, which do you think is going to pose the greatest challenge to the Democratic incumbent Gov. JB Pritzker?"…
Well, it would look like Bailey, I haven't made an endorsement, but he's doing a good job. A lot of people are liking him. And I think that, you know, he would potentially have a shot. Pritzker has been a terrible, terrible governor. He has done such a bad job, and with the lock-downs, and with everything else that you would know better than anybody. But I think maybe Bailey would be the one. I don't know how the polls are. But he seems to be formidable and could maybe give it a good shot. Because, you know, it's a little bit hard to win up there for a Republican in that way. So let's see what happens. But I think Bailey, maybe.
* While we're on this fall election topic, check out this extremely odd "polling memo" that I cannot believe an actual reporter fell for…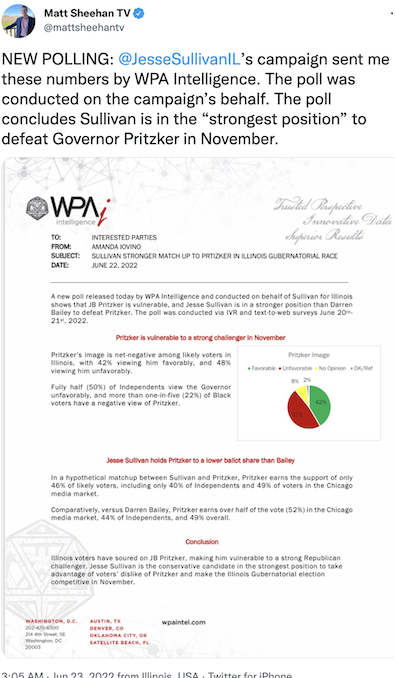 The pollster does a matchup between Pritzker and Sullivan without even disclosing Sullivan's numbers, and only reveals Pritzker's numbers in the Chicago media market in comparison to Bailey. What? I'm thinking the Downstate numbers might be different.
That whole polling memo should've been dismissed out of hand. It's a disgrace. Sullivan is obviously trying anything to convince people he's surging, but I've yet to see any hard numbers to support that claim, or even hear about them. And if Sullivan had those numbers, he'd surely release them. And those most def ain't it.
19 Comments
























































Sorry, comments for this post are now closed.