* I've grumbled about how, while covering him a little, the Chicago political media has mostly ignored Darren Bailey's candidacy or given it short shrift, up to and including some folks buying into a "Sullivan surge" claim that hasn't yet been shown to be even close to true.
This story looks like it could've been written three weeks ago, but the race has now become a battle of a Trump-backed candidate vs. the non-Trump candidates…
The Republican primary for Illinois governor on Tuesday is shaping up to be a battle of billionaires trying to determine the face of the party in a Democrat-controlled state.
I mean, how many polls showing Irvin in third place do we need to see? And Sullivan's billionaire backers aren't even mentioned. Same goes for this AP story. The current second-place contestant also has billionaires behind him, but that is completely ignored.
"I am endorsed by all of the pro-life and pro-family groups here in Illinois," he said, adding that if he is elected and Republicans regain the state legislative majority, taxpayer-funded abortions will stop "immediately."

"Here in Illinois, a 12-year-old can get an abortion without her parents knowing anything about it," Bailey said. "We will fight to end that. Interestingly enough, as Cindy and I have traveled the state and gotten to know many good people in Chicago, especially getting into the churches, we've come upon a novel idea to make abortion unnecessary. We will begin involving churches, religious groups, civic organizations to give pregnant women real choices. And I'm looking forward to that and spearheading that to make abortion unnecessary under the current makeup and laws here."

Bailey said he will also fight against soft-on-crime leaders such as Chicago Mayor Lori Lightfoot, and he believes he has been propelled to the lead spot in the gubernatorial race because 3 years ago when he was elected to the House, he started pushing back against the establishment.

"I found out the establishment wasn't just the Democrats; but many times, it was people on our side of the aisle," Bailey said. "So I sued Gov. Pritzker in June of 2021 over these egregious lockdowns, and then that began to propel us and gave us some notoriety across the state."
He has some major intraparty fights left in him. And, as subscribers know, this is just one of them…
Watch for conservative Republican Darren Bailey to make a play to take over the Illinois GOP after tomorrow's primary. Playbook hears that move could come as soon as Wednesday — right after Bailey's expected victory in the six-man race for the party's nod for governor.
* Tribune with a bit of catchup…
As a member of the legislature, Bailey also has opposed LGBTQ rights, most recently contending that teaching children about the role the community has played in history in state-approved textbooks is "sexualizing kids" and forces "schools to indoctrinate our kids with their far-left ideology."

Bailey also has spoken in biblical terms of the decline of the family unit and the role of women and has called transgender rights "the moral rot that is destroying society."

"God, in His creation, He intended, you know, the family unit to be headed by the dad. The dad is supposed to be out, you know, teaching his children hard work, ethics, honesty and integrity," Bailey said in an April 4 interview on "Outside the Beltway."
* Sunday on Facebook…
We've been realizing that something is changing. And that something that's changing is the people are just getting sick and tired of being burdened by a failed government, especially a woke liberal government that seeks to just indoctrinate our children. It seeks to let criminals go scot free. It seeks to just push people who dream and want to work hard in this state, push them out. That's coming to an end. And I think despite our weather, I have hope and I'm going to make a statement that I believe Illinois will be a destination state very soon. So it's going to take a lot of work. I'm going to need your help. But I'm telling you we can do this.

So anyway, I'm going to, let me read and get you kinda in the mode. Since it's Sunday morning, please consider going to church somewhere wherever you're at. Just get on Google and Google 'a church near me' and find a place to go. Many churches have 10:30 and 11 o'clock in the morning worship services throughout the state. Some have three, two o'clock, three o'clock in the afternoon services and evening services. Friends, I've said this from day one, this is the purpose of the church, to come together. We are better together. If we come together, worship our Creator and just get energized for the week ahead, listening to His word, which is truth.
* Maybe some reporters will show up for tonight's event…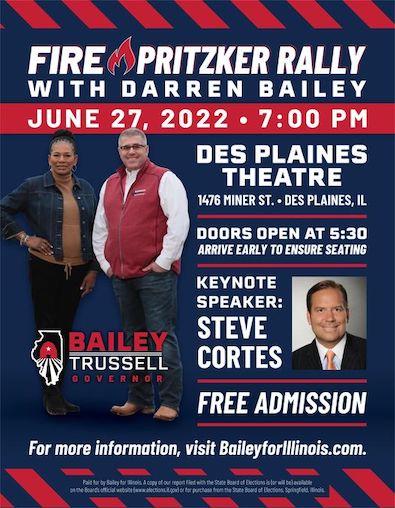 43 Comments
































































































































Sorry, comments for this post are now closed.