* CBS News…
Planned Parenthood of Illinois has been preparing for years in case Roe fell, building a facility in Waukegan (about eight miles from the Wisconsin border), and another near Indiana.

Speaking ahead of the Supreme Court's decision last Friday, MAC's executive director Diana Parker-Kafka said demand for her organization's services had already tripled this year. "Like, my phone's vibrating every five seconds now," she said.

And she worries that, without Roe, Illinois healthcare facilities would be stretched to capacity.

Diaz asked, "Do you expect people will have to be turned away?"

"Oh yeah. Yeah. There will be people that we won't be able to see through their abortion care that need it. And we're also thinking about plans on how to support those people."
Map…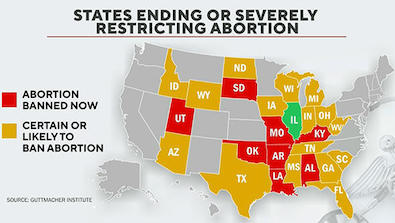 * The Tribune looks at the lay of the land in surrounding states…
Indiana
Republican legislative leaders said Friday they expected lawmakers to act on tightening Indiana's abortion laws during a special legislative session starting July 6, but gave no details about what restrictions would be considered. Gov. Holcomb earlier this week called the Legislature into a special session to take up a tax refund proposal, but state law allows legislators to consider any subject. […]

Kentucky
What's next: Abortion-rights activists say the suspension of abortion services in April foreshadowed what would happen in Kentucky and other Republican-leaning states if Roe v. Wade was overturned. It likely ends several legal challenges pending against other Kentucky abortion laws including a 2018 measure that abortion-rights supporters say would effectively ban a standard abortion method in the second trimester of pregnancy. The U.S. Supreme Court ruled in March that Kentucky's Republican attorney general, Daniel Cameron, can defend the measure that was struck down by lower courts. […]

Ohio
What's next: It is not clear what will happen next in Ohio. Activists are considering how to help Ohioans get abortions elsewhere. They may also mount a statewide ballot initiative that would embed the right to an abortion in the state constitution, though that could not happen before next year. Abortion opponents are weighing strategies for imposing a statewide abortion ban if Roe is overturned.
* More on Indiana from WLS TV…
Indiana Governor Eric Holcomb is calling the General Assembly back on July 6 and expects members to take up an abortion ban then, saying, "I have been clear in stating I am pro-life. We have an opportunity to make progress in protecting the sanctity of life, and that's exactly what we will do."
* NPR looks at California…
State lawmakers' proposed Abortion Practical Support Fund would help by providing grants to nonprofits like Access Reproductive Justice or Planned Parenthood, which can then be used to help people, in state and out-of-state, pay for logistical costs, including airfare, taxis, gas money, childcare, or translation services. They can also be used to fund the work of staffers such as abortion navigators, or volunteer coordinators like Gray.

Local anti-abortion activists oppose the proposal.

"We're calling it 'abortion tourism,'" says Greg Burt, a Sacramento-based advocate with the California Family Council. "Come to California, go to the beach, get your abortion done and we'll pay for it, by the taxpayer."
* Tribune…
More than 45,000 people received abortions in Illinois in 2020, according to the most recent data available from the Illinois Department of Public Health.

Most of those who got abortions in Illinois were residents, with 36,000 patients from counties across the state. Yet, the majority of in-state patients were from a select few counties in the northeastern part of the state near Chicago — Cook, DuPage, Will and Lake — as well as St. Clair County near St. Louis.
That's where most of the people and the clinics are…
There are 17 Planned Parenthood of Illinois clinics in Illinois that provide medicated abortion, said Mary Jane Maharry, interim director of marketing and communications for PPIL. Only six of those are outside the Chicagoland area: Bloomington, Champaign, Decatur, Ottawa, Peoria and Springfield.

Surgical abortion is less available, however. The closest Planned Parenthood locations providing in-clinic abortions to Peoria is Springfield, while the closest to Rockford is Aurora.
* The Republican gubernatorial candidates…
Irvin, Sullivan, and Schimpf also support abortion in cases of rape and incest. Rabine does not.

After repeated attempts for clarification, Bailey's campaign manager didn't directly answer the question about abortion in cases rape or incest, but would only say Bailey would back legislation supporting the expectant mother and saving unborn lives.
* Tribune on the November political angle…
The court's ruling is likely to have a minimal effect on Tuesday's primary in Illinois, where voters choose partisan ballots. It will likely resound more strongly in the November general election, when each party will work to galvanize its base while also trying to sway independent voters.

As always, a key factor in the fall will be the vote of socially moderate and fiscally conservative suburban women. Democrats will portray the ruling as a Republican-led attack on women's rights as well as their right to privacy, and also a precursor for attempts to restrict other rights such as same-sex marriage and legal protections for the LGBTQ community.

With Democrats facing election headwinds on the economy, crime and political corruption, Pritzker said he thinks the court's decision will rally voters behind his party.

"A strong majority people in the state of Illinois are pro-choice," he said. "I believe that people are going to come out and vote in very big numbers to protect their individual rights."
* WLDS…
Jacksonville State Representative C.D. Davidsmeyer blasted Governor J.B. Pritzker for calling a special session of the General Assembly to work on codifying abortion rights into state law. Pritzker called for the special session in the wake of the U.S. Supreme Court's repeal of the 1973 Roe v. Wade decision. Pritzker hasn't talked about exact specifics of what he wants lawmakers to put into law after the repeal.

Davidsmeyer says the State of Illinois needs to work on issues that aren't already settled: "Illinois is a destination for abortion already. The Democrats have already legalized everything that they can possibly do with abortion including: taxpayer-funded elective abortions, as well as a 12-year old being able to go into their doctor and get an abortion without even notifying their parents. Illinois is going to waste money – hundreds of thousands of dollars – to come back [to session] for something like this when Downstate communities are talking about having rolling brown outs because of lack of energy; we've got $5 gasoline; we've got inflation going through the roof…and we're going to bring back a special session so that the governor and the Democrats can make a special point about an issue that the State of Illinois has already decided. I think it's absolutely ridiculous that we are wasting this time and money."
* Better Government Association President David Greising on WBBM over the weekend…
Special sessions are a big deal. Last summer Pritzker denied calls for one focused on ethics. He also hasn't held one to address the state's woeful finances. Some will say Pritzker's call for a special session is political posturing. When we see the agenda he lays out, we'll learn if they're right.
Woeful finances?
* More…
29 Comments






















































































Sorry, comments for this post are now closed.