* Gov. JB Pritzker has contributed $2.4 million to other campaigns and committees this June. $1.5 million of that went to the Democratic Party of Illinois, likely for stuff like this…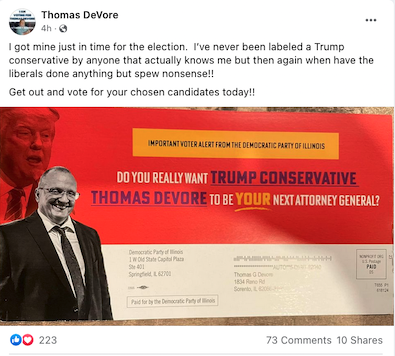 Such an odd person.
* Lynn Sweet…
In the 1st Congressional District — the crowded Democratic primary to replace retiring Rep. Bobby Rush — a surprise last minute surge of outside money — $823,122, according to Federal Election Commission reports — was spent to elect Karin Norington-Reaves, who is backed by Rush. Last week, I reported how crypto currency interests put in a combined $1,092,561 to bolster Jonathan Jackson.

Most of the independent expenditures for Norington-Reaves — some $758,000 of the total — comes from a shadowy political action committee called Forward Progress, whose donors and organizers are not known. The rest of the outside spend for Norington-Reaves, $65,122, came from the Collective Super Pac, whose goal is, according to its website, "to create an America where Black people are equally represented at every level of government." […]

GOP mega donors from Illinois — Ken Griffin and Richard Uihlein — both players in the GOP governor primary — Griffin for Richard Irvin and Uihlein backing Darren Bailey — are also factors in the $12 million in outside expenditures spent in the Miller and Davis primary, where the independent expenditures are about evenly split.

Griffin is the sole donor to the Illinois Value PAC — and his $1. 5 million contribution was used mainly on ads to oppose Miller. Uihlein donated $3 million to the Club for Growth Action fund between April and May; the group spent $2.5 million to help elect Miller.
Lynn has the outside spending in other races, too, so click here.
* Center Square…
Illinois statehouse Republicans that voted in 2019 to double the state's gas tax and include annual increases tied to inflation face challengers in Tuesday's GOP primary election.

The vote to double the gas tax in 2019 was bipartisan.

State Rep. Tim Butler, R-Springfield, supported the measure. Challenging Butler in the GOP primary is Kent Gray, who criticized Butler's support for the doubling of the gas tax that also included a parking excise tax.

"Rep. Tim Butler, if you drive a car, he's going to tax you as soon as it moves and he's going to tax you as soon as you stop," Gray said.

Butler defended his vote.

"I make no bones about the fact that infrastructure is one of the things in the state of Illinois that gives us a competitive advantage," Butler said. "And what my opponent would like to do is strip that away, basically stop the hundreds of millions of dollars of projects that are being invested right here in this community." […]

Don Debolt, who is challenging Springfield state Sen. Steve McClure in the GOP primary Tuesday. He said the incumbent is to blame for the state's high gas tax.

"He voted to double the gas tax, but more importantly, they voted to put in automatic tax increases every year into the gas tax," Debolt said.

McClure said Democrats already had the votes to double the gas tax in 2019 and if he didn't support the measure, it would have been difficult to bring projects to his district. He said separate from the motor fuel tax is the sales tax on top of the price of fuel and that needs to be suspended without impacting infrastructure funding.
Both of those challengers are endorsed by Darren Bailey.
* Pic of Rep. Zalewski getting ready to face the last primary day…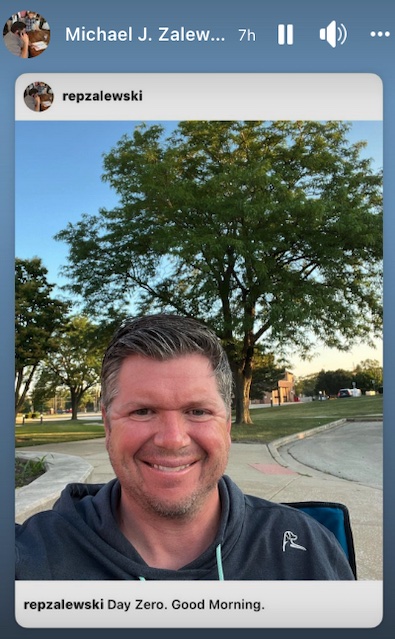 * LBG mailer…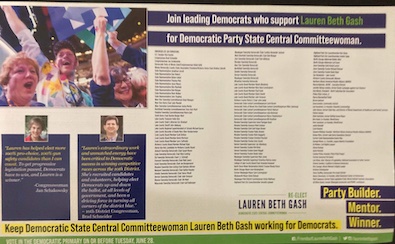 The governor has endorsed her opponent, Sen. Melinda Bush.
…Adding… More from Lake County…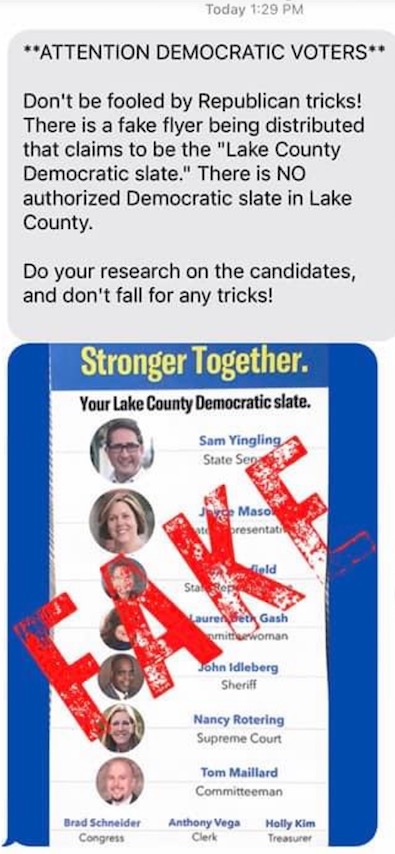 …Adding… This endorsement arrived after 3 o'clock this afternoon…
"Organized labor is the backbone of the middle class, and families throughout Illinois' need a representative of the court who is keeping their interests front and center. I know Judge Elizabeth Rochford will be a tireless advocate for workers because as an advocate for working people and families, she knows the value of unions in fighting for better wages, working conditions, and quality of life."

-DeKalb County Building and Construction Trades Council President Lance McGill
Just a bit late.
18 Comments





















































Sorry, comments for this post are now closed.