* Sen. Darren Bailey on WXAN…
And so it's interesting that Governor Pritzker tries to make abortion the number one issue. Again, that is how out of touch this man is. Because it is indeed crime and public safety are the number is the number one issue for Illinois voters right now.
If it's the number one issue, Richard Irvin would've won the primary.
Bailey was also asked if his win would lead to a "reorganization of the Illinois Republican Party"…
We're already working on that. It demands it. We will bring unity, but things have to change. We don't just all come in and move on. I'm a person who believes in accountability and transparency. I've seen the failures of the last four years. As a matter of fact it was those same failures that basically prompted me to even run for office. … We will, we must make the Republican Party stronger. We have what we need, but there will be some restructuring.
* I dunno, maybe if the Chicago news media had covered him more instead of continuing to cover Irvin long after he imploded and then bought into the Sully Surge, voters might know a bit about him…
A post-primary primer: Who is Darren Bailey?

While the downstate politician has had a meteoric rise within the Illinois Republican party, he's still an unknown to many voters in Chicago. After his victory in Tuesday night's Republican gubernatorial primary, we take a look at the Trump-backed candidate who tried to kick Chicago out of the state, called it a "hellhole," celebrated the overturning of Roe v. Wade and, now, is challenging Gov. J.B. Pritzker in the general election.
* Common Cause Illinois…
This Tuesday, the great state of Illinois had its primary in anticipation of this year's midterms. Among victories today include Rep. Mary Miller in the GOP primary for IL-15 and Darren Bailey in the GOP gubernatorial primary.

Both Miller and Bailey are Trump-endorsed candidates who have aided the former president in uplifting the Big Lie, the results of which ended with the Jan. 6 insurrection at our nation's capital.

Common Cause Illinois is a non-partisan, pro-democracy organization. The choice that these candidates offer is not a choice between different views on policy, but rather a choice between democracy and authoritarian rule; a choice between certifiable elections or the ability of ideologue to overturn the will of the people.

Make no mistake: that Jan. 6 was an insurrection, not legitimate political discourse. The beliefs of Rep. Miller and Mr. Bailey do not align with the values of Illinoisans who believe in the freedom to vote without the threat of violence or intimidation. It has long been documented that Joe Biden won the 2020 presidential election — including in the state of Illinois — and that 2020 had the most secure elections to date. While we do not engage in party politics, it is important that we denounce candidates who perpetuate The Big Lie and who, if elected, would undermine the ability of all Illinoisans to have a say in their future.

After countless audits proving the contrary, the spreading of the Big Lie by Miller, Bailey and candidates like them underscore a known truth: democracy is under attack across America — Illinois included. We must take those threats seriously and be committed to protecting democracy. We agree with state Rep. Tim Butler (R-Springfield): "If you're not stepping up and denouncing [the Big Lie and Jan. 6], no matter where you fall on the political spectrum, I don't have a place for you, because you need to denounce this."

The upcoming midterm elections are an inflection point for voting rights, and we must be informed about which candidates truly believe in protecting those rights.
* Dems keeping fingers crossed…
Two Republican candidates seeking a seat on the Illinois Supreme Court remained locked in a race too close to call following Tuesday's primary. With 95% of the expected vote in, former Lake County Sheriff Mark Curran had a 1.5 percentage point lead over Lake County Circuit Judge Daniel Shanes.

Whoever ultimately prevails will face Democratic primary winner Elizabeth "Liz" Rochford in November to fill the vacant seat left by the retirement of former Chicago Bears kicker Bob Thomas. The 2nd Judicial District has consistently elected Republican justices to the seat since the 1960s, but the Democratic-controlled legislature recently redrew the district boundaries. […]

Curran said the other two Republican candidates in the race, 2nd District Appellate Judge Susan Hutchinson and Kane County Circuit Judge John Noverini, had called to congratulate him.
* Greg Hinz…
Pritzker also rejected suggestions that his team chose to ignore talk that Chicago hedge fund owner Ken Griffin would move Citadel's headquarters to Florida because Griffin was viewed as a political enemy.

"That's not true at all," Pritzker said. In fact, "I actually met with him when I became governor" and asked what would make Citadel happier. But Griffin's list included unacceptable items, such as amending the Illinois Constitution to slash pension payments, Pritzker said.
* As subscribers were told for several days, there's more to it than this, but, yeah, it's a huge win…
One of the biggest stories out of Tuesday's primary is Hoan Huynh (pronounced Hahn Win) beating the Democratic establishment in the highly contested 13th District Democratic House race.

Huynh knocked on doors of "every street" in his district, located on Chicago's North Side, he told Playbook. In the past month, Huynh estimates he hit 7,500 doors. That's about 250 doors a day, "every day until 9 p.m."

Five Democratic candidates sought the seat currently held by House Majority Leader Greg Harris, who is retiring. One candidate, Eileen Dordek, was endorsed by Gov. JB Pritzker and at least 13 other Democratic elected officials from across the state. She had $264,000 on hand by election day, including $5,000 from Pritzker.

Huynh had one elected leader in his corner: state Rep. Theresa Mah, who gave his campaign $57,000 to help get his message out.

And it's a powerful one. Huynh and his family were refugees from Vietnam. His dad served in the South Vietnamese military during the war and was sent to a prison camp for five years just before Huynh was born. The family eventually received political asylum in the United States and lived briefly in Chicago.
Everybody who was anybody was backing Eileen Dordek. Oops. But Huynh also won partly by taking a very non-Democratic (for Illinois) position…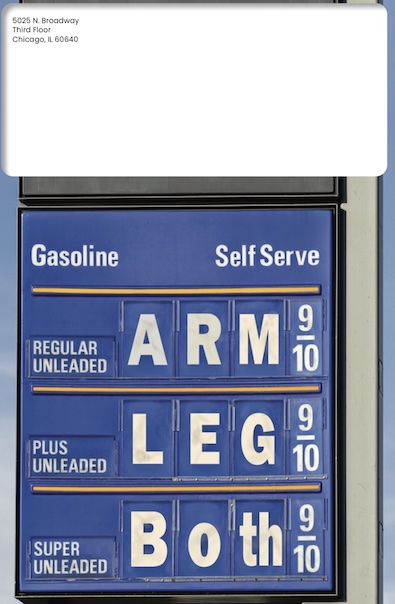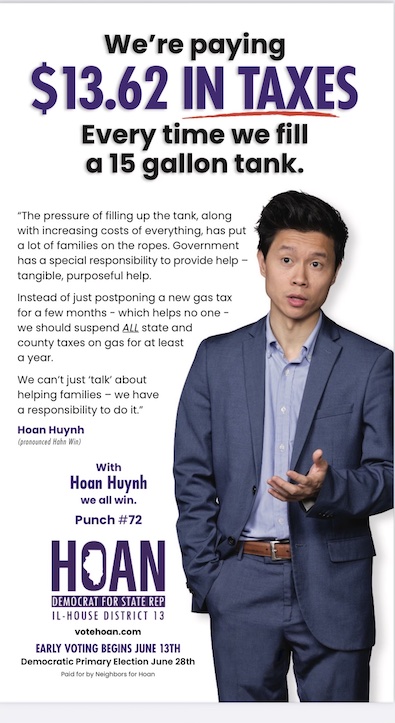 He never explained how he would pay for state and local construction projects without that money.
Also, I distinctly remember being told that "only a few" legislative races were "really hot." Weird.
* This was another candidate backed by Rep. Delia Ramirez…
Also Tuesday, Democratic socialist Anthony Quezada assumed a win over Cook County Commissioner Luis Arroyo Jr. in the Democratic primary, signaling a leftward shift in the County Board district drawn solely within the city's Northwest Side. According to the results as of Wednesday, Quezada was leading the incumbent by about 13 points.
More
* Gov. J.B. Pritzker and GOP nominee Darren Bailey come out swinging after primary election wins: Asked to name a specific solution to address a problem in Chicago, Bailey said, "Well, I'm going to do what I've been doing. I'm going to stand up and name the problem." … But Irvin's focus on fighting crime — an issue pushed by Griffin — was not a top concern of Republican voters. And the ads also portrayed Irvin as having a bullying image that failed to demonstrate any empathy the candidate had for problems that concerned voters, such as inflation.

* Orland Park Mayor Keith Pekau looks to November and challenging Sean Casten in new 6th Congressional District

* Lauf claims victory in 11th Congressional District GOP primary, looks toward November challenge of U.S. Rep. Foster: Lauf claimed victory in a six-candidate Republican primary Tuesday with 29.3% of more than 48,000 ballots cast, according to unofficial results published on websites in the six counties within the district, besting Jerry Evans. He is in second with 25.5% of the votes.

* After Lauf wins GOP bid to face Foster, Democrat group calls her 'extreme MAGA': She's since said "legitimate questions" have been asked about the 2020 presidential election and has alleged "absurd mischaracterizations" have been spread about last year's riot at the U.S. Capitol.

* Raoul 'tied at the hip' with Pritzker on COVID mandates that GOP challenger says 'destroyed lives': "They're tired of it. They've had enough. They've told me about it and again the attorney general and the governor, they're going to be tied at the hip," DeVore told WMAY Wednesday. "Because, again, Attorney General Raoul has been nothing but an extension of Governor Pritzker and I think that's going to hurt him in the general election."

* Stoller claims win in 37th District primary, but Nicklaus hasn't conceded

* Dolton Mayor Tiffany Henyard says her supporters stayed home, viewed recall as illegal: Earlier this month, Cook County Judge Paul Karkula directed the Cook County clerk to disregard votes cast on the two mayoral recall referendums, but a state appeals court later directed the clerk to tally the ballots. The appellate court indicated it may take until September to rule whether the recall questions are constitutional.
20 Comments



























































Sorry, comments for this post are now closed.