* Politico…
[Democratic state central committee races where Gov's Pritzker's] candidates won or are winning: 5th District candidates Margaret Croke and John Cullerton, 6th District candidate Patrick Hynes, and 17th District's Maurice West.

Races where Pritzker's trailing or lost: Hal Sloan is losing to Tom Maillard in the 10th District; Natalie Manley is losing to Christine Benson in the 14th; Liz Brown-Reeves conceded to Katherine Daniels in the 15th; and Jehan Gordon Booth is trailing Pamela Davidson in the 17th.

There's a virtual dead heat in the 10th District, where Lauren Beth Gash, a former state rep, was challenged by outgoing state Sen. Melinda Bush, who Pritzker endorsed.

Once the roster is set, the newly elected committee members will meet later this summer to conduct officer elections — which will determine whether Congresswoman Robin Kelly remains at the helm.
* Current numbers from Sen. Bush…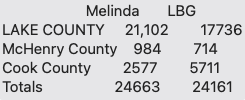 Sen. Bush says that as of this morning she is up by 384 votes (24,663 to 24,161), but the mail is still coming in. If the percentages hold, she says, she should win by 700 or so votes (The Cook numbers have been updated since then to 5,877 for LBG and 2,625 for Bush, which is pretty much the same percentage).
And from what I can gather, Benson is leading Rep. Manley by a bit less than 1,000 votes.
Also, Rep. West may not be a sure-fire vote against Chair Kelly.
* But here's something to remember: The vote for party chair is a weighted vote. It's not about who has more physical members on the state central committee. So, it's complicated. First you gotta figure out who won by how much in all the counties in the congressional district, then you gotta figure out the weighting. It'll take a bit of time. The fact that the governor's campaign isn't being Johnny on the spot about the results, however, may tell you something.
* Gov. Pritzker was asked today if he was going to oust US Rep. Robin Kelly as state party chair and if he believes she's done a good job. His response…
Haven't thought about that. All I want is to make sure that the Democratic Party is organized in a way that we can raise money for state candidates and federal candidates. As you know, there's challenges with that having a federal office holder as the Chair. I support Congresswoman Robin Kelly, she's terrific in her role as Congressperson and as somebody who's lifting up Democrats across the state. So this is really just a matter of how we organize, to make sure we can raise the kind of dollars and organize our party to elect Democrats across the state. She's great. There are just legal challenges. I think you know about that. The FEC has raised some of those, and they're very difficult to overcome. And I think you've seen it in the challenges that the party's had in fundraising. Having said that, you know, she's a terrific leader, I think, you know, some of the people that are standing behind me work with her on a regular basis, as do I. So I intend to continue working with her, but you know, how we organize the party, that's something that we'll talk about in the next few weeks.
…Adding… Press release…
Today Congresswoman Robin Kelly, Congressman Danny K. Davis and Congressman Bobby Rush endorsed Mayor Lori E. Lightfoot in her re-election bid for Chicago Mayor. […]

"I am honored to have Congressman Davis, Congresswoman Kelly, and Congressman Rush stand beside me today to announce their support for my re-election campaign," said Mayor Lori E. Lightfoot. "They are each leaders who exhibit integrity and compassion. Over the last three years, we have worked hand in hand to deliver real results to Chicago communities that have been left behind for far too long. We share a deep commitment to improving the lives of working people, and I am excited to see what we can continue to accomplish working together."

"I endorsed Mayor Lightfoot back in February 2019 when her candidacy was a longshot because I knew that she was the one who could guide Chicago through its most challenging moments," said Rep. Robin Kelly (IL-02). "Three years later, I am proudly still by her side. A significant portion of the 2nd Congressional District is in Chicago and her partnership, as well as leadership, has been invaluable as we continue our work to transform the South Side. Whether its unprecedented funding for community-based violence prevention or investments in high-quality affordable housing in South Chicago through INVEST South/West, this administration is delivering results for our communities. I am proud to call the mayor a close friend and support her campaign for another term in office."
I assume the favor will be returned. Stay tuned.
…Adding… Rep. Will Davis is a Robin Kelly supporter, so this is no surprise…
"I want to thank 2nd Congressional District voters for electing me to succeed my friend, Al Riley, as Democratic State Central Committeeman. I look forward to representing a diverse group of Democrats from Chicago and the south suburbs to Danville on the Central Committee.

The Democratic Party of Illinois needs strong, ethical, transparent, inclusive and effective leadership, which is why I pledge to vote for Congresswoman Robin Kelly to continue as chair of our party later this summer. She is the first African American and the first woman to serve in that capacity. She has rebuilt the party, engaged the grassroots and expanded its donor base.

I do not need to wait to see who else will run for DPI chair. Since she became chair last year, Robin has distinguished herself as the best person to lead our party to victory in November and through 2026. It is often said that Black women are the backbone of the Democratic Party; Robin is the embodiment of that. She deserves our support. "
36 Comments











































































































Sorry, comments for this post are now closed.