* Dick Uihlein has contributed $5 million more to Dan Proft's People Who Play By The Rules PAC. That brings Uihlein's total to $12 million.
* The Republicans have 18 out of 59 Senate seats. They don't generally demand special sessions to pass actual bills…

* From a reader: "The local gas station here in Springfield on Toronto Road has something a little bigger than a sticker about the gas tax. This 11×17 sign is on top of all of the pumps"…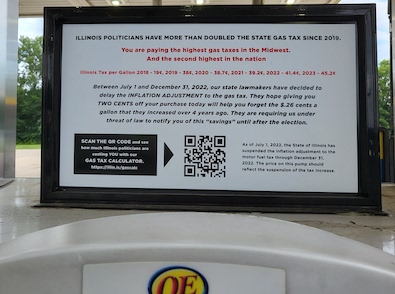 Heh.
* Establishment-backed candidate concedes defeat…
By a margin of just 69 votes, Connie Cain is on track to be the Republican nominee for the 66th House District in Illinois after her opponent, Arin Thrower, conceded the race Wednesday evening.

Cain, a longtime accountant living in Gilberts, declared victory in a Facebook post Wednesday evening as the unofficial results across Kane and McHenry counties showed Cain with 3,439 votes, or 51% of the vote, and Thrower with 3,370 votes, or 49%.
Yep. This does say it all…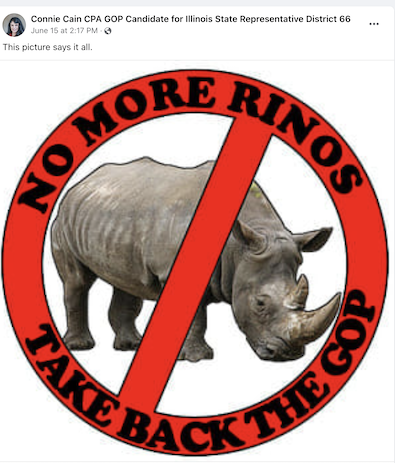 Cain will face Rep. Suzanne Ness (D-Crystal Lake) in the fall.
* New state Senator appointed and sworn in…
Kris Tharp, a captain and jail administrator for the Madison County Sheriff's Office with nearly 25 years of law enforcement experience and a life-long volunteer in the Metro East, was sworn in to represent Illinois' 56th Senate District Friday.

"I'm truly honored and humbled by this entire experience," said Tharp (D-Bethalto). "We have a lot of important issues to explore this year, and I'm eager to serve the residents of the 56th District in this new role."

Tharp has worked through the ranks of the Madison County Sheriff's Office and dedicated his life to improving public safety for communities throughout the Metro East. In addition to his roles as a captain and jail administrator, Tharp serves as a Deputy Commander for the Major Case Squad of Greater St. Louis.

In 2018, Tharp founded Madison County Triad, a partnership between the Madison County's Sheriff's Office, area service providers and older residents to improve the safety and quality of life of seniors in the community. He serves as president for the organization.

He is a graduate of the FBI National Academy. To highlight his law enforcement credentials, Tharp is an active member of the FBI National Academy Associates, Police Benevolent and Protective Association 118, Illinois Sheriff's Association, Illinois Correctional Association, International Association of Chiefs of Police and the International Homicide Investigator's Association.

He is a life-long resident of the 56th District. He lives in Bethalto with his wife, Jaime. The couple has two adult sons.

Tharp, who is familiar with government work in Springfield from his time working on the Illinois Elder Abuse Task Force, is excited to return to the Capitol this fall in a new capacity and advocate for the needs of working families.

The 56th Senate District includes all or parts of Alton, Bethalto, Caseyville, Collinsville, East Alton, Edwardsville, Elsah, Fairview Heights, Glen Carbon, Godfrey, Granite City, Hartford, Maryville, O'Fallon, Roxana, South Roxana and Wood River.
He replaces former Sen. Rachelle Aud Crowe, who resigned after she was confirmed as the region's new US Attorney.
His Republican opponent Erica Harriss responds…
This appointment has no real bearing on the upcoming election. Chicago Democrat Elites, like Senate President Don Harmon, hand-picked Senator Crowe's replacement months ago. Ultimately there will be an election to decide who will be the next state senator from the Metro East.

"Voters are going to have the final say in November and there is a very stark contrast between what I stand for and what the Chicago Elite have planned. My message resonates with families who are frustrated with the cost of everything, who are anxious about their children's future, and who are hungry for leadership," Erica Harriss, Candidate for State Senate, stated.

"The Democrat Elites have chosen a candidate who will support them and their policies which keep our taxes high, send our high-paying energy jobs to other states and overseas, and release dangerous criminals onto the street." Erica continued: "That's not a platform I would want to run on, and this election will be a referendum on the failed leadership of the Democratic Party."

"Voters need to hear that there is hope for the future of our state and that with good policy we can make great strides together. I have a proven record of voting to safeguard our future by lowering taxes, funding law enforcement, and standing up for local control," said Harriss.
* New state Supreme Court Justice appointed and sworn in…
A week after Ketanji Brown Jackson was sworn in as the first Black woman on the U.S. Supreme Court, a comparable trail was blazed Thursday into Illinois' top court.

Lisa Holder White took the oath in Springfield to become the first Black woman to serve as a justice on the Illinois Supreme Court in the institution's 203-year history.

Holder White was selected by retiring Justice Rita Garman as her replacement in the central Illinois district, with the six other jurists on the court approving the appointment of the Decatur Republican this spring.
AG Raoul…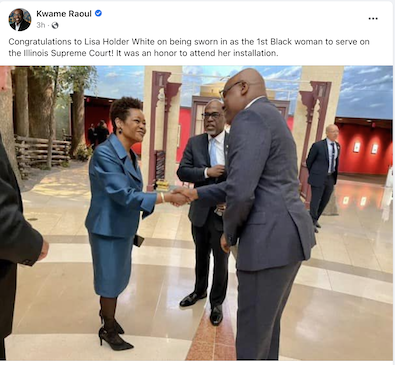 28 Comments



















































































Sorry, comments for this post are now closed.