* For a very long time, the "About" section of Cindy Bailey's Facebook page has said she is the "chief consultant, strategist and cheerleader" for her spouse's gubernatorial campaign. But that page has since been altered and then apparently taken down since Greg Hinz started looking around and asking questions. You can still Google the phrase, but here's a screenshot…

She's also listed as a "Board member" on Bailey's D-1 filing with the State Board of Elections. And she is a regular on the campaign trail with Bailey and often acts as a surrogate for her husband's campaign…
Just saw Stephanie W. Trussell running for Illinois Lieutenant Governor and Cindy Cindy J. Bailey, that's the wife of Republican nominee Darren Bailey for Governor in Illinois at CPAC 2022 in Dallas. @DarrenBaileyIL @ReaganMom @Trussell4IL pic.twitter.com/tlmk9r5l3V

— Mark Weyermuller (@publicpolicyman) August 5, 2022
Speaking of Cindy Bailey, here she is posing with Kari Lake at CPAC four days ago. Lake is the GOP gubernatorial nominee from AZ, an election fraud/QAnon conspiracy theorist, and a Proud Boy fan. https://t.co/xNAd8fiIQK pic.twitter.com/2BK0QbpmM2

— chicagofreemedia (@chifreemedia) August 11, 2022
* Greg Hinz…
In one [post], she cited "amazing testimonies from ones who were once in the homosexual lifestyle!" In another, she called on "any red-blooded American" to drop their subscription to Netflix for "normalizing homosexuality" and other material she views as objectionable. "We are living in wicked days, just as in the time of Noah," she stated.
* People on Twitter have been discussing this topic for a while now. A sampling..
Seems like a real accepting family pic.twitter.com/tpTN1gljIE

— ROSIE RIVETED (@ROSIERIVETED1) July 1, 2022
Is this really who we want as the First Lady of IL. Do her morals and values represent all of us? Please make a plan to vote this November. #twill pic.twitter.com/GFDuAdARNh

— Louise Henderson (@louise_q10) August 5, 2022
Darren and Cindy Bailey aren't the best choice for the future of Illinois, they have both stated they think we're living in the "end times". In short they don't really see a longterm future for our state or country. pic.twitter.com/aKoSxQjzvY

— ROSIE RIVETED (@ROSIERIVETED1) July 23, 2022
* But there's more…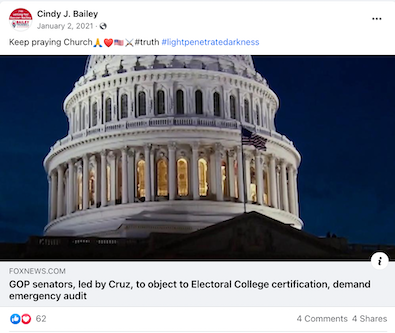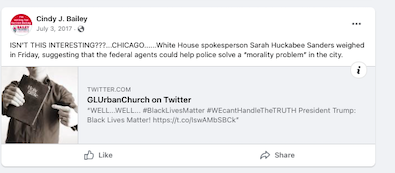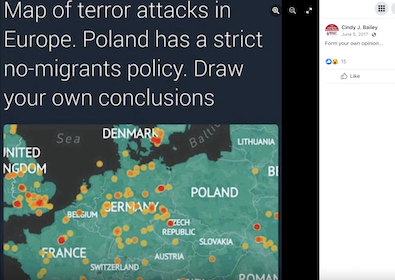 * Bailey released a video in response. So far, it's received just 167 views…
JB Pritzker's administration has been a disaster. Pritzker has raised taxes, attacked law enforcement and crime is skyrocketing on his watch. The Department of Children and Family Services is a criminal disaster under Pritzker's Director Marc Smith. Families are suffering and kids are dying because Pritzker refuses to take ownership and fire his failed director. Friends, JB Pritzker hasn't just failed working families, he's downright abandoned every one of us.

Well now he's more desperate than ever, and JB and his allies in the media shamelessly think that they can attack my wife Cindy and try to twist her words. Let me be clear, my wife is not on the ballot. I'm on the ballot and I speak for myself. So, JB, if you can fit it into your presidential campaign schedule and want to talk about someone in this race for governor and about the people of Illinois who are struggling under your watch, well I'm here in Illinois. And I'll be waiting when you fly back. I'll debate you anyplace anytime.

And if the media wants to look into spouses, well how about you find out what Pritzker's pal Jennifer Thornley texted him and his wife after she stole money from taxpayers. The Pritzker/Thornley scandal stole over $700,000 from taxpayers because JB continues to scratch the backs of his cronies at the expense of working families.

Friends, people are being gunned down riding public transportation. Springfield corruption continues while families struggle to put gas in their cars and food on their tables. We have serious issues and I'm ready to get to work and restore Illinois.
Please pardon all transcription errors.
* The Question: Fair hit on Cindy Bailey or not? Make sure to explain your answer in comments, please.
*** UPDATE *** A commenter reminds us that Darren Bailey posted a false story on his Facebook page about the governor's daughter…
87 Comments




































































































































































































































































Sorry, comments for this post are now closed.