* August 6…
With the latest election tally released Friday evening, Aug. 5, Allen Skillicorn edged ahead of Cindy Couture in a tight race for the third and final seat on the Fountain Hills Town Council.

Skillicorn had a very slim 19-vote edge over Couture, 4,756 to 4,737. Couture had lead the race since the initial results were released on Tuesday.

In a release Friday evening Maricopa County election officials reported having 6,500 ballots remaining to process and tabulate with 1,224 valid provisional ballots to be counted. There are also 7,500 "uncured" ballots in which signatures need further review. Voters have until Tuesday, Aug. 9, at 5 p.m. to have the ballots "cured" or verified by providing sufficient identification. These are county-wide numbers with no indication as to what remains to be counted for Fountain Hills.
* August 10…
One week after election day the Fountain Hills Town Council race is coming into focus. A vote tally released at 6 p.m. Monday, Aug. 8, indicates the race may be all but settled.

Mayor Ginny Dickey appears likely to be re-elected, while three newcomers will come to the Town Council, currently Brenda Kalivianakis, Allen Skillicorn and Hannah Toth.

Maricopa County Elections Department was not expected to release final, unofficial counts until after 5 p.m. on Tuesday, Aug. 9, the deadline for voters to cure questioned ballots. However, those appear to be pretty small numbers to affect the outcome.
* Today…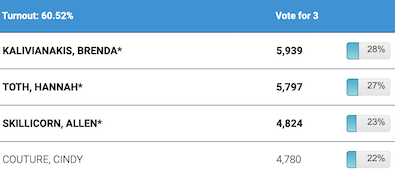 20 Comments



























































Sorry, comments for this post are now closed.