* KSDK…
Duckworth said Salvi opposes abortion even in cases of rape, incest, and if the mother's life is threatened.

When asked about her stance on these cases, Salvi said she would not get into hypotheticals.

"I don't know [about] the 6,000 rape cases a year…if those folks would consider rape to be hypotheticals," Duckworth said.
* Public radio story on Republican CD17 nominee Esther Joy King…
King said she's for the U.S. Supreme Court's decision in Dobbs v. Jackson overturning the nearly half-century old Roe v. Wade precedent that shielded abortion access rights on a national scale.

"I do support what the Supreme Court did and returning the decision back to the states, to the people, really," she said. "It's closer to us, the people. So our voice matters more in this conversation."

King said she believes Illinois has some of the most extreme abortion laws in the country, citing the Illinois General Assembly's decision to scrap a law requiring parental notification for minors seeking an abortion.

She said she is "pro-life," but does support exceptions in cases of rape, incest, and to protect the life of the mother. She said abortion access should ultimately be left up to individual states to decide.
* Pioneer Press story entitled "Sex-Ed bill, 'progressive' school curriculum the focus of DuPage County Republicans ahead of midterm elections"…
On Wednesday, [Rep. Deanne Mazzochi, R-Elmhurst] was joined on stage by representative Amy Grant of District 42 and Republican House candidates E. Dale Litney and Paul Leong, who reiterated the need for full curriculum transparency and parental involvement in what children are being taught.

Leong, Naperville councilman, former school board member, and candidate for House District 81, said the "role of family in academic success cannot be underestimated."

"We have allowed bureaucrats, not educators, nor parents, to structure educational programs and issue mandates and standards that have no bearing on academic success," he said. Leong, along with Mazzochi, recommended school districts create parent committees to conduct in-depth reviews of controversial classes or pieces of curriculum.

Mazzochi touched on a couple of other issues during her 30-minute speech, including "left-wing political ideologies" that she said are one of the root causes of Illinois' teacher shortage.
A 30-minute speech?
* ILGOP…
Illinois State Treasurer Mike Frerichs' office failed to provide proper accounting for more than $1.6 billion in state fund deposits according to a report by the Office of the Illinois Auditor General.

On page 142 the report states:

"The Office of the Treasurer (the Office) had inadequate internal controls over the Office's Fiscal Officer Responsibilities financial statement adjustment process. During testing of the Statements of Assets and Other Debits, Liabilities and Accountabilities (financial statements), it was determined the Clearing Account Deposits and Deposits in Transit as well as the Agencies' Deposits Outside the State Treasury accounts were each understated by $1,635,711,097."

Rather than taking responsibility and addressing the mistake head on, Frerichs' office said the finding was because of 'incomplete information given to our office,' according to Center Square.

"Treasurer Frerichs continues to blame other people for his offices' mistakes proving that he is not the leader we need to bring financial accountability to Illinois' reckless tax-and-spend government," said Illinois Republican Party Chairman Don Tracy. "Frerichs has proven that not only is he a reliable lapdog for J.B. Pritzker's tax-and-spend agenda, but that he can't be trusted to manage public tax dollars. Republican Candidate for Treasurer Rep. Tom Demmer is the true financial watchdog Illinois families need and deserve."

This is not the office's first financial mishap under Treasurer Frerichs' watch. As families face rampant inflation and record gas prices, they've also been hit hard from Frerichs' mismanagement of the State's college savings programs - which have lost millions of dollars in student college savings this year.
…Adding… He has since reported raising a bit over $31K…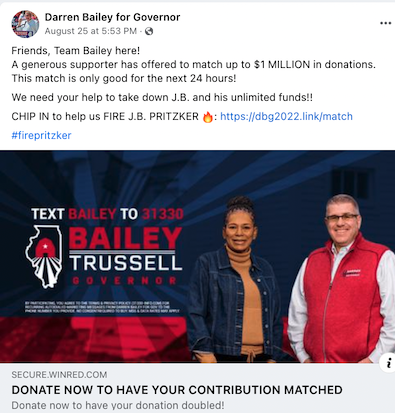 …Adding… Sun-Times…
Mayoral challenger Willie Wilson on Monday asked a federal judge to block a $2 million precinct consolidation plan tied to redistricting that will eliminate 779 of Chicago's 2,069 precincts.

In a lawsuit filed in federal district court, Wilson argues that the cost-saving plan to create 1,290 new precincts — down from 2,069 — will confuse Chicago voters, depress turnout in the Nov. 28 general and Feb. 28 mayoral and aldermanic elections and "disparately impact racial and/or ethnic voting blocs."

If precinct consolidation is needed, it should not be done in "mid-election cycle" without public hearings, the lawsuit states. To do so and to require voters to "travel much further distances to reach a polling location" and face "longer lines and wait times to vote" violates First and Fourteenth Amendments to the U.S. Constitution, the lawsuit states.
* More…
* Pritzker and Democratic candidates rally in Rock Island ahead of midterms

* Pritzker touts work on bill backlog, infrastructure during Whiteside County campaign stop

* Pritzker in Macomb: 'Hate has no home in Illinois'

* Gov. Pritzker rallies supporters in Macomb

* Led by Pritzker's millions, Democrats dominate political funding

* Is the Funding Gap Between Pritzker and Bailey's Campaigns Insurmountable?

* Tom DeVore: Progressive Policies Turning Chicago's Magnificent Mile Into Murderous Mile
29 Comments






















































































Sorry, comments for this post are now closed.