* John Feehery writing for The Hill on 11th Congressional District Republican nominee Catalina Lauf…
Lauf has been able to raise close to $1.5 million in campaign contributions, mostly through small donations, by saying that she, if elected, she will become the anti-Rep. Alexandria Ocasio-Cortez (D-N.Y.). So she has some money to back up her message.
If you click the link, you'll see that while Lauf raised $1.44 million, she spent $1.41 million and had just $25,924 cash on hand at the end of June. She spent something like $400K on consulting alone. Incumbent Bill Foster had $4.9 million cash on hand.
* NBC 5…
Gov. J.B. Pritzker is critical of Texas Gov. Greg Abbott and Florida Gov. Ron DeSantis for sending migrants to sanctuary cities, but Pritzker had to be asked twice Monday if the border is secure.

"The Republican governor of Florida and Texas and Arizona … they're trying to sow chaos," Pritzker said. "We're trying to truly care for people who need their human rights upheld."

When asked a second time, "and are the borders secure?", Pritzker said, "In my opinion, we need to have comprehensive immigration reform, and we need to make sure that we are securing the border in every way that we can. I don't live in Texas, but I know that people are concerned about the number of people who are coming to the border, and again we've got to address that."

Twenty-six more migrants arrived Sunday in Chicago.
* Marni Pyke…
"We need to make union organizing a constitutional right and stop Republican efforts to eliminate collective bargaining," Pritzker said at a Laborers' International Union of North America training center. "So this November we will pass the Workers' Rights Amendment."

The proposed amendment to the Illinois Constitution would give employees "the fundamental right to organize and to bargain collectively through representatives of their own choosing for the purpose of negotiating wages, hours, and working conditions, and to protect their economic welfare and safety at work," according to a General Assembly resolution. […]

GOP leaders have contended that the amendment is actually "a disguised tax referendum, a Trojan horse that, if passed, is projected to cost a typical family over $2,100 in additional property taxes within the next four years," Illinois Republican Party Chairman Don Tracy said in a recent statement.

That doesn't mean Republicans are anti-worker, Tracy noted. "We believe in hard work and personal responsibility. We are pro-growth, pro-business, and pro-worker. As a direct result of the important right to organize and collectively bargain, unions have benefited our brothers and sisters in the trades, business, and public safety."
* Michael Flynn is coming to Illinois. The reason his visit is in this post is because the event is being held at a church where Darren Bailey has spoken, and Bailey has campaigned with Pastor Steve Cassell…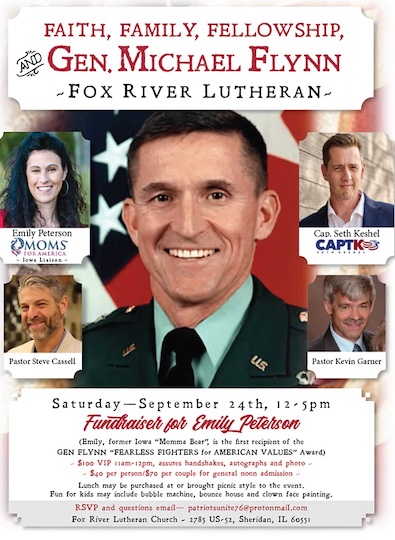 * Bailey was in the Metro East this week…
We will ensure parents and children have choices. And, friends, that means educational vouchers.
* HMP…
House Majority PAC is launching a new television ad, "Working", highlighting Regan Deering being endorsed by extremists who want to ban abortion with no exceptions, and Nikki Budzinski's work for Illinois' families.
The spot…
* G-PAC…
This afternoon, the Gun Violence Prevention PAC and Giffords PAC endorsed Attorney General Kwame Raoul and Illinois Supreme Court candidates Judge Elizabeth M. Rochford and Justice Mary O'Brien in the 2022 general election at an event at Bright Star Church on Chicago's South Side.

"Every law we pass to strengthen Illinois' gun law is at risk this November if we don't elect gun safety candidates in our justice system," said Kathleen Sances, President and CEO of the Gun Violence Prevention PAC. "Reducing gun violence and the number of illegal firearms on our streets have been key pillars of Attorney General Raoul's work. Judge Elizabeth Rochford and Justice Mary Kay O'Brien have been recommended by the Illinois State Bar Association and have the full support of the organizations working to protect and strengthen our gun laws and maintain public safety. Together, these candidates working in Illinois' justice system will make our state a safer place and ensure key positions don't fall into inexperienced hands."

"Illinois has some of the strongest gun laws in the country, but the gun lobby is trying to overturn them and elect candidates who would weaken them. That is why it is critical that we re-elect Attorney General Kwame Raoul," said former Congresswoman Gabrielle Giffords. "In office, Attorney General Raoul has restricted ghost guns, investigated and prosecuted gun trafficking, held gun manufacturers accountable, and defended Illinois' law. We need Attorney General Raoul in office to help keep Illinois families safe. We are proud to endorse him today with G-PAC."

After the U.S Supreme Court struck down New York's handgun law this summer, more than 30 lawsuits have been filed across more than a dozen states – including three here in Illinois – as the gun lobby tries to dismantle all the progress we've made and roll back evidence backed laws that are proven to keep our children, families and communities safe.
16 Comments















































Sorry, comments for this post are now closed.