* Press release…
People Who Play By The Rules PAC has launched a new ad, "Pritzker Must Go!" featuring retired Major in the U.S. Army, nurse, and lifelong Democrat Beverly Miles, who ran against Pritzker in the 2022 primary election for governor.

Miles claimed Pritzker tried to get her fired from her job as a nurse for daring to run against him saying she was told to quit her job or drop out of the campaign.

Miles said in a recent Joliet Patch article, "I'm tired of Black people dying and my community being a food desert. The West and South Sides remind me of a war zone and some days like a large psych facility with no walls. And it appears, JB is only concerned about checking the boxes to run for president, as opposed to the issues we're dealing with in the state of Illinois." […]

The new ad is available on YouTube, the PBR PAC Facebook Page and directly on a new website called www.PritzkerMustGo.com which just went live Wednesday.

:30 YouTube: https://youtu.be/fkOzgZsY71s
TV Script:

Miles: "As retired military, the words 'duty and honor' mean everything to me. Those values mean nothing to Governor Pritzker, who tried to get me fired from my job as a nurse. People like me and you need to STAND UP to J.B. Pritzker's mafia politics. I'm a lifelong Democrat. I believe in serving others. We are less safe in our neighborhoods. Our tax burdens are up. Our job opportunities are down. WE put Pritzker in office. HE FAILED US."
* The spot…
Proft's spokesperson says the ad is going up on TV. Miles is a nurse at Edward Hines Jr. VA Hospital.
* I asked the governor's campaign for a response to the claim that Pritzker tried to get his opponent fired. Here's Natalie Edelstein…
The claims being asserted in Dan Proft's latest ad are a lie. Full stop. Like nearly everything else his propaganda network produces, Proft relies on ill-informed smears to make whatever half-baked point he is pushing at the moment. Illinoisans shouldn't trust him or anything that has his name near it
* Miles addressed the issue on her most recent Facebook post…
The ghost whispers informed me, Jay Robert took the three million dollars away from Chuy Garcia and allegedly he is no longer using black men/women in Chicago to further is campaign for Governor and his upcoming bid for president. We all know Jay Robert is not Governor's material and no would he be a candidate for the presidency. I really feel sorry for those who fight hard against me to include putting a video in Jay Roberts hand to create a narrative to suite him. However, I combat crime from the street oppose to sitting beside a desk and or black biding his dirty work

Chuy Garcia and the Hispanic community and black leaders and the black community you all do not need Jay Robert Pritzker, Jay Robert needs you! Know your power when you stand together. It was also mentioned Jay Robert hired a team of Caucasian's from another state to lead up his Governor's campaign, that should tell each of you something…… "He does not trust you and he does not trust your abilities outside of doing grimy work. with this said, stop allowing him to use his money as leverage! He needs to black and Hispanic votes because white people are not thinking about him. All the evil things ya'll did He did, still I rise in-spite of the legal challenges I still face to include the office of special counsel seeking to have me remove as a nurse for the veteran's administration. It is of my personal belief Robert grubby phat fingers is all over! Black leaders on all levels it is time you stop this man from exploiting you!

To Jay Roberts handing who watches my social media page, it is time you go work for someone with integrity because if I was a Caucasian woman, JB would have never put his foot on my neck! I hope this post put my non-working brothers back on the payroll…… Thank me later and Peace and blessing
.
…Adding… Ziff Sistrunk was described in a legal proceeding as the Miles campaign's "lead organizer." The Pritzker folks point out that Sistrunk is now a Bailey person…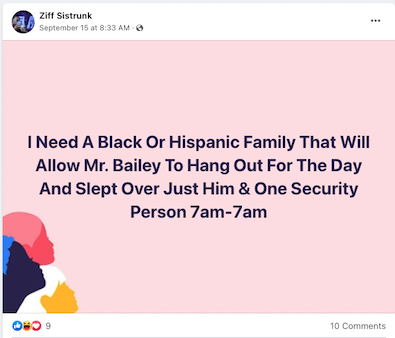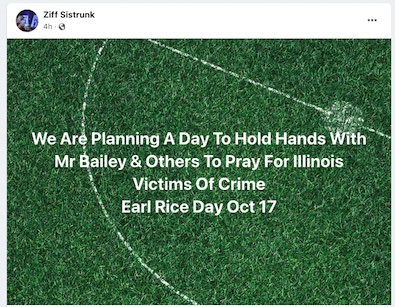 …Adding… Since she's a federal employee, Miles is likely barred for running for partisan office by the Hatch Act.
58 Comments













































































































































































Sorry, comments for this post are now closed.