* From the Awake Illinois website…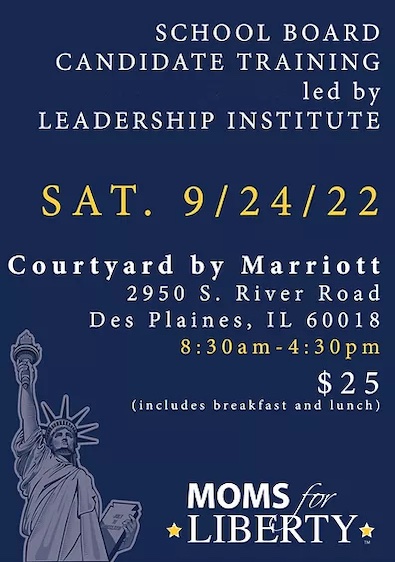 These folks are quite something…
* Anyway, the school board candidate training was met by a protest…
Saturday morning parents from an array of suburban school districts along with representatives of state and local advocacy organizations, including Equality Illinois, ADL Midwest, Illinois Families for Public Schools, and more, gathered out front of the Marriott Courtyard hotel in Des Plaines to share their stories of how extremism is seeping into the public sphere—whether it be at school board meetings, public libraries, bakeries that support LGBTQ+ rights, and more.

Inside the Marriott, a school board candidate training took place sponsored by the anti-equity, anti-equality groups Moms for Liberty and Awake Illinois. Posing as concerned parent groups, these organizations have made calls to action against LGBTQ+ friendly events, harassed school board members and school staff, mounted opposition to a diverse and rich history curriculum that reflects all students, called for book bans, and more.

Opposition to diversity, equity and inclusion programs and support for civil rights protections for transgender and non-gender conforming youth in public schools has emerged around Illinois in recent years. Then in the summer of 2021, parents and others virulently opposing covid mitigation measures in schools began organizing to disrupt school boards and harass and threaten board members. They then pivoted to attacks on "Critical Race Theory", a term erroneously used to characterize schools teaching accurate and honest history that addresses racial injustice in the US. In 2022, the focus of their attacks has been to spread transphobia and homophobia via book bans and attempts to exclude and eliminate protections and support for LGBTQ+ students. "We are here today in solidarity with parents, with teachers, with youth and our partners to call out the hate and intimidation and to tell LGBTQ+ Illinoisans, and particularly youth, that you belong, that you matter, that you are beautiful, that you are exactly who you are meant to be, and that we are grateful that you are in the world," said Mony Ruiz-Velasco, Deputy Director of Equality Illinois. "LGBTQ+ people deserve the same rights, same treatment and respect as our straight and cisgender allies. We are here because we will not let these hate groups control our narratives, our families or our ability to see ourselves reflected in our schools and our libraries," added Ruiz-Velasco.

Parent of four, Asafonie Obed of District 204 (Indian Prairie) contacted after the event, said, "I encountered the founder of Awake Illinois, a fellow-parent at my children's school, when she told me to start a charter school if I wanted diversity, equity and inclusion practices and a social justice framework at District 204. I was flabbergasted. And then I helped organize our community so she would not have a seat at the important school board table, where policies impacting my children are made." (You can see Obed's video of her story here. She was unable to attend in person due to family illness.)

In Downers Grove, students and parents defeated an attempt to ban Gender Queer. School board meetings were attended by members of the Proud Boys hate group, there to intimidate the students who were speaking out for the basic right to see themselves reflected in books in the school library. Downers Grove parent Kylie Spahn said, "It's not always an easy battle, but it is winnable if you are organized. Due to being outspoken, I was attacked verbally at meetings, and my employer was called by someone a number of times who claimed I was a groomer and shouldn't be around kids."

In District 200, Wheaton parent Shannon Limjuco has witnessed how these anti-equality groups have reacted to pushback over the last year, saying "They continually model the worst bullying behavior possible for all of our children. I've seen them target and harass in person and online, school board members, administrators, teachers, and even parents who speak out against them." The message shared by all the parents was that organizing has worked thus far, and that it is more important than ever to stay focused on these races and vote in them next spring. Some coalition groups will be doing their own school board trainings to ensure Illinois schools are inclusive, child-centered and welcoming to all families and students.
* Doesn't look like many people attended, but a couple of dozen candidates is nothing to sneeze at…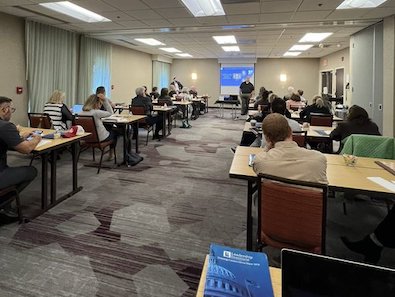 * Meanwhile, the organizer of a protest against UpRising Bakery handed out this flier on Saturday…
Here's the letter. pic.twitter.com/2zUwgeGr0g

— chicagofreemedia (@chifreemedia) September 24, 2022
21 Comments






























































Sorry, comments for this post are now closed.