* Dave McKinney of WBEZ reported earlier this month…
In one matchup, ex-Lake County Sheriff Mark Curran, a Republican, faces Democratic Lake County Judge Elizabeth "Liz" Rochford. The 2nd Supreme Court District covers Kane, Lake and McHenry counties as well as DeKalb and Kendall counties. […]

Asked who won the 2020 presidency, [Mark] Curran told WBEZ, "It's kind of irrelevant, but Joe Biden won the election." But in a Jan. 3, 2021, Facebook post, Curran circulated now-debunked claims about vote fraud in the presidential elections.
* The Curran post…
* A little more from the above post…
Despite the fact 18 more states signed on to Texas' petition, the Supreme Court dismissed the case, citing lack of standing. Only Justices Clarence Thomas and Samuel Alito dissented.

Former House Speaker Newt Gingrich, a student of history, compared the long list of anomalies to another election nearly 200 years in the past.

"The more data comes out on vote anomalies that clearly are not legitimate the more it looks like 2020 may be the biggest presidential theft since Adams and Clay robbed Andrew Jackson in 1824." Gingrich tweeted. "State legislatures should demand recounts."
* But, wait, there's more where that came from…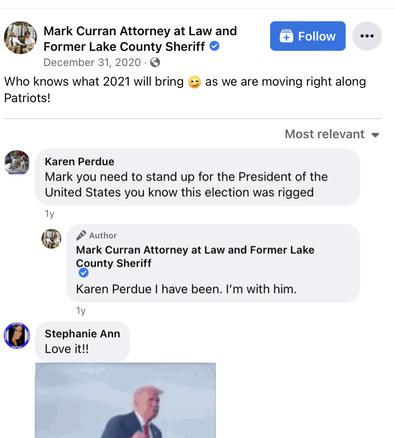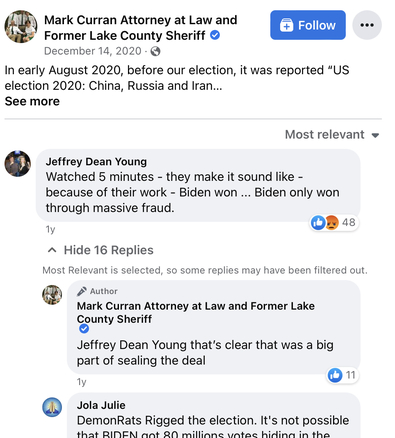 * Note the date below the video on his "Who knows what 2021 will bring" Dec 30, 2020 post…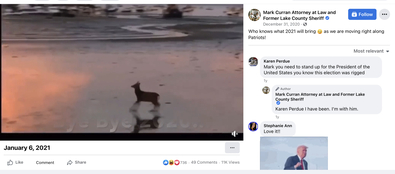 * Here's a link to Curran's Dec 14 post about China's alleged influence on the 2020 election.
13 Comments






































Sorry, comments for this post are now closed.