* She'll never provide proof to the Daily Herald or anyone else because there is no proof. But, she's serving what I think is her purpose: Raise lots of small-dollar contributions which then get spent by DC consultants…
Even though the claim has been debunked as a hoax, Republican congressional candidate Catalina Lauf is standing by a recent tweet in which she said some schools provide litter boxes for students who like pretending they're anthropomorphic animals.

"I hear story after story from teachers and school administrators detailing meetings about this 'furry' trend in (Illinois) public schools," Lauf, of Woodstock, told the Daily Herald in an email.

When repeatedly asked to share proof of such activity, Lauf provided none.
* Also from the Daily Herald…
The two candidates for Illinois' U.S. Senate seat — both suburban women — challenged each other's records on women's rights, abortion access, guns and a bevy of other issues in a candidate forum Monday where little middle ground was found.

In the forum organized by the Illinois Associated Press Media Editors collaboration, Democratic incumbent Tammy Duckworth said her opponent, attorney Kathy Salvi of Mundelein, "wants to rip freedom from women" because of her "dangerous anti-choice views on abortion."

But Salvi argued Duckworth was an "extremist" on the abortion issue, saying "there isn't an abortion she doesn't support."

Duckworth, of Hoffman Estates, reiterated multiple times she supports codifying abortion access as outlined in the now-overturned Roe vs. Wade case.
* Scott Kennedy on vote by mail totals…
The @illinoissbe has updated early vote totals (10/05/22):
Total VBM requested: 605,233
Total VBM returned: 1,816
Total VBM outstanding: 603,417
Return Rate: <1%
Total Early Vote: 7,519
Total Grace Period: 0
Total Already Voted: 9,335

— IL Election Data (@ILElectionData) October 5, 2022
* ILGOP…
"Amendment 1 would make our state even less business-friendly and less competitive right as businesses already leave our state in droves. It would empower and make state and city bureaucrats and employees even less efficient and accountable than they are now. This constitutional referendum grants super-legislative powers to union bosses that could only be changed by further constitutional referendums, not legislative action. Illinois voters should reject Amendment 1 as the government union power grab and trojan horse pathway to tax increases that it is," said Illinois Republican Party Chairman Don Tracy
* Darren Bailey at a Burr Ridge fundraiser yesterday. I can't tell if they're social distancing or it's just a smaller than expected turnout /s…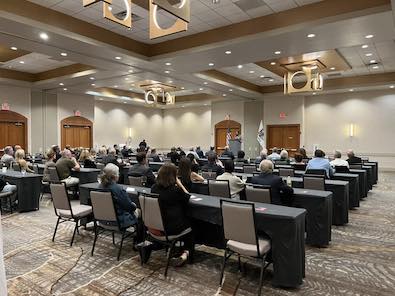 Also…
The upside:
- 30 donations
- $1K from IL-Sen candidate Kathy Salvi
- $2K from 2020 GA-Sen candidate Kelly Loeffler
- $75K in-kind from state party for mail

The downside:
- Only about $55K in cash
- Donor base mostly from outside Cook/Collars

— IL Election Data (@ILElectionData) October 5, 2022
* Local…
Latino Leadership Council issues a release urging @ChuyForCongress to "throw his hat into the ring ahead of the February 2023 mayoral primary." pic.twitter.com/4E6IV7MCE1

— Erin Hegarty (@erin_hegarty) October 4, 2022
…Adding… Pantagraph editor…
Among takeaways: McLean County clerk + treasurer express concerns about their offices' security. Clerk wants to be able to keep a gun there. "… they can take me down first. I'm old enough to go. They're not going to take my staff and I want to be able to protect them." https://t.co/M8iBqRXfnb

— Allison Petty (@AllisonAPetty) October 5, 2022
Whew. Getting really bad in that county.
* Roundup by Isabel…
* GOP contender Scott Gryder says local experience could help him unseat U.S. Rep. Lauren Underwood in congressional race: Republican congressional hopeful Scott Gryder said he was inspired to challenge Democratic incumbent Lauren Underwood after boundaries were redrawn by the Illinois General Assembly based on 2020 census results. The 14th Congressional District shifted away from some of the far western and northwestern suburbs to instead represent Democratic-leaning Joliet and Underwood's hometown of Naperville westward through conservative Kendall County farmland into rural LaSalle County.

* Trump-backed Miller, off hotly-contested primary, takes on Lange for 15th District seat: Miller, a Donald Trump acolyte who is completing her freshman term in Congress, faces Democrat Paul Lange of Mendon in the Nov. 8 election. Lange has virtually no name recognition and little cash on hand for his campaign.

* Durbin weighs in on City Council race: In case you missed it, U.S. Sen. Dick Durbin, D-Ill. has weighed in with an endorsement in one of Chicago's aldermanic races. Durbin endorsed Kim Walz, running to succeed the retiring James Cappleman in the North Side's 46th Ward. Currently a community liaison for Walgreens, Walz is a former aide to U.S. Rep. Mike Quigley, D-Chicago, (who also endorsed her) and once worked for Durbin, so the nod is not unexpected.

* Human Rights Campaign Endorses Illinois Attorney General Kwame Raoul for Reelection: Today the Human Rights Campaign PAC (HRC PAC) announced its endorsement of Illinois Attorney General Kwame Raoul for reelection. HRC PAC is committed to engaging its volunteers, members and supporters to mobilize the nearly 3 million Equality Voters in Illinois in support of Attorney General Raoul and other pro-equality candidates up and down the ballot.

* ISU students share their most important campaign topics as midterms approach: Senior finance major Freddy Olmedo said how the controversial topic of gun violence is a major concern to him. "Something that has been concerning me is the violence in Chicago that has been out of control lately," Olmedo said …Senior social work major Daniela Vargas said that she is most interested in hearing about conversations surrounding abortion rights.

* Here's how to watch Pritzker, Bailey face off in their first Illinois governor debate: Democratic incumbent Gov. JB Pritzker and Republican state Sen. Darren Bailey will participate in an hourlong debate starting at 7 p.m. at the Illinois State University campus in Normal. WGN-TV news anchor Tahman Bradley and WCIA-TV news anchor Jennifer Roscoe are the moderators for the debate, which will be covered by all 10 television markets in the state. Springfield viewers can tune to WCIA-TV, Channel 3 on Comcast, both on TV and through its website for this debate and the one scheduled Oct. 18 at the WGN-TV studio in Chicago.


Click here to help buy presents for LSSI foster kids!
26 Comments













































































Sorry, comments for this post are now closed.