* From the governor's media availability today…
Q: You've said several times that you're open to making changes to the SAFE-T Act. What are some of the changes you'd like to see during veto session?

Pritzker: Well, I think it's very important that we look at Senator Scott Bennett's bill. He's really, I think, written a pretty good bill, the provisions of which we should go through and decide which ones are appropriate. Working together in committee hearings and working groups, there are appropriate changes to make, most especially to clarify for everyone, that there's no such thing as a non-detainable offense. And that what we're aiming at here is keeping murderers and rapists and domestic abusers in jail, and not keeping people who can't afford bail for a nonviolent offense out of jail, not putting them in jail, but rather allowing them to get out of jail.
He still didn't answer the question.
Also, the Illinois Network for Pretrial Justice is strongly opposed to Sen. Bennett's bill…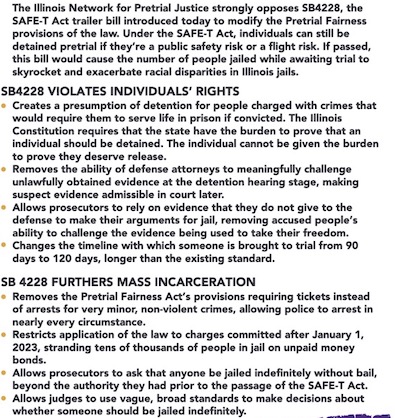 Click here to help buy presents for LSSI foster kids!
5 Comments














Sorry, comments for this post are now closed.