*** UPDATE 1 *** Doug Truax appears to be getting involved in at least one Illinois Supreme Court race…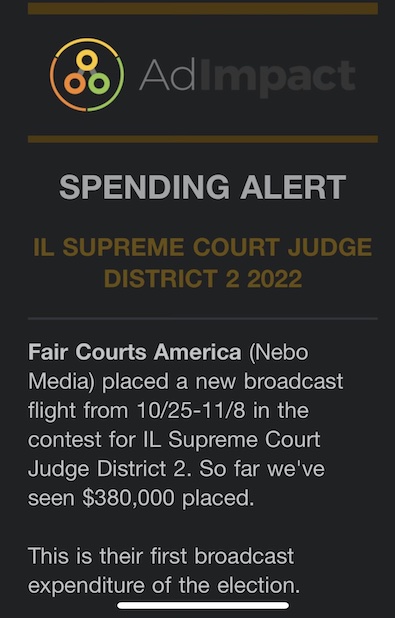 More on this new group is here and here.
*** UPDATE 2 *** The new ads…
[ *** End Of Updates *** ]
* Some of these numbers are inaccurate or, at the very least, confusing. Politico…
Women passing men at the polls

… The data shows 146,362 women and 122,010 men have requested and returned their mail-in-ballots or voted at early-polling sites as of Oct. 20 — or, 54 percent of women and 45 percent of men have voted.

Still outstanding: More women than men have also requested but not yet returned their ballots. The data shows 318,896 women (58 percent) and 229,255 men (42 percent) are still holding on to their ballots.

Not a surprise: Women have outnumbered men in recent elections, according to historical data from the Board of Elections. In the 2020 General Election, women outnumbered men by 15 percent. In the 2018 General Election it was by 14 percent.
OK, using Politico's numbers, current Illinois data shows that of all ballots returned this fall, 54.5 percent were from women and 45.5 percent were from men. That's a nine-point spread.
Using State Board of Elections data, in the 2020 general election, the turnout by gender was 54 percent women and 46 percent men, an 8-point spread among the vast majority of voters with identifiable gender status.
In 2018, the spread was 54 percent women to 47 percent men, or 8 points.
So, yeah, if women return their ballots in the same approximate percentage as they requested/received them (16-point spread), then that would be a big difference from years past and signal an absolute blow-out. Right now, though, the return rate is just a wee bit higher than the past two election cycles. That is, of course, still good news on its face for Democrats because that party did very well the last two cycles.
* Tribune…
As Bailey seeks to weaken Gov. J.B. Pritzker's Black support, governor launches new ad with endorsement from former President Barack Obama

A new TV spot from Democratic Gov. J.B. Pritzker touts an endorsement from former President Barack Obama just as the governor's opponents are seeking to weaken his support among Black voters. […]

The commercial's release comes after Bailey and his allies have sought to tamp down enthusiasm among Black voters for the first-term governor.

"Black people should not vote for J.B. Pritzker," former WLS-Ch. 7 reporter Charles Thomas, who is Black, says in an ad from a Bailey-aligned political action committee called People Who Play By The Rules.
OK, first of all, a whole lot of Illinoisans voted for Obama, not just Black Illinoisans.
And, secondly, it looks like the former POTUS cut a bunch of ads the same day, in the same room, wearing the same clothes. This is what a five-minute Twitter search found over the weekend…
When you cast your vote this election, it's not just candidates on the ballot. Democracy itself is on the line and it's up to us to defend it. pic.twitter.com/1mI6DO1R70

— Katie Hobbs (@katiehobbs) October 20, 2022
President Obama cuts ad for #WIGOV Tony Evers (D) pic.twitter.com/PS2JqGDmGU

— Joel Weingart (@JoelWeingart_) October 20, 2022
New ad: Former President @BarackObama endorses and cuts ad for @TheOtherMandela. Obama will also rally for Mandela Barnes later this month.#WiSenpic.twitter.com/Ng20slw4Rb

— Jason Calvi (@JasonCalvi) October 21, 2022
Obama cuts an ad for John Fetterman:

"The fate of our democracy is on the line" pic.twitter.com/Z6BWSJ7JXE

— Greg Price (@greg_price11) October 21, 2022
Obama doesn't mention Ron DeSantis by name here, but he does say Charlie Crist "cares about people, instead of bullying them." pic.twitter.com/fsYMIgbbT5

— Christopher Cadelago (@ccadelago) October 21, 2022
As Governor, my focus will be on bringing people together to solve our toughest challenges and move Oregon forward.

I'm so honored to have the support of President @BarackObama.

Thanks, Obama! pic.twitter.com/XDIZjsjxc4

— Tina Kotek (@TinaKotek) October 21, 2022
* Crain's…
With Democrats struggling against well-funded Republicans to retain control of the U.S. House, some in the party are gazing covetously at the huge war chest assembled by U.S. Rep. Raja Krishnamoorthi, D-Ill., perhaps for a future bid for the U.S. Senate.

Krishnamoorthi says he's getting a bad rap and that he has more than paid his dues by sharing proceeds of his fundraising with members of his caucus. "When someone else in the House asks me to help, I do," he said in a phone interview.

But quiet grumbling from other Democrats has been going on for a while and shows no sign of ending soon. […]

Krishnamoorthi doesn't deny that he's potentially interested in running for the Senate someday. "I have no idea what's going to happen to (incumbents) Dick Durbin and Tammy Duckworth," he says. "What I do know is that having money obviously helps you get things done in Washington."
* DPI…
The Democratic Party of Illinois (DPI) today launched wrongforillinois.com to make sure voters know the truth about State Supreme Court candidates Mark Curran and Mike Burke. Both candidates are wrong on abortion, wrong on democracy, wrong on January 6th — and wrong for Illinois.

With zero experience as a judge, Mark Curran is a far-right extremist who is totally unqualified to serve on the State Supreme Court. In addition to his ultra-MAGA views on abortion, election fraud, and January 6th, Curran has been rated "not recommended" by the Illinois State Bar Association.

Mike Burke is being propped up by anti-choice groups and far-right extremists with ties to the January 6th rally. Can we trust Mike Burke to be independent when that's the company he keeps?

Click HERE to visit the website and learn the truth.
* Illinois early vote totals…
The @illinoissbe has updated early vote totals (10/24/22):
Total VBM requested: 795,085
Total VBM returned: 265,937
Total VBM outstanding: 529,148
Return Rate: 33%
Total Early Vote: 66,934
Total Grace Period: 1,009
Total Already Voted: 333,880https://t.co/44ga6Axjmq

— IL Election Data (@ILElectionData) October 24, 2022
* Chicago early vote totals…
The most up-to-date Early Vote and Vote By Mail totals in Chicago, night of Sunday, October 23, 2022.

The Early Vote total stands at 5,220 ballots cast.

Additionally, 28,903 Vote By Mail ballots have been returned to the Board – total VBM applications stands at 192,542.

The grand total is 34,123 ballots cast so far in Chicago for the November 8th General Election.
* Isabel's roundup…
* Early voting expands throughout Illinois Monday: Every county has additional designated voting sites open and if you are a Chicago resident, you can vote at any early voting site no matter what ward you live in but voters must cast their ballot at their home precinct.

* Darren Bailey's uphill candidacy for farmers, cops and Illinoisans who feel 'pushed aside': In his run for governor, Bailey has offered himself up as a herald for those he considers to be the overlooked in Illinois, those he believes have been ignored, forgotten and excluded from a Chicago-driven plan led by Pritzker for the state to thrive. It's a religion-rooted regional crusade that has made Bailey the most conservative major nominee for the highest elected office in Illinois, a state where all three branches of its government are controlled by Democrats.

* Meet the Illinois 72nd House District Candidates: Gregg Johnson and Tom Martens: Johnson: "I do not support repealing the SAFE-T Act, but I do believe it is an imperfect bill that needs further clarification before it takes effect. Working in the Illinois Department of Corrections for over 30 years, I have seen what works and what doesn't, and the current status quo does not work. […] Martens: "The SAFE-T Act is not criminal justice reform, and it needs to go. Having bail is supposed to be the first deterrent when deciding to commit a crime. No one is holding a gun to anyone's head and making them commit crime. Sentencing guidelines need reform more than anything."

* GOP voters told to hold onto mail ballots until Election Day: Republican activists who believe the 2020 election was stolen from former President Donald Trump have crafted a plan that, in their telling, will thwart cheating in this year's midterm elections. The strategy: Vote in person on Election Day or — for voters who receive a mailed ballot — hold onto it and hand it in at a polling place or election office on Nov. 8.
6 Comments

















Sorry, comments for this post are now closed.