* Let's start with some mailers. All for Justice PAC…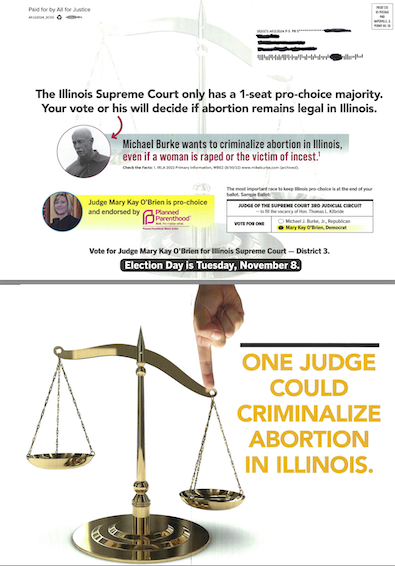 * DPI…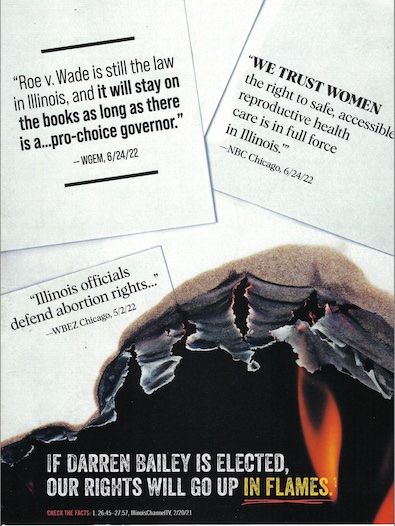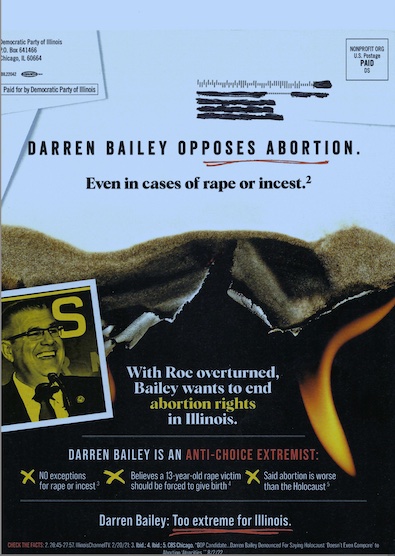 * Speaking of mailers, Dan Proft appears to be moving into the judicial realm in the Metro East…
But the best of the bunch of negative direct mail is paid for by "People Who Play by The Rules PAC" whoever they are. They attack judicial candidate Barry Julian asking in a blood red headline whether judicial seats in Madison County should be for sale and warning that Julian seems to think so.

Julian, a Democrat who is funding his campaign out of his personal resources, also is attacked on his age. Hypocrisy dripping from a flyer obviously funded by a Republican organization out of Florida, that backs someone who will be 78 years old when he runs for President of the United States in 2024.
* Press release…
Elections officials from three Illinois counties met last Saturday with voters from across Central Illinois concerned about the safety and security of our elections to "gain back confidence and trust that your vote is being counted fairly and accurately" said Elizabeth Gannon, Director of the Peoria County Election Commission. The 90 minute event, organized by Illinois People's Action, also featured Tazewell County Clerk, John Ackerman; and Knox County Clerk, Scott Erickson. The Peoria event followed a similar public meeting held in Bloomington, IL.

Nationally, voters have indicated that they believe democracy is in danger and both Democrats and Republicans identify the other party as the major enemy of democracy, according to a recent New York Times/Siena Poll (10/18/2022). Illinois People's Action's nonpartisan Defending Democracy campaign believes that all Americans should be encouraged to participate in our democracy; and first and foremost is exercising our right to vote with confidence that our vote will be fairly counted.

"The event held at the Peoria County Election Commission on October 22, 2022, was an important educational opportunity to learn about how Illinois elections are conducted in a safe and secure manner. I left this event feeling grateful that we have dedicated and knowledgeable individuals safeguarding our elections and that we as citizens can benefit from getting factual information directly from those who work in the elections process and not count on social media or hearsay for such information." Joyce Rosenberger, IPA Leader & Peoria County Resident

"Many people don't know how our local and state elections work. The question and answer event with our elections officials was an invaluable way to have a direct conversation with leaders from multiple counties. The officials also demonstrated their dedication to our democratic process." Reverend Jennifer Innis, Minister, Universalist Unitarian Church of Peoria

"One way to rebuild trust, is for local Election Officials, in each state, to review the election process, the security of the equipment being used to register and count the votes, security of drop boxes, and the safeguards to guarantee one vote per registered, living person for early, drop box, mail in, and election day voting, including the time frame for accepting and counting mail in votes, dated by election day, but received after." Susan Latta, IPA Leader and Peoria County Resident
* Press release…
October 25, 2022 – The WTTW, WBEZ and Chicago Sun-Times newsrooms will jointly present a candidate forum with Democrat incumbent Senator Tammy Duckworth and Republican challenger Kathy Salvi leading up to the November 8 midterm election.

The live forum will premiere on WTTW on Thursday, October 27 at 7:00 pm CT. It will stream live and on-demand on wttw.com, Facebook and YouTube, and will broadcast live on WBEZ on 91.5FM in Chicago and on wbez.org. Chicago Tonight co-anchor Paris Schutz and Chicago Sun-Times chief political reporter Tina Sfondeles will moderate the discussion with the candidates in WTTW's Chicago Tonight studio. They will also take questions live from community members on location at WILL public television station in Champaign, Illinois with WILL's Tinisha Spain and at La Villita Community Church in Chicago's Little Village community with WBEZ reporter Michael Puente. Viewers in the region can watch and listen on public television and radio stations across Illinois. Check local listings.

"This election will have a significant impact on residents across our city and state," said Jay Smith, News Director for WTTW. "We are proud to partner with fellow public media organization WBEZ and with the Chicago Sun-Times to provide voters with trusted, essential coverage and candidates with a forum for civil discourse."

"Voters have important choices to make this election season," said WBEZ politics editor Angela Rozas O'Toole. "With this collaboration with WTTW and our sister organization, the Chicago Sun-Times, the public will have the opportunity to hear directly from these U.S. Senate candidates about a number of important issues. We are excited to bring that service to our listeners and viewers."

"The results of this year's elections will affect many aspects of our daily lives," Sfondeles said. "We're happy to partner with WTTW and WBEZ to help voters comb through key issues in an important Senate race."
Cool news about Tina.
* Chuy Garcia was a signatory…
The Congressional Progressive Caucus has withdrawn a letter, signed by 30 House liberals and sent to the White House Monday, that urged President Biden to negotiate directly with Russia to bring an end to the war in Ukraine.

The withdrawal comes a day after the letter, led by Congressional Progressive Caucus chair Rep. Pramila Jayapal (D-Wash.), triggered fierce pushback from many Democrats, as well as from Ukrainian officials, who argued it was unrealistic to negotiate with Russian President Vladimir Putin.
Chicago has a lot of residents with Ukrainian heritage. That flag is everywhere. Just a dumb move on the potential mayoral candidate's part.
* Another national story…
Democrats and their allies have spent a staggering $103 million nationwide on ads about abortion since Labor Day. While Democrats have also spent tens of millions on Medicare and character-related attacks on their opponents, abortion remains the issue they've spent the most money on by far. […]

With an unpopular president and record-high inflation, it wasn't obvious that Republicans needed another line of attack against Democrats this midterms cycle, yet they've poured millions into ad buys that paint Democrats as soft on crime. In total, Republicans have spent nearly $50 million on ads focused on crime since Labor Day, making it one of their top issues nationally, per AdImpact's data. […]

Democrats have focused most of their character ad buys on individuals, especially in Senate races where questions of candidate quality have dominated. Democrats have spent $32 million on character ads compared to $21 million spent by Republicans.
* As of Sunday night, early voting in Chicago stood at 5,220 ballots cast. The jump was caused by early voting being available Monday for all 50 wards…
The most up-to-date Early Vote and Vote By Mail totals in Chicago, night of Monday, October 24, 2022.
 
The Early Vote total stands at 13,383 ballots cast.
 
Additionally, 33,909 Vote By Mail ballots have been returned to the Board – total VBM applications stands at 193,376.
 
The grand total is 47,292 ballots cast so far in Chicago for the November 8th General Election.
 
* Isabel's roundup…
* With coaxing from former City Council colleague Mell, Tunney warms to joining crowded race for mayor: With behind-the-scenes encouragement from perennial political power player Richard Mell, retiring Ald. Tom Tunney (44th) is warming to the possibility of joining the crowded field of candidates vying to replace Mayor Lori Lightfoot. "He thinks I would be a good mayor. That's all I can say," Tunney, 67, said Monday."He's worked with me for years."

* America's 'most dangerous' law? Illinois candidate warns of 'anarchy' after criminal justice overhaul: Crime in Illinois could "spiral out of control" after a new law overhauling the state's criminal justice system goes into effect in January, the mayor of a Chicago suburb said. "When I said that this is the most dangerous law I've ever seen, I believe that," said Orland Park Mayor Keith Pekau, who is running for Congress in Illinois' 6th District.

* Here's how much it really costs to get on the Chicago mayoral ballot : One rumor out there is that Lori Lightfoot's campaign has had to double its payments to these workers, shelling out as much as $9 per valid signature. Lightfoot's campaign denies paying that much but confirms that, after surveying the market, it upped its figure from $4 per valid signature to $6. One top Democratic strategist says they know of campaigns that have paid as much as $16 a signature.

* Where Illinois attorney general stands on SAFE-T Act and COVID-19 restrictions: Raoul backed the law, and said that it would "begin to put a system of accountability and professionalism forth, and hopefully begin to rebuild the trust in law enforcement." More recently, however, the Attorney General has expressed reservations about the legislation's impact. At a Sept. 20 campaign event, Raoul said that the law might need revising, telling supporters that ambiguities around whether a defendant poses a threat will require an "ongoing conversation" on where the threshold should be set.

* Rockford's Maurice West faces challenge from GOP candidate Glen Oland in Illinois 67th West: I will tackle crime by investing in our youth. Since 2021, my office has sponsored READY events (Reaching, Exposing, and Developing Youth), where we take our kids to local places to expose them to what we have in our community. For example, taking students to a farm outside of the city limits to understand the importance of farming, or taking a tour of Severson Dells to learn and appreciate nature. Planting a seed to help them understand their potential. […] Oland: One thing I will do when elected is work to completely repeal the Safe-T Act. It is a 750-page bill that eliminates bail for major criminals and is loaded with pork. I would then put forth a bill to do the cameras for the police and the few things that were ok with the bill.

* Illinois state comptroller: Money among differences between Mendoza and Teresi: Both candidates ran uncontested in their primaries June 28 and got 100% of their party's votes. Mendoza received 838,155 votes. Teresi received 666,835 votes. […] As with the campaign finance, a look at contributors differentiates the two candidates for comptroller. Teresi had five contributions and only one of those was larger than $1,000. Teresi had a $20,000 contribution from P.O. Box 284 (Aurora). Mendoza, on the other hand, had 13 contributions of more than $10,000 each. Most of those were tied to unions and political action committees.
20 Comments



























































Sorry, comments for this post are now closed.