* Full results are here. Reflecting national trends. WGN…
NEW Poll: Pritzker leads Bailey by roughly 9 points. pic.twitter.com/WDzGi2dzUJ

— Tahman Bradley (@tahmanbradley) October 26, 2022
Illinois U.S. Senate contest pic.twitter.com/14QAo1nRV3

— Tahman Bradley (@tahmanbradley) October 26, 2022
Attorney General pic.twitter.com/ehPTBoAlI1

— Tahman Bradley (@tahmanbradley) October 26, 2022
Comptroller race pic.twitter.com/Uyx7NnLp1X

— Tahman Bradley (@tahmanbradley) October 26, 2022
Secretary of State pic.twitter.com/IyFQey3ROd

— Tahman Bradley (@tahmanbradley) October 26, 2022
Treasurer contest pic.twitter.com/jqy84zholD

— Tahman Bradley (@tahmanbradley) October 26, 2022
"Workers Rights" Amendment pic.twitter.com/1RPay0rpEL

— Tahman Bradley (@tahmanbradley) October 26, 2022
This post will be updated.
…Adding… More…
How might the undecided voters break…. pic.twitter.com/rMFNih76rA

— Tahman Bradley (@tahmanbradley) October 26, 2022
Pritzker winning in Chicago and suburbs but Bailey leading elsewhere pic.twitter.com/vvJLSFVIUj

— Tahman Bradley (@tahmanbradley) October 26, 2022
A majority of Illinois voters say the state is headed in the wrong direction pic.twitter.com/1iMmSpbCA1

— Tahman Bradley (@tahmanbradley) October 26, 2022
Top issue in Illinois remains the economy pic.twitter.com/TTt8Gtiil5

— Tahman Bradley (@tahmanbradley) October 26, 2022
Biden v Trump in 2024 in IL pic.twitter.com/l5gIpyvB7x

— Tahman Bradley (@tahmanbradley) October 26, 2022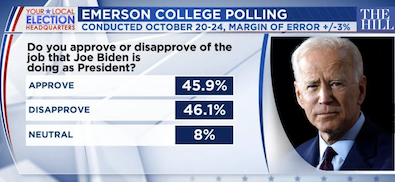 Those are the best right track/wrong track numbers I've seen for Illinois in like forever. Bailey is doing very strong numbers in Chicago.
…Adding… Here are some historical right/wrong track numbers…
*** UPDATE *** Civiqs…
This report contains the results of a Civiqs survey of 659 likely voters in Illinois from October 22-25, 2022.

The survey was conducted online, among selected members of the Civiqs research panel. Sampled individuals were emailed by Civiqs and responded using a personalized link to the survey at civiqs.com. The survey results are weighted by age, race, gender, education, and party identification to be representative of the population of likely voters in Illinois. The general design effect due to weighting is 1.26. The survey has a margin of error of ± 4.3% at the 95% confidence level, accounting for the design effect.
In the race for the U.S. Senate in Illinois, incumbent Democrat Tammy Duckworth leads Republican Kathy Salvi by a substantial margin, 56% to 40%. Duckworth has a positive favorability rating, 51% favorable to 43% unfavorable. Salvi is both less popular and less well known among likely Illinois voters, with a 28% favorable rating, 36% unfavorable rating, and 36% who are unsure about her.

Democrat JB Pritzker holds a 17 percentage point lead over Republican Darren Bailey in the election for Governor of Illinois, 56% to 39%. Pritzker is viewed favorably by 50% of Illinois likely voters, and unfavorably by 45%. Likely voters have a negative opinion of Bailey, who gets a 29% favorable rating and a 56% unfavorable rating, with 16% unsure.

Likely voters in Illinois give President Joe Biden a 46% favorable rating, with 49% viewing him unfavorably.
65 Comments


































































































































































































Sorry, comments for this post are now closed.