*** UPDATE *** Lynn Sweet…
The White House confirmed Wednesday that President Joe Biden will stump in Illinois Friday, ahead of Tuesday's midterm balloting — likely in the Chicago area — and Vice President Kamala Harris hits Chicago on Sunday.

Biden will lead a get-out-the vote for Democrats with a focus on boosting suburban Chicago congressional incumbents — especially Reps. Sean Casten and Bill Foster — who are in races that may be tightening.

The White House confirmed on Wednesday that Vice President Kamala Harris visits Chicago on Sunday. […]

The vice president's office said Harris will "deliver remarks" at an Asian Americans and Pacific Islanders event in Chicago. Another source said the stop is likely an event for the AAPI Victory Fund, a political action committee. Sen. Tammy Duckworth, D-Ill., an Asian American, and on the Tuesday ballot, is also scheduled to attend the event.
* Illinois early vote totals…
The @illinoissbe has updated early vote totals (11/02/22):
Total VBM requested: 860,663
Total VBM returned: 467,112
Total VBM outstanding: 393,551
Return Rate: 54%
Total Early Vote: 419,002
Total Grace Period: 6,580
Total Already Voted: 892,694https://t.co/44ga6Axjmq

— IL Election Data (@ILElectionData) November 2, 2022
The statewide vote by mail return rate (as of today) is 54.27%. Only a few jurisdictions are below that, but they include some of the most populous areas, like City of Chicago (37.42%), Lake County (43.51%) and Suburban Cook County (52.05%).

Note: there can be a lag in reporting pic.twitter.com/kr2nD6Oxei

— IL Election Data (@ILElectionData) November 2, 2022
* Chicago early vote totals…
The most up-to-date Early Vote and Vote By Mail totals in Chicago, night of Tuesday, November 1, 2022.

The Early Vote total stands at 70,656 ballots cast.

Additionally, 76,071 Vote By Mail ballots have been returned to the Board – total VBM applications stands at 208,003.

The grand total is 146,727 ballots cast so far in Chicago for the November 8th General Election.

FOR COMPARISON:

As of June 22, 2022 (6 days out from the 6/28/22 Primary Election): 61,377 ballots cast

As of October 27, 2020 (6 days out from the 11/3/20 Presidential Election): 583,372 ballots cast

As of October 30, 2018 (6 days out from the 11/6/18 General Election): 152,320 ballots cast
Chicago is still at 16 percent of total votes cast, even though the city is 21 percent of the population.
* Michael Flynn's The America Project is leafleting in suburban Cook County and it looks like they're piggy-backing on the anti-union group's bandwagon…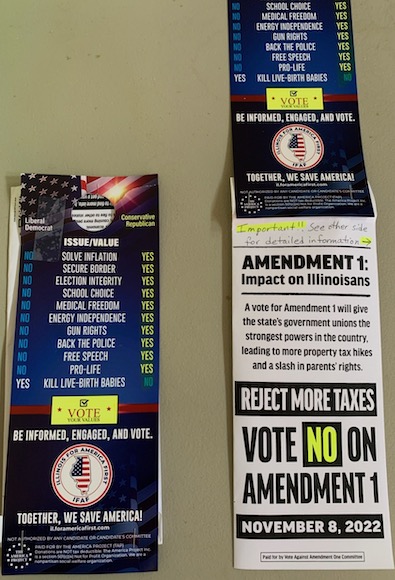 * Dave Dahl…
Republican Regan Deering, running for the new 13th Congressional District, appeared Wednesday to accept the endorsements of the Illinois, and U.S., Chambers of Commerce.

As she paints opponent Nikki Budzinski as a "political insider," the discussion turned to why elective office seems to be the only job for which experience is a liability. After answering that she would represent business experience and new blood, Deering volunteered, "I also am a supporter of term limits. I think America is tired of career politicians."

What term limit will she place on herself?

"I'll get myself elected in six days, and then we'll see."

But she just said she supports term limits. What sort of term limits is she talking about?

"We can talk about that when it comes to a vote. That would be great."
* Politico…
House Republicans' top congressional super PAC is betting that a last minute cash infusion can flip two deep-blue districts on the edges of the House battlefield.

The Congressional Leadership Fund is going on air with seven-figure buys targeting Democratic Rep. Sean Casten in suburban Chicago and the Long Island seat held by retiring Democratic Rep. Kathleen Rice. The super PAC is investing $1.8 million and $1.5 million, respectively, on broadcast buys in the expensive Chicago and New York City media markets.

Neither district has seen much outside spending before the final days of the midterms, and President Joe Biden carried both of them by double-digits in 2020. But the late ad buys suggest Republicans see opportunities in both places as the country grapples with high cost of living and the possibility of an economic recession looming.

House Majority PAC, CLF's Democratic counterpart, also recently invested in both districts — a sign that both parties believe the seats are at risk of flipping.
* The ad…
6th Congressional District

Two-term Congressman Sean Casten (D-Downers Grove) and challenger Mayor Keith Pekau (R-Orland Park) are locked in a closer-then-expected race than the major ratings services indicate:

- Cook Political Report with Amy Walter: Likely Leans Democrat
- Larry Sabato's Crystal Ball: Likely Democrat
- Elections Daily: Safe Democrat
- RCP: Toss-up

While no published independent polling is available in this race, Mayor Pekau is broadcasting TV commercials on broadcast TV in Chicagoland. Congressman Casten has been on broadcast TV since Labor Day. Casten launched attack ads against Pekau in late September, possibly indicating Pekau and Casten are close according to internal polling.
* Isabel's roundup…
* Black voters drive the right crazy by showing strength in numbers during elections: The strength of Black vote turnout in densely populated metropolitan areas drives the right crazy. The fact that urban Blacks vote in high numbers is one reason Republicans like to bash big cities. That's partly why Darren Bailey, the GOP nominee for governor, called Chicago a hellhole. Black voters in the Southland are a big reason why Democrats enjoy one-party rule in Illinois. The concentration of likely Democratic voters on Chicago's South Side and in the south suburbs makes this place ground zero for political power.

* Company Sent Illinois Voters Text Messages With 'Election Misinformation,' Officials Say

* 2022 Election: Profiling the race for Illinois' 46th State Senate seat: https://www.centralillinoisproud.com/news/local-news/2022-election-profiling-the-race-for-illinois-46th-state-senate-seat/amp/

* In their own words: Meet the candidates for Illinois's 72nd House District: Democrat Gregg Johnson and Republican Tom Martens are facing off in the race for Illinois's 72nd District, and they shared their priorities and values with News 8.

* Editorial: For Illinois House: Crespo, Mazzochi, Stevens, Grant, Nizamuddin, Wallace, Bos, McLaughlin, Vrett, Canty, Lupo, Litney, Carroll, Morgan, Didech:This is the fourth installment of the Tribune Editorial Board's endorsements for Illinois House races in the Nov. 8 general election.

* Vaccines used to be apolitical. Now they're a campaign issue: Pro-vaccine advocates worry that the rise of these candidates, along with an emboldened anti-vaccine movement, could spell trouble for public health in the years to come."I think it's really unfortunate that an issue that has saved so many lives has become partisan and hyper-political," says Northe Saunders, the executive director of the SAFE Communities coalition, a nationwide nonprofit committed to supporting pro-vaccine political candidates and policies.

* ADDED: Pritzker headlines a drag show
16 Comments















































Sorry, comments for this post are now closed.