* Heh…
— Best of Nextdoor (@bestofnextdoor) November 3, 2022
* Illinois early vote totals…
The @illinoissbe has updated early vote totals (11/03/22):
Total VBM requested: 866,786
Total VBM returned: 489,730
Total VBM outstanding: 377,056
Return Rate: 57%
Total Early Vote: 471,451
Total Grace Period: 7,705
Total Already Voted: 968,886https://t.co/44ga6AxRbY

— IL Election Data (@ILElectionData) November 3, 2022
* Chicago early vote totals…
The most up-to-date Early Vote and Vote By Mail totals in Chicago, night of Wednesday, November 2, 2022.

The Early Vote total stands at 81,421 ballots cast.

Additionally, 83,142 Vote By Mail ballots have been returned to the Board – total VBM applications stands at 208,933.

The grand total is 164,563 ballots cast so far in Chicago for the November 8th General Election.
The city is now at 17 percent of the statewide total, up a point from before, but still short of its 21 percent of the total state population.
* First it was property taxes and now it's DCFS…
…Adding… IPI has a video, too. Commenter "Union Thug" found it. Click here.
* Local sheriff who opposes SAFE-T Act because it will increase crime has several deputies who say they may resign en masse if local sheriff loses his reelection to an independent candidate…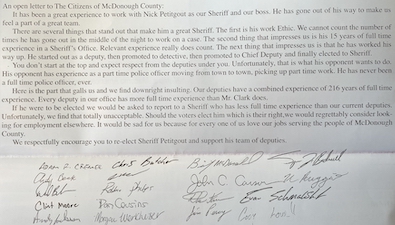 …Adding… The above was a newspaper ad, by the way.
* While we're talking about sheriffs, this is from the official government Facebook page of the Stephenson County Sheriff's Office…
Bold.
* Back to the SAFE-T Act. The Tribune gets it right…
[Republican Rich Janor] has repeatedly accused [Rep. Janet Yang Rohr's, D-Naperville] of being soft on crime. He inaccurately claimed in a League of Women Voters forum in October that under the SAFE-T Act a police officer couldn't remove a trespasser sitting in someone's living room watching TV.

While the law mandates tickets instead of arrests for misdemeanors such as trespassing, an Illinois Supreme Court task force has said police retain the ability to remove a person before issuing a citation.
…Adding… Since we're talking about the SAFE-T Act, this is from a text message today…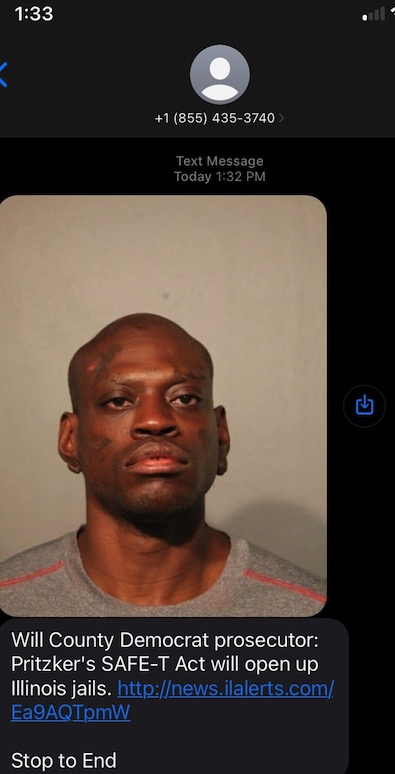 * DPI media advisory…
Vice President Kamala Harris will rally with Illinois Democrats at 2:00pm on Sunday, November 6th.

WHEN: 12:00pm doors, 2:00pm event start, Sunday, November 6, 2022

WHERE: XS Tennis and Education Foundation, 5336 S State St, Chicago
* Greg Hinz…
The race for Congress in the west suburban 6th District, where incumbent Sean Casten, D-Downers Grove, faces GOP nominee and Orland Park Mayor Keith Pekau, has taken a turn toward the competitive after appearing to be solidly favorable for Casten. […]

The first sign that the contest had tightened occurred in late October when House Speaker Nancy Pelosi paid a visit for an event with Casten. And one of Pelosi's big funding vehicles, the House Majority PAC, poured $630,000 into pro-Casten ads.

Since then, three different major national handicappers—Real Clear Politics, Politico and the Cook Political Report—have moved their forecasts in the GOP direction, though two of the three say Casten still has a real, if reduced, edge. […]

Casten's folks say they always expected the race to narrow at the end, given that most of the newly remapped district was previously represented by someone else. Casten will continue to attack Pekau on issues like abortion while Pekau says he supports abortion in cases of rape, incest and risks to the mother's life. But Pekau also praised the U.S. Supreme Court decision that allowed states to ban all abortions.
* Kevin McCarthy to stump for Pekau…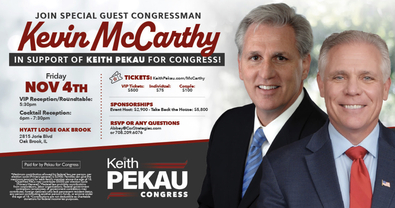 * ILGOP Statement on President Biden's visit to Illinois…
Today, President Joe Biden visits Illinois for a series of rallies to bail out sputtering Congressional Democrats in the Chicago suburbs. ILGOP Chairman Don Tracy issued the following statement:

"As the Biden economy sputters, races for suburban Congressional Democrats once thought safe are trending in the wrong direction. Now President Biden is making a last-ditch effort to dig them out of the hole they dug together. Senator Duckworth, Congressmen Sean Casten, Raja Krishnamoorthi, Bill Foster, and Congresswoman Lauren Underwood have all spent two years supporting the inflation-fueling Biden-Pelosi spending binge every step of the way. Now with historic inflation fueling skyrocketing gas and grocery prices, they can follow their spending binge to its final destination - out of office on the morning of November 9th."

A recent New York Times poll indicated that 44% of likely voters cite the economy and inflation as their most important issues. The U.S. economy is facing its highest inflation rate in 40 years as a direct result of runaway spending by President Biden and Congressional Democrats that even respected Democrat economists warned could fuel the historic inflation we are now experiencing. Reps. Casten, Krishnamoorthi, Foster, and Underwood supported this spending agenda at every turn.

RealClearPolitics recently moved Casten (IL-6) and Underwood's (IL-14) races from Lean D to toss-up as the Congressional Leadership Fund announced a massive seven-figure investment in Illinois' 6th Congressional District race.
* Tom DeVore is on a panel at the Midwest Freedom Summit 2022 this Saturday in Itasca …
America is facing challenging times. Inflation is skyrocketing, as the cost of everything from gas to groceries continues to rise. Everyday Americans are struggling to keep their heads above water with a shaky stock market and economic uncertainty. On the world stage, America's stature continues to shrink, after a hasty and bloody exit from Afghanistan and a seemingly never-ending stalemate in Ukraine. As the nation finally exits the COVID pandemic and looks ahead to the 2022 mid-term elections and beyond, issues like abortion, gun control, and education remain top of mind for voters. In Illinois, voters face the opportunity to replace Gov. JB Pritzker after nearly four years of disastrous COVID policies that have left the state struggling to recover.

Amid these many challenges, conservatives from across the Midwest will come together for Freedom Summit 2022 on Saturday, November 5, 2022 — just a few short days before the critical mid-term elections. Attendees will have the chance to consider these important issues, as they are discussed and debated by some of the country's most prominent conservative voices. This one-day event will feature speakers, break-out sessions, and book signings. As we prepare to head to the polls for thes critical mid-term elections, this event should not be missed.

Hear from keynote speakers Alex Berenson, Brandon Tatum, and Larry Elder, as well as break-out panels on the economy, the COVID-19 pandemic, election integrity, and much more.
Dan Proft is also a featured speaker. Dennis Reboletti, who is running for the Senate this year, will be on a panel with DeVore, Stephanie Trussell and Tyrone Muhammad (whose group got into that tussle with police the other day). It'll be moderated by John Anthony, who was fired from IDOC for sexual harassment.
* Isabel's roundup…
* Chicago Tribune | President Joe Biden implores voters to save democracy from lies ahead of midterms: The president's speech — focused squarely on the rite of voting and the counting of that vote — amounted to a plea for Americans to step back from the inflamed rhetoric that has heightened fears of political violence and challenges to the integrity of the elections. Biden was straddling two roles, speaking as both a president defending the pillars of democracy and a Democrat trying to boost his party's prospects against Republicans. He called out the hundreds of candidates who have denied the 2020 election result and now refuse to commit to accepting the results of the upcoming midterms. "This driving force is trying to succeed where they failed in 2020 to suppress the rights of voters and subvert the electoral system itself," Biden said. "That is the path to chaos in America. It's unprecedented. It's unlawful. And it is un-American."

* Chicago Tribune | Getting out the vote in 2022: Text messages, social media posts, rallies, door knocking and a drag show : As voting continues through Tuesday along with the TV ads, the campaigns for governor, their local party organizations and their allies are relying on traditional strategies such as sending teams to canvass door-to-door and phone banking. They are also using more recent techniques such as digital ads, social media and text messaging. "There are several thousand people knocking on doors across Illinois and making phone calls," Bailey said in one of his near daily Facebook Live posts on Tuesday.

* NBC | What Changes if the Illinois Workers Rights Amendment Passes, and When Would it Take Effect?: For all intents and purposes, the amendment will codify the right of workers to unionize into the state's constitution. It would also prohibit state government from passing "right-to-work" laws, which are currently in effect in at least 27 U.S. states.

* Quad-City Times | IL Comptroller, local officials call on state to timely pay families of fallen first responders : Surrounded by local police, firefighters, EMS personnel and elected state and local officials in Moline Wednesday, Mendoza detailed House Bill 5785, which aims to ensure timely compensation is given to the next of kin of those who perish in the line of duty. The bill would ensure a continuing line of funding is available without disruption, so there is no delay to the families.

* Belleville News-Democrat | It's the last day to request a mail-in ballot for the November election in Illinois: If you're hoping to vote by mail in the Tuesday, Nov. 8, midterm in Illinois, Thursday is the final day to request your ballot electronically or by post. The deadline for ballot requests across the state is Nov. 3. You do not need an excuse to vote by mail in Illinois, and all registered voters are eligible.

* Register-Mail | Halpin spends more than twice as much as Thoms in District 36 Senate race: A look at third quarter (July 1 to Sept. 30) contributions and spending of the two candidates shows Halpin with a clear financial advantage. Halpin spent nearly $1.9 million for his campaign during the third quarter, more than doubling the campaign spending for Thoms, $767,979.

* Belleville News-Democrat | Here's what happened when Madison County sent incorrect ballots to voters in this precinct: Madison County mistakenly sent ballots that included six judicial candidates for the Nov. 8 election to residents in one Edwardsville precinct, but County Clerk Debbie Ming Mendoza said efforts are underway to correct the mistake. Some residents of Precinct 3 received ballots that incorrectly listed judicial candidates in the newly created Subcircuit 1 of the 3rd Judicial Circuit. However, this precinct is not located in Subcircuit 1.

* WAND | African-American voters in Champaign receiving false texts about voting locations: "These messages are not affiliated with the Champaign County Clerk's office. They were sent by a third-party vendor of an organization called Black Voters Matter. Black Voters Matter contracted with a third-party vendor to send push notifications to voters," said Ammons. The messages stated that the residents would now have to drive to Gifford, Illinois to cast their vote. "I have not had an opportunity to speak to anyone from Black Voters Matter or Movement Labs. We wanted to immediately jump on this to make sure that our voters here in Champaign County got the accurate information that they need to make sure they know that it did not come from the election authority here locally and what they can do to resolve the issue," stated Ammons.
38 Comments

















































































































Sorry, comments for this post are now closed.