* Spotted in Hinsdale by a canvasser earlier this week…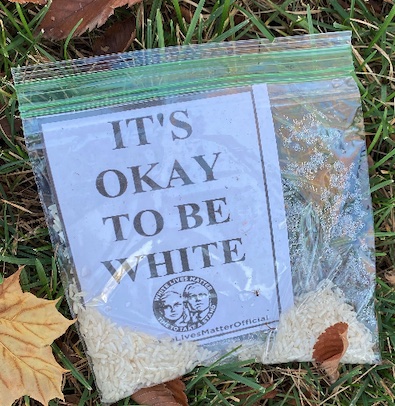 * From the ADL…
The phrase "It's Okay To Be White" is a slogan popularized in late 2017 as a trolling campaign by members of the controversial discussion forum 4chan. The original idea behind the campaign was to choose an ostensibly innocuous and inoffensive slogan, put that slogan on fliers bereft of any other words or imagery, then place the fliers in public locations. Originators assumed that "liberals" would react negatively to such fliers and condemn them or take them down, thus "proving" that liberals did not even think it was "okay" to be white.

Whether the original trollers were white supremacist or not, actual white supremacists quickly began to promote the campaign—often adding Internet links to white supremacist websites to the fliers or combining the phrase with white supremacist language or imagery. This was not a surprise, as white supremacists had themselves used the phrase in the past—including on fliers—long before the 4chan campaign originated.
* And…
In other words, it is the far-right attempting to create a larger, normalized presence; an in-real-life viral meme that will try to coax moderates toward the false narrative that "reverse racism" is real and progressives are hypocrites when it comes to the discussion of race, systemic racism and prejudice.
Rice is commonly used in these racist baggies to weigh them down.
37 Comments














































































































Sorry, comments for this post are now closed.