* I told subscribers about this earlier today. Tribune…
A spokesperson for Justice Michael Burke, a Republican who has served on the court since 2020, said Wednesday that the justice has conceded his race to his Democratic challenger, Appellate Court Justice Mary Kay O'Brien
Justice O'Brien declared victory today. That means the Democrats (and pro-choicers) will have a 5-2 majority on the top court. A majority of justices will also be women for the first time.
* Dan Proft's People Who Play by the Rules PAC didn't just lose the governor's race by a huge margin (after circulating at least one highly questionable poll). He also spent money on several down-ballot contests. I asked Isabel to do the math. Most of these were House candidates, but one (Nagel) was a Senate candidate and another (Moody) was a candidate for sheriff. Independent expenditures since the beginning of October...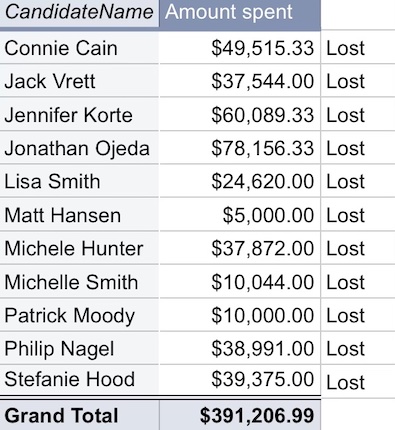 * Speaking of the Proft/Bailey race, here's the Huffington Post…
Throughout the late spring and into the summer, Democratic operatives made a series of risky choices to elevate Republican candidates who wholeheartedly embraced former President Donald Trump's cornucopia of lies about the 2020 presidential election.

In Republican primary after Republican primary, Democrats aired ads serving two purposes: promoting seemingly unelectable candidates to the GOP base while attacking them for a general election audience. The ads noted how close the Republican candidates were to Trump, played up their support for strict restrictions or bans on abortion and other things the GOP base loved but general election voters hated.

On election night, those risky bets paid off. All six of the election-denying candidates on the ballot whom Democrats boosted ― three gubernatorial candidates, two House candidates and a Senate candidate ― lost, most of them resoundingly.
One of those was, of course, Darren Bailey.
* WQAD last night…
Illinois voters decided Tuesday to amend their state constitution to guarantee the right to bargain collectively.
Labor unions declared victory last night, but they haven't yet provided the numbers to buttress their case. It's short of the 60 percent required for outright passage and, by my quick count, also appears to be just shy of the majority of all persons voting. More votes will be counted, however, so stay tuned.
This thing is gonna get really complicated and involved. I've already been in one long back and forth today about how over/under votes will factor into the equation.
* Many naysayers believed the Democrats had gone too far when they drew their new congressional maps. No way could they win 14 districts out of 17. Well, Democrat Nikki Budzinski won yesterday and Republican Esther Joy King conceded today…
Democrat Eric Sorensen will be headed to Congress after Republican Esther Joy King called to concede the race Wednesday morning.

Sorensen is a longtime meteorologist while King is trained as a lawyer and JAG Officer in the Army Reserve.

The 17th Congressional District seat opened up ater U.S Rep. Cheri Bustos (D) retired. King previously ran against Bustos in 2020 but was narrowly defeated.
* Senate Republican Leader Dan McConchie's Democratic opponent refuses to concede…
As votes continue to come in, the Maria Peterson and Dan McConchie race is still not decided. The election results that have been reported so far are showing that Maria Peterson has 41,415 votes and Dan McConchie has 43,353 votes. However, this does not include votes that have been mailed in on or before Election Day and provisional ballots. Peterson said, "We are looking forward to the next few weeks and the arrival of the rest of the ballots to the clerks' offices so that each and every vote can be counted and the voice of each voter heard. According to voter file information, there are possibly as many as 6,500 ballots that were requested and are outstanding.
* Greg Hinz…
Cook County Chief Judge Tim Evans kept his job despite a quiet effort by some in his party to deny him retention to the bench.
* Illinois Supreme Court candidate Mark Curran last month…
I'm Catholic, and I'm, I'm sort of pro-life.
WTTW last night…
[Republican Illinois Supreme Court candidate Mark Curran] gave a concession speech in front of his supporters late Tuesday night, in which he repeatedly pointed to his faith and said his opponent ran against him solely on the abortion issue.

"The bulk of Illinois voted on killing babies," he said. "Now, if you asked me would I like to switch my position on that so that I could win (an) election and spend the rest of eternity in hell, I'd say no way."
…Adding… Oops. Forgot to put this one in, but it's noteworthy…
My name is Nabeela Syed. I'm a 23-year old Muslim, Indian-American woman. We just flipped a Republican-held suburban district.

And in January, I'll be the youngest member of the Illinois General Assembly.

— Nabeela Syed (@NabeelaforIL) November 9, 2022
She also worked constantly.
Sharon Chung (D-Bloomington) also won a House seat last night, expanding the Asian American legislative caucus to 9. And according to Rep. Theresa Mah (D-Chicago), two Asian Americans won seats on the DuPage County Board and one won a seat on the Will County Board representing Bolingbrook.
It's more than just a trend.
…Adding… Another big D win…
Wheeler congratulates Hanson on victory in 83rd state House race https://t.co/n2kiiD6VEB

— Daily Herald (@dailyherald) November 9, 2022
42 Comments





























































































































Sorry, comments for this post are now closed.