* I've been getting several emails from Google lately…
xxxx (xxxx@gmail.com) is requesting access to a file via an old link, which is no longer valid due to a security update. Share the file with this person directly, or copy and send the new link in sharing settings.
The link is to this image…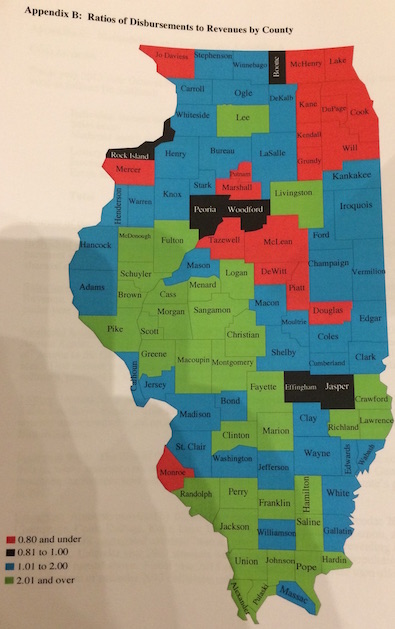 * I'm pretty sure the interest in that older map has something to do with this story…
Illinois residents wanting to separate their communities from Chicago and Cook County is nothing new in the political world, but three counties took things one step further during the midterm elections, passing non-binding resolutions indicating that they want their elected officials to potentially explore seceding from the state.

These so-called "separation referendums" were on the ballot in Brown and Hardin counties, as well as a portion of Madison County.

The thrust behind the referendums was to allow the county board of each area to coordinate with other county boards to explore the possibility of seceding from Illinois due to the influence Chicago and Cook County have on the state's political decisions.

Brown County, located in western Illinois, voted overwhelmingly in favor of the non-binding ballot question, with nearly three-in-four voters approving it. […]

Hardin County, located in southeastern Illinois, also voted on a similar measure and passed it. According to the U.S. Census Bureau, the county has a population of 3,649 residents, making it the least-populated county in the state.
More…
The [Brown] county board's vice chairman Mike Yingling said a group of citizens petitioned to put the measure on the ballot. The decision directs the county to seek to join other counties who wish to cast off the influence of Cook County.

"If I recall, one of the proposals was that parts of downstate Illinois would become part of Iowa," Yingling said. "And parts would become part of Missouri and parts become parts of Indiana and not a separate state."

Since it passed, Yingling said the board now has more to add to its agenda.

"We'll have to research that and see what that referendum mandates us to do," Yingling said. "Which obviously just passed yesterday so we don't know exactly what our requirements are going to be."
Darren Bailey won Brown County with 82 percent of the vote. Sounds like a bunch of sore losers.
* From 2018…
Longstanding political dialogue in Illinois is that downstate Illinois does not receive its fair share when it comes to a return on state funding and resources.

While there is not an equal funding distribution across the state, research by the Southern Illinois University Carbondale's Paul Simon Public Policy Institute shows that despite heavy rhetoric, the downstate region receives more than it pays into the state coffers. The best deals are received in central Illinois and Southern Illinois. […]

The research breaks the state's 102 counties into six specific regions, including Cook County, a five-county suburban section that surrounds Cook County, and the 96 remaining downstate regions, which are subdivided into north, central, southwest and southern regions.

The research shows the south region receives $2.81 in state funds for every $1 generated. The central Illinois region of 50 counties receives $1.87 back for every $1.00 sent to Springfield. All of the downstate regions receive more from the state budget than they pay in taxes. By comparison, Cook County receives 90 cents for every $1, and the suburban counties only 53 cents for every $1 generated.
The study is here. And here's the map…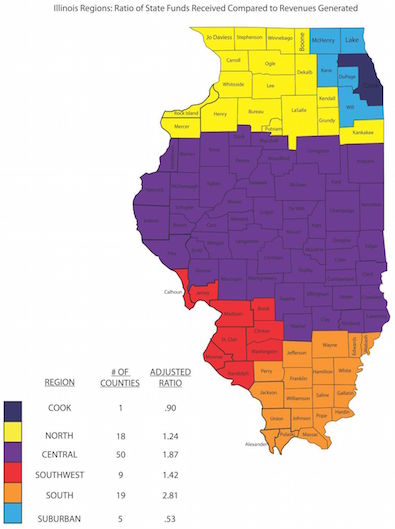 Discuss.
68 Comments











































































































































































































Sorry, comments for this post are now closed.