* I was told this morning that Rep. McCombie currently has enough votes…
Illinois House Republicans have internally selected Leader Jim Durkin's successor: State Rep. Tony McCombie. A majority of House Republicans say they'll support her.

— TinaSfon (@TinaSfon) November 11, 2022
Note the time stamp on Tina's tweet from last night. Somebody else claimed a scoop on the story this morning, several hours after Sfondeles popped it.
* Also, since I saw it mentioned online today, subscribers were told yesterday that Sen. John Curran has rounded up more than enough votes to depose current Senate Republican Leader Dan McConchie.
* Rep. Tim Butler (R-Springfield) announced early this morning that he plans to "resign from the House before the start of the 103rd General Assembly to work full-time with the Illinois Railroad Association." Flashback…
— Capitol Fax (@capitolfax) April 23, 2021
* Tina Sfondeles with an update on SAFE-T Act negotiations…
So far, the sponsors and supporters are not interested in "massive substantial changes," another source with direct knowledge of the negotiations told the Sun-Times.

Supporters of the bill are working to clarify provisions they claim have been "willfully misinterpreted," including some drafting errors.

The working group met for three hours on Wednesday and again on Thursday. Gordon-Booth said the conversations are "robust."

"A lot of areas, we have a consensus," Gordon-Booth said. "On some other areas, there's some work left to do."

The reforms have already been signed into law, but Gov. J.B. Pritzker and Democratic lawmakers had pledged to look at any "clarifications" they needed to make in the veto session. […]

"Many of the things that were said about the SAFE-T Act were lies. Hard stop. Flat out lies," Gordon-Booth said. "All the while, we're still working with law enforcement to strengthen and clarify what is the intent of the original language from January 2021."
The only way we'd have seen "massive" changes would've been if Republicans had swept. Instead, the GOP endlessly flogged the issue (oftentimes untruthfully) and still got thumped almost everywhere except for one seat in the Illinois Senate and one in the House. Also, I wouldn't expect any floor action next week in either chamber.
…Adding… I was asked by the Conference of Women Legislators to post this flier…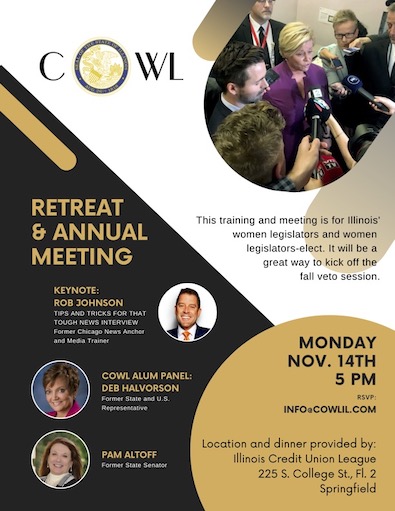 …Adding… DeVore waited far too long to criticize Proft, but here we go…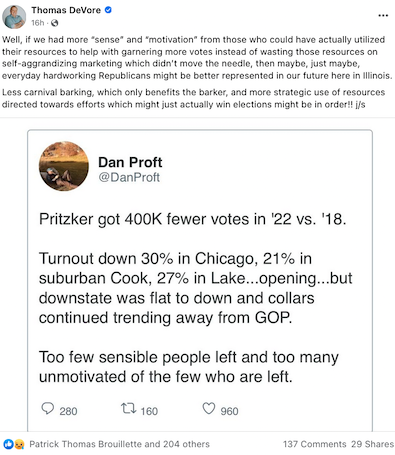 * A few more…
* Black voters in North Lawndale scaled mountains of inconvenience and confusion to vote: Article III of the Illinois Constitution pledges that all elections shall be free and equal, and that laws governing voter registration and conduct of elections shall be general and uniform. However, it's hard for me to fathom that what I experienced as an election judge in the 24th Ward on Tuesday was free or equal. It's even harder for me to believe that my experience was similar to the experiences of North Side neighborhoods with more wealth and resources.

* Illinois labor groups declare victory in Worker's Rights Amendment: The bulk of outstanding mail-in ballots come from counties that voted heavily in favor of changing the Illinois Constitution to protect collective bargaining rights

* The suburban prosecutors taking the lead in the legal battle to topple the SAFE-T Act: On Wednesday, they filed a 35-page motion for summary judgment, asking Kankakee County Judge Thomas W. Cunningham to find the law unconstitutional and issue a restraining order preventing the state from implementing it.

* Man in the middle: Departing state House GOP Leader Durkin says Trump so 'harmful' to nation that RINO tag is 'badge of honor': Many believe a Durkin stay in the House is unlikely. But for now, he said he's prepared to be a voice for Republicans in their fight against the criminal justice package known as the SAFE-T Act, which will see at least some revisions during a veto session that begins next week.

* Illinois GOP fundraising base has badly eroded over the years: It's either jump into the far-right political bed with billionaire Richard Uihlein, or deal with the GOP's stark fiscal reality and scramble every day to raise a few bucks here and there.

* Editorial: Illinois GOP needs to seek middle ground: Somehow, Republicans have to reshape the conversation to acknowledge that good government can exist and it needs involvement from the moderating influences Republicans provide. The alternative is to have no influence at all.

* Democrat Alexi Giannoulias seeking ideas as he announces transition team days after secretary of state win

* Illinois House of Representatives District 104: Mike Marron defeats Cynthia Cunningham

* Sun-Times obituary writer Maureen O'Donnell farewell to daily reporting column: In a way, I've been writing goodbyes for 13 years. That's how long I've been the Sun-Times' obituary writer. But this goodbye — from reporting for the Sun-Times — is hard. I've written too many obituaries of people who died in their 20s and 30s or died just days after retirement, their dreams of an African safari — or just the chance to clean out that garage — unrealized. I might contribute to the Sun-Times from time to time, but right now I'm planning to retire and travel.
No Comments
Be the first to comment.
Sorry, comments for this post are now closed.