* Rep. Tony McCombie (R-Savanna) appears to have 23 votes for House Republican Leader, which is more than enough to win the spot. She's also backed by retiring Leader Jim Durkin…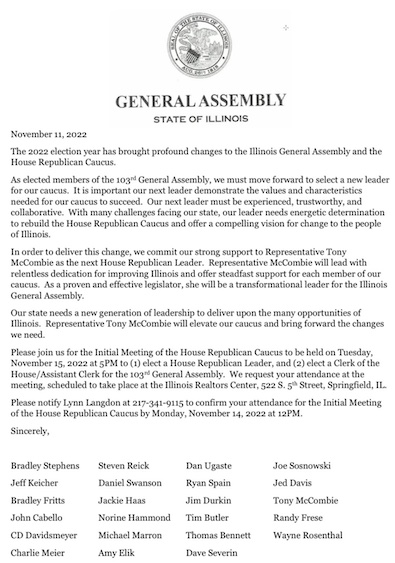 Eastern Bloc member Rep. Dan Caulkins issued a statement yesterday claiming this was all fake news and then demanded a more open process.
* Meanwhile, Rep. Deanne Mazzochi (R-Elmhurst) is sending canvassers to what appear to be Democrats who are on record as voting by mail to ask them if they really did vote by mail. If they say they didn't vote by mail, then they're asked to sign an affidavit attesting to that. Trouble is, if they do sign that affidavit, they or someone in their household might ultimately be subjected to prosecution for voter fraud. As we saw with the David Krupa case, people can be convinced to sign forms that they don't quite understand…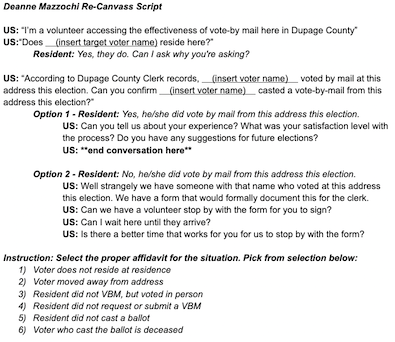 Mazzochi is currently trailing Democrat Jenn Ladisch Douglass by 174 votes, 21,572 to 21,398. The trend is not her friend, hence the affidavit push.
Check out the third dot point in the instructions excerpt…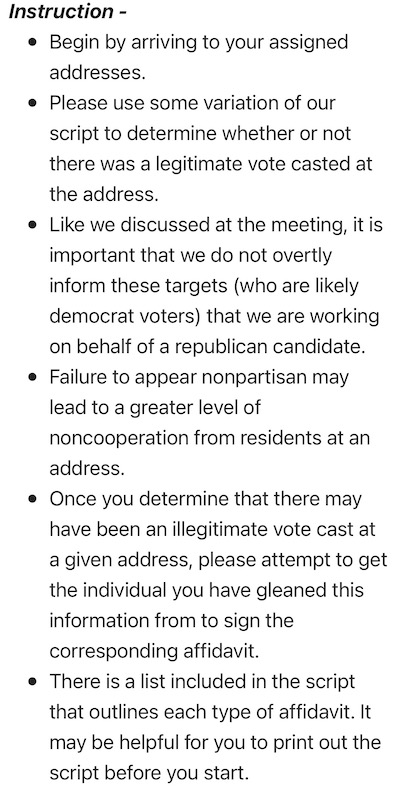 A few days ago, Douglass claimed on Facebook that Mazzochi's supporters were attempting to disrupt the counting process…
I have heard reports that supporters of my opponent are trying to disrupt the DuPage County Clerk's office while they do their very important work of counting every properly cast vote. I ran for this office because people want rational, common-sense leadership. We do not need local extremists taking a page out of former President Trump's failed handbook by disrupting and disputing the vote-counting process and need to let the Clerk's office do their work without interference from protestors or my opponent.
*** UPDATE *** House Speaker Chris Welch's committee…
Mazzochi Campaign Working to Disenfranchise Voters in Dupage County

Democrats in the Illinois House released the following statement regarding trick tactics on behalf of Republicans to discount votes:

It has come to our attention that Deanne Mazzochi and DuPage County Republicans are taking a page directly from Donald Trump's election denier playbook by attempting to disenfranchise likely Democratic voters by tricking them into signing an affidavit indicating they did not vote by mail. They are disguising themselves as volunteers who are assessing the effectiveness of vote-by-mail in DuPage County, and have been instructed to not overtly tell the voter that they are working for a Republican candidate. This is a disgusting and despicable attempt by Deanne Mazzochi to disenfranchise voters.

"We want to warn all voters who live in the 45th District to be on the lookout for this scam. If someone comes to your door presenting themselves in this manner, you should immediately call the DuPage County Clerk.

"Democrats for the Illinois House is calling on Representative Mazzochi and DuPage County Republicans to immediately halt their Trumpian tactics to overturn legal votes, and instead commit to accepting the results whatever they may be.

In the meantime, there are voters who had their vote-by-mail ballots rejected, and they will need to sign an affidavit to have those ballots restored and counted. We hope those voters are given an opportunity to have their votes counted.
* In other legislative campaign news…
The Associated Press has called three of the four state House races in southwest Illinois. The AP has not called the Rep. LaToya Greenwood-Kevin Schmidt race. Schmidt, a Republican, was leading Greenwood, the Democratic incumbent, by about 6,000 votes with 71% of the precincts reporting in the House of Representatives 114th District, according to unofficial returns reported by the AP.

Schmidt has claimed the victory based on complete but unofficial results reported by St. Clair County and East St. Louis, according to Travis Akin, the campaign manager for Schmidt. […]

Schmidt had 18,949 votes and Greenwood had 16,627 votes in 111 precincts, according to election results reviewed by the News-Democrat. In 86 precincts in the St. Clair County election results, Schmidt had 18,758 votes and Greenwood had 11,716. In 25 precincts in the East St. Louis election results, Schmidt had 191 votes and Greenwood had 4,911.
One pickup for the House Republicans and it was in the East St. Louis district. You may recall, however, that some Black leaders in that area filed suit against the district's new map.
No Comments
Be the first to comment.
Sorry, comments for this post are now closed.