* All opposed Illinois congressional Democrats appear to have under-performed Biden 2020 results in their newly drawn districts, which is to be expected when the party controls the White House during a midterm. But they didn't under-perform Biden enough to lose any seats. The Dem maps/candidates/messaging held and the GOP candidates/messaging failed…
Here you go: https://t.co/YOAzUtsM9F

— Dave Wasserman (@Redistrict) November 14, 2022
* From Tom Kacich's story on Nikki Budzinski…
The congresswoman-elect, who is a University of Illinois graduate, did especially well in areas near the UI campus. Of nine Champaign-Urbana precincts where the student vote dominates, Budzinski currently has 3,580 votes to 424 for Deering.
Wow.
* Speaking of winning Democratic candidates, US Rep.-elect Delia Ramirez sent me a selfie from freshman orientation this morning…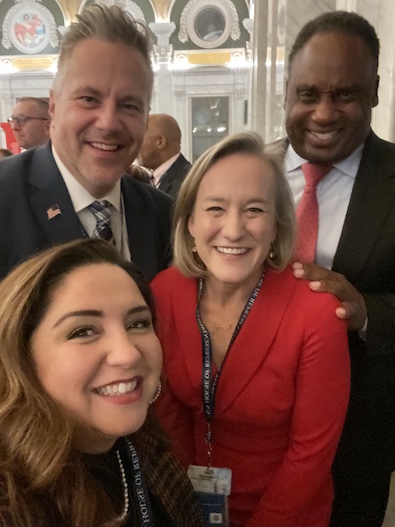 * Neil Steinberg…
J.B. Pritzker … what do you say? He must really, really want to be governor. He plowed $171 million into his 2018 victory, and then put another $152 million into 2022. Can anyone make an observation about him that isn't somehow tainted by the third of a billion dollars worth of hype firehosed at us over the past four years?
Whew.
* From a Crain's Chicago Business editorial about what the governor should do now…
But now that he doesn't have to talk voters—and organized labor—into supporting him, what other measures is Pritzker willing to take to further bend the pension liability curve downward?
In other words, they are demanding that the governor flip on the people who put him and kept him in office.
From the same editorial…
Finally, there's the elephant in the room: crime. Granted, the governor is not the mayor. Beyond the Illinois State Police, he has little direct control over any particular municipality's approach to making Illinois' streets safer. That said, he has a massive bully pulpit—and he must use it to send a message throughout that state that he understands the urgency of the public safety challenge and will do all he can to make crime prevention and effective policing a top priority in his second term.
So… the Bailey approach of just talking about it?
* Daily Herald…
[ILGOP Chair Don Tracy] said Tuesday's results stung, but he's not sure what could have changed the party's fortunes. "I'm head of the party, so obviously I can't deny responsibility," he said, "but I haven't heard anybody so far say we could have done anything differently."
Maybe ask more people?
* From last week…
One bright sign for the party: It appears to have held on to the Cook County Board seat of the retiring Pete Silvestri. Though some mail ballots are yet to be counted, GOP nominee Matt Padgorski has a better than 1,000-vote lead over Democrat Maggie Trevor.
That lead has since narrowed to 178.
* Tribune…
Durkin's leadership role wasn't the only casualty of the election. Several members of his leadership team — many of whom have records of bipartisanship — will be gone when the new legislature is sworn in early next year.

Along with Rep. Dan Brady of Bloomington, who ran unsuccessfully for secretary of state, Rep. Tom Demmer of Dixon lost for state treasurer and Rep. Avery Bourne of Morrisonville made a failed bid for lieutenant governor in the June GOP primary. Rep. David Welter of Morris lost to a more conservative challenger in the primary, and Rep. Keith Wheeler of Oswego was unseated in the general election. Rep. Mark Batinick of Plainfield, meanwhile, chose not to seek another term. Early Friday morning, Rep. Tim Butler of Springfield, who was reelected three days earlier, said he would resign before the new legislature is seated to take a job with the Illinois Railroad Association.
Rep. Butler, by the way, will be taking advantage of an ethics loophole that he spoke against after the bill was passed…
This legislation barely scratches the surface of what needs to be accomplished for ethics reform. Debate on the bill revealed that the revolving door prohibition outlined in the legislation would allow current members of the legislature to become lobbyists for the General Assembly one day after their retirement. This is not real reform. This is the status-quo!
As long as he resigns before his current term ends, he can begin lobbying for the railroads on the first day of the 103rd General Assembly.
* SJ-R…
The future remains promising for Illinois Democrats, but Redfield still sees some room for improvement when it comes to attracting working-class support which has increasingly favored the GOP in recent elections. The tent is large for the Democrats, which can lend way to head-butting between the moderate and progressive wings.

He said the red wave never cresting may cause some Democrats to think the gap does not need to be bridged.

"I thought the Republicans were going to do a lot, lot better," Redfield said. "Since they didn't, then the temptation on the Democrat's side will be to say 'Well, we're doing great.'… I don't think that's a good policy."
Funny how people seem to forget that Black and Latino working class voters are solidly Democratic here.
* The Hill…
A striking 45 percent of voters in Michigan's gubernatorial race named abortion as their top priority — far higher than any other issue. Those voters broke 77 percent to 22 percent for Whitmer over her Republican opponent, conservative commentator Tudor Dixon.

Whitmer, who Republicans had believed to be vulnerable, won reelection by more than 10 points.
* Isabel's roundup…
* Crain's | Illinois elects first Muslim, Indian woman to state legislature: Nabeela Syed, a 23-year-old Palatine native, will be one of the youngest members of the Illinois General Assembly when she assumes office in January.

* Tribune | Laura Washington: Democrats' meddling in primary races notched wins. Was it dirty politics?: This midterm election season ushered in a new form of gamesmanship and potent weapon in campaign arsenals: meddling. The critics are crying foul. It's dirty politics, they say. It's undemocratic. It's just pragmatic politics, its proponents reply. We are in it to win it.

* Crain's | Workers' Rights Amendment on verge of passage, unions claim: The proposed change to the Illinois Constitution is well ahead with relatively few votes still left to be counted, labor groups point out.

* NBC Chicago | With Nearly All Vote Totals Reported, Here's Where Amendment 1 Stands: As of Monday, 99% of precincts were reporting vote totals for the Workers' Rights Amendment

* Center Square | ALEC weighs in on Illinois' 'workers' rights' amendment: Conversely, right-to-work laws ensure workers cannot be made to join an association or union or pay dues to it as a requirement for employment. ALEC said states with this policy tend to be more prosperous and have faster wage growth than non-right-to-work states.

* Center Square | Illinois' election the most contested in two decades: With 3.8 million Illinoisans voting in 79 competitive Illinois House elections, the state's 2022 general election was the most contested in the past two decades. Races included Congressional seats, Illinois House and Senate races, and a constitutional amendment.

* Shaw Local | Sauk Valley backed Darren Bailey in ways not seen since Jim Edgar's 1994 landslide victory: Incumbent Democrat JB Pritzker defeated Bailey in statewide returns. While there has been much analysis about Bailey's weakness in the Chicago suburbs, there was no question he energized voters in the Lee, Whiteside, Ogle and Carroll counties. In fact, it was the most votes by a Republican gubernatorial candidate in the four-county region since Jim Edgar's landslide victory in 1994.

* Illinois Farmer Today | Farm Bureau policy director gets into weeds of farm bill: "Politics makes strange bedfellows. Nutrition advocates worked closely with the crop insurance industry and farm groups. It's an all-hands-on-deck effort. We put a lot into it, and they do too. There are going to be many members of Congress that have production agriculture but not a lot of farmers out there who are buying crop insurance. Having the SNAP program (Supplemental Nutrition Assistance Program) included in the farm bill is a wise move. It keeps all the components together from production to consumption," Adam Nielsen, Director of National Legislation and Policy at the Illinois Farm Bureau said.

* Tribune | How did voters respond to referendums in Chicago's suburbs?: Voters throughout Chicagoland faced questions about tax increases, support for public services, changes in government structure, and more. Here's a look at how some of those fared on Election Day.

* Crain's | Health care worker union endorses Brandon Johnson for mayor: SEIU Healthcare, which represents about 36,000 Chicago workers, endorsed the progressive candidate because of a shared vision on working-class issues.
33 Comments


































































































Sorry, comments for this post are now closed.