* Press release…
The Governor's Office of Management and Budget (GOMB) released the annual Illinois Economic and Fiscal Policy Report showing under Governor Pritzker's leadership Illinois is in its best fiscal shape in decades.

"Illinois' bills are being paid on time, we have over $1 billion in our rainy-day fund, our credit ratings are up and we are honoring our commitments to long-term financial liabilities by contributing extra to Illinois' pension systems," said Governor JB Pritzker. "As we celebrate the tremendous progress we've made with our partners in the General Assembly, we remain committed to working tirelessly for Illinois taxpayers and responsibly managing the state's finances. We've closed a seemingly insurmountable structural deficit that I inherited, and together we are securing Illinois' long term fiscal stability and providing economic opportunities to its citizens."

The future years' budget outlook detailed in the report benefits from strong fiscal management over recent years as the Governor worked with partners in the General Assembly, the Comptroller and the Treasurer, to balance state budgets, tackle the state's multi-billion-dollar bill backlog, repay COVID related short-term borrowings early, make $500 million in extra-ordinary payments to the state's pension systems and put more than $1 billion in a savings account for fiscal emergencies or economic downturns. Additionally, by rebuilding the foundation of the state's finances during the Pritzker administration, the Governor and lawmakers were able to provide $1.8 billion in tax relief this year to the hardworking people of Illinois.

Even with troubling national economic indicators, income and sales tax collections so far this fiscal year continue to exceed budget forecasts by significant margins. Coupled with other one-time revenues, the General Funds revenue forecast for fiscal year 2023 is revised upward by $3.69 billion. GOMB is continuing to monitor the revenues closely as inflation and national/international factors beyond the state's control may impact the economy in uncertain ways. GOMB is now projecting a nearly $1.7 billion net surplus in the general funds budget for fiscal year 2023, wiping out a forecasted fiscal year 2023 shortfall of nearly $3 billion as estimated in 2019.

The Governor intends to pursue several actions to continue Illinois' strong path forward, and put the state in the best possible fiscal position to prepare for the economic uncertainty that lies ahead. The Governor's recommended actions include working with the Legislature to:

• Make additional deposits of $1.3 billion into the state's rainy-day fund, bringing it to more than $2.3 billion. While Illinois currently has its highest balance ever at $1.045 billion, Illinois is still among the smallest state rainy-day funds.
• Set aside funds to pay off revenue bonds issued in 2010 to help the state pay bills that mounted during the Great Recession. About one-third of the $1.5 billion borrowed at the time remains outstanding.
• Make an additional contribution toward the Unemployment Insurance Trust fund. The Trust Fund's remaining debt to the federal government is $1.345 billion plus interest. The Governor and the General Assembly have already taken several steps to reduce the amounts owed from last year's level of $4.5 billion.

Illinois' significant improvement to its fiscal outlook has been noticed by the state's credit rating agencies, which have upgraded Illinois' General Obligation Bond credit ratings a total of six times during the past year.
GOMB is required to annually submit an Economic and Fiscal Policy Report to the General Assembly outlining the long-term economic and fiscal policy objectives of the state, along with the economic and fiscal policy intentions for the upcoming fiscal year and for the subsequent four fiscal years.

The reports are available to the public online and can be found here: https://budget.illinois.gov/policy-reports.html.
* Attached charts…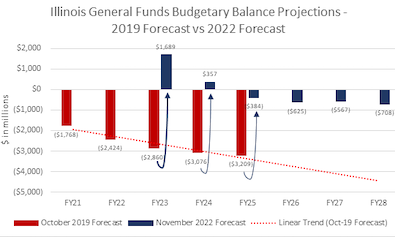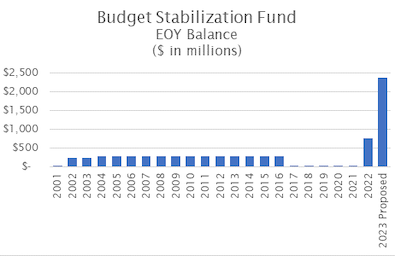 * More from the report…
For fiscal year 2023, the Governor proposes to direct funds towards the remaining Railsplitter Tobacco Settlement Authority bonds. In December 2010, the Railsplitter Tobacco Settlement Authority issued revenue bonds in the amount of $1.5 billion to address a portion of the State's unpaid bill backlog resulting from the Great Recession. The repayment stream is the State's tobacco settlement payments under the Master Settlement Agreement between various states and various cigarette manufacturers. Of the original $1.5 billion issued in 2010, approximately $561 million – or over 1/3 of the original issue ‐ remains outstanding.

The Governor proposes working with the legislature to provide funds towards a cash defeasance of a portion of the remaining outstanding bonds with proceeds from a recent Attorney General settlement resolving claims regarding certain payments from tobacco companies. Once the bonds are paid off, the tobacco payment stream would be freed up to be used as ongoing annual state revenues to support the State's Medicaid program.
* And the walkdown…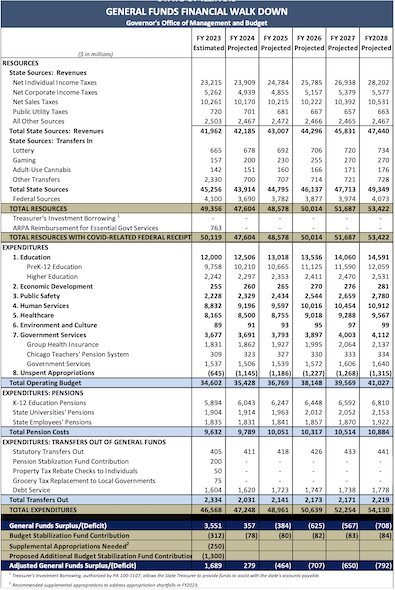 * An important excerpt from the full report…
Additionally, a larger than forecasted end of fiscal year 2022 balance in the Income Tax Refund Fund (due to stronger than expected income tax performance last fiscal year) has contributed a one‐time bump in the annual transfer from the fund of $1.28 billion. […]

Note that most of this fiscal year 2023 revenue forecast revision is assumed to be one‐time in nature.
And with a currently projected $384 million deficit in FY2025 rising to a $708 million projected deficit in FY2028, putting any of that new revenue into base spending would probably not be prudent. We'll see if the Democrats can hold themselves back.
Thoughts?
…Adding… Comptroller Mendoza…
I wholeheartedly endorse Governor Pritzker's proposal to put $1.3 billion more in the state's Rainy Day Fund.

This will continue Illinois' progress catching up to other states on preparing for any possible economic downturn. It protects Illinois' important programs that care for our state's most vulnerable, our schools and our health care systems.

I will continue to fight for passage of my Rainy Day Fund bill, HB 4118, which makes funding the Rainy Day fund and the Pension Stabilization Fund an annual obligation.

This responsible budgeting will send exactly the right message to the bond rating agencies that Illinois remains a good investment and is serious about restoring our fiscal health.

It's prudent to be cautious about the impact inflationary pressures from the national/international economies can have on Illinois government. The report notes the Federal Reserve tries to mitigate these pressures, encouraging less spending and more savings. Likewise, with state government, Illinois should heed this direction to spend less and to save more and must better prepare for economic downturns that could hamper our ability to meet state obligations. This is why continuing to build the state's Rainy Day Fund is essential. It is also the best path to further bond rating upgrades.

I urge legislators to get behind Governor Pritzker's proposals to put more money in the Rainy Day Fund and toward the Unemployment Insurance Trust Fund, including funds to address technology funding shortages. Any urge to spend one-time revenues on new programs must be resisted. Now is not the time to spend. It is time to shore up our reserves and continue exhibiting strong fiscal discipline.
25 Comments










































































Sorry, comments for this post are now closed.