* The Workers' Rights Amendment is getting almost 90 percent support in Chicago's Black-majority wards. Data compiled by Isabel…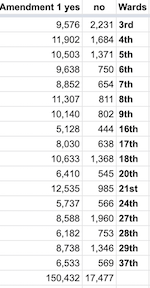 As I told you earlier, it got abut 80 percent citywide.
* Tom DeVore apparently believes everybody is as gullible as his handful of followers…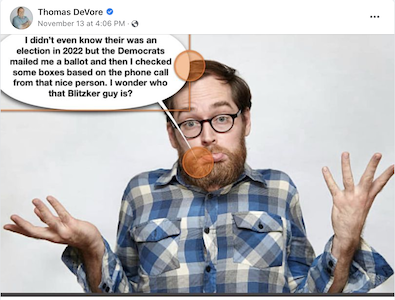 But here's what he said in September…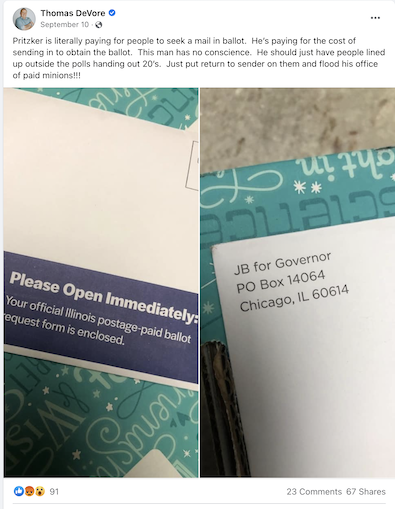 Whiner.
* Why would the GOP even try to run a comprehensive and expensive mail and chase program when its base thinks mail-in and early voting are evil and should be abolished?…
Dem campaigns had more money than Rs, real campaigns. We got canvassing back, a D strength. Ds were motivated. DNC spent a lot of money on field.

Look at how much better Ds did in the early vote than 2018, 2020. Sign of organizational strength, hustle, good campaigns. 3/ pic.twitter.com/GMz0w72EWc

— Simon Rosenberg (@SimonWDC) November 16, 2022
Mail and chase works, as do early voting pushes. Democrat Maggie Trevor was trailing Matt Padgorski for a Cook County Board seat by about a thousand votes last week. As of yesterday, she was ahead by 481 votes.
* Well, Gov. Pritzker did give Warnock his campaign manager…
— Andrew Bader (@Andrew_B_Bader) November 16, 2022
…Adding… Ugh…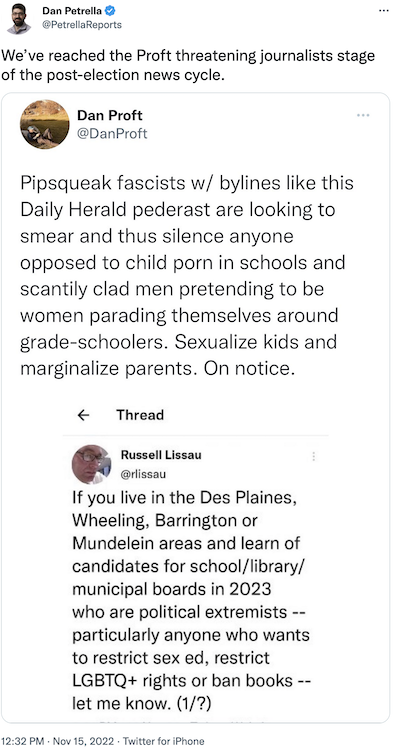 * Isabel's roundup…
* Pantagraph | GOP chooses new leadership in Illinois General Assembly as Dems retain control: House Republicans elected Tony McCombie of Savanna and Senate Republicans chose John Curran of Downers Grove. The change in leadership comes after Democrats maintained control of every statewide office and had strong gains in last week's elections across the rest of state government, aside from in the state Senate.

* Center Square | Some question rosy picture painted by Illinois' five year budget projections: Gov. J.B. Pritzker claims the state is in great financial shape after the release of five-year budget projections. However, one economic analysis says the state still needs to address a particular problem. The state's fiscal projections released this week show Illinois has been making strides in attempting to clear some of its long-term debts

* Crain's | Like it or not, the Illinois GOP is now grappling with Candidate Trump: Jeanne Ives, a strong social and economic conservative who almost unseated then-Gov. Bruce Rauner in the 2018 GOP primary, welcomed the idea of a competitive GOP presidential primary. "I think it's a great idea for Republicans across the country to have a debate over where the party should go," she said. But, Ives continued, Trump overall is "a mixed bag." Asked if his running would help the party, she replied: "Not in Illinois."

* Jim Schultz and Warren Ribley | A December rail strike would be another gut punch to Illinois farmers: Behind the recommendations of an independent panel of arbitrators assembled by the president at the request of labor, the White House brokered a compromise that appeared to appease both management and union leadership. Yet, despite seven of the 12 rail unions approving the Biden deal during the last two months, three have failed to ratify. Two other unions are set to announce the outcome of their ratification votes in the coming days, with the likelihood of approval anyone's guess.

* CBS Chicago | Chicago's Native American community to host summit with Illinois officials Wednesday : For the first time ever, Chicago's Native American community will hold a summit with Illinois lawmakers in Springfield. Among the issues planned for discussion include allowing Native Americans to wear regalia from their heritage at graduation ceremonies.

* Great Lakes Echo | Green-backed candidates for governor fair well in Great Lakes states: Election Day has come and gone, and the results show that green-backed candidates for governor won in six Great Lakes states. They won in Michigan, Wisconsin, Illinois, Minnesota, Pennsylvania and New York, but lost in Ohio. All are Democrats. Environmental groups, such as the Sierra Club and League of Conservation Voters, backed them candidates in hopes of having their environmental priorities enacted.
24 Comments







































































Sorry, comments for this post are now closed.