* IDES…
The Illinois Department of Employment Security (IDES) announced today that the unemployment rate increased +0.1 percentage point to 4.6 percent, while nonfarm payrolls increased by +3,600 in October, based on preliminary data provided by the U.S. Bureau of Labor Statistics (BLS) and released by IDES. The September monthly change in payrolls was revised from the preliminary report, from +14,500 to +14,100 jobs. The September unemployment rate was unchanged from the preliminary report, remaining at 4.5 percent. The October payroll jobs estimate and unemployment rate reflect activity for the week including the 12th.

In October, the industry sectors with the largest over-the-month gains in employment include: Trade, Transportation and Utilities (+2,800), Leisure and Hospitality (+2,300), Manufacturing (+1,800), and Professional and Business Services (+1,800). The industry sectors that reported monthly payroll declines included: Government (-8,100) and Information (-100).

"Job growth throughout the state has remained strong for nearly a year and a half, and the most recent data is evidence that workers are engaged in the growing labor market," said Deputy Governor Andy Manar. "IDES is committed to providing jobseekers and employers with the resources necessary to take advantage of the many newly created jobs across industries."

"Over the past year, Illinois has continued to exhibit positive long-term employment trends, with considerable improvement in the state's unemployment rate, and the addition of nearly 192,000 new jobs," said DCEO Director Sylvia I. Garcia. "DCEO continues to support economic recovery throughout the state through marquee economic development programs that attract job creators, help Illinois businesses grow, and support job-seekers through statewide resources and programs."

The state's unemployment rate was +0.9 percentage point higher than the national unemployment rate reported for October, which was 3.7 percent, up +0.2 percentage point from the previous month. The Illinois unemployment rate was down -0.7 percentage point from a year ago when it was at 5.3 percent.

Compared to a year ago, nonfarm payroll employment increased by +191,900 jobs, with gains across nearly all major industries. The industry groups with the largest jobs increases include: Trade, Transportation and Utilities (+46,400), Leisure and Hospitality (+43,700), and Professional and Business Services (+35,500). The Mining sector reported a small decrease in payroll employment (-200). In October, total nonfarm payrolls were up +3.3 percent over-the-year in Illinois and up +3.6 percent in the nation.

The number of unemployed workers rose from the prior month, a +2.6 percent increase to 298,200 and was down -10.9 percent over the same month one year ago. The labor force was down slightly (-0.2 percent) over-the-month and up +1.5 percent over-the-year. The unemployment rate identifies those individuals who are out of work and seeking employment. An individual who exhausts or is ineligible for benefits is still reflected in the unemployment rate if they actively seek work.

In May 2020, Governor Pritzker launched Get Hired Illinois, a new one-stop-shop website to help connect job seekers with hiring employers in real time. The site features virtual job fairs, no-cost virtual training, and includes IllinoisJobLink.com (IJL), the state's largest job search engine, which recently showed 48,975 posted resumes with 141,403 available jobs.
Deets…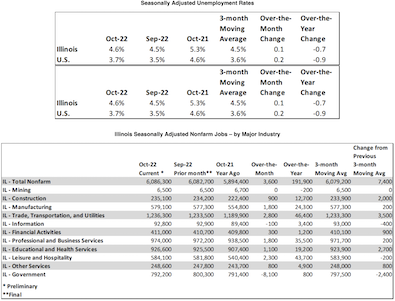 From Monday…
Illinois has reached six consecutive months of record-low unemployment claims, according to the Illinois Department of Employment Security (IDES).

The most recent data shows that Illinois has stayed below the 70,000 claims threshold for 26 consecutive weeks with a little more than 57,000 continued claims as of last week.

The IDES said Illinois has seen payroll job growth for 16 consecutive months.

"I'm not surprised at all because you can go to any business right now and they have one thing in common, they're all looking for help," said Mike Murphy, CEO of the Springfield Chamber of Commerce.
* Meanwhile…
Attorney General Kwame Raoul today announced charges against a Cook County man who allegedly collected government assistance using stolen identities during the COVID-19 pandemic. The charges are the most recent resulting from the Attorney General's Task Force on Unemployment Insurance Benefits Fraud's monthslong investigation into unemployment insurance benefits fraud. Working closely with state and federal agencies, Raoul's office previously charged several individuals throughout Illinois for fraudulently collecting government assistance, including state unemployment benefits and loans from the U.S. Small Business Administration (SBA).

"Thousands of struggling Illinois residents and small businesses were forced to rely on unemployment benefits and loans from the SBA during the height of the pandemic," Raoul said. "Those who used the crisis to commit fraud and steal from the government also slowed the processing of legitimate claims. These charges are the result of months of tireless investigation by the Task Force on Unemployment Insurance Benefits Fraud and our partner agencies. I am committed to the continued work of the task force to ensure individuals are held accountable for their theft at a time when many Americans desperately needed help."

"It's appalling and disappointing the lengths to which individuals were willing to go to defraud the vital resources and funds meant for vulnerable workers who were displaced during the pandemic," said Illinois Department of Employment Security Director Kristin Richards. "IDES is thankful to the Task Force on Unemployment Insurance Benefits Fraud for the tireless work they've done to position prosecutors to bring charges against these individuals."

Kaquanice Larry, 27, of Mt. Prospect, was arraigned today in Will County after being arrested Wednesday, Nov. 16. Raoul's office previously charged Whitney Flowers, 22, of Glen Ellyn, who, along with Larry, allegedly filed for unemployment benefits with the state of Illinois using identifying information they stole from three victims. Raoul alleges the pair obtained approximately $75,000 in fraudulent unemployment benefits. Raoul's office is also alleging Larry filed for Paycheck Protection Program (PPP) loans in the name of a fictitious company. He received two loans of approximately $20,000 each, and both PPP loans were forgiven by the SBA.
8 Comments























Sorry, comments for this post are now closed.