* Daily Herald…
Since recreational marijuana sales were legalized statewide in January 2020, taxes and fees have generated more than $850 million for Illinois.

Last month alone, the 110 recreational dispensaries throughout Illinois collected $131,547,031 in revenue, their fourth-highest monthly tally ever.

But those sales figures have remained relatively flat since March, leading some to worry the state's cannabis cash cow has reached the highest hill in the state's revenue pasture. […]

[Pam Althoff, executive director of the Cannabis Business Association of Illinois] cited inflation, more workers returning to the office after the COVID-19 pandemic and the state's high tax rate on marijuana as reasons sales have leveled off.
* I asked Isabel to compile some numbers from two state sources and produce this chart…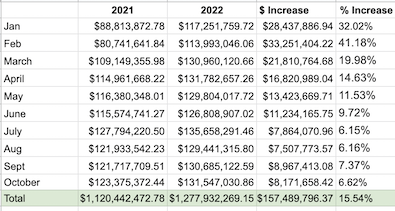 As you can see, growth is definitely slowing, but a 6-7 percent increase the past several months year-over-year is still pretty darned good, considering the run they've had.
* Not to mention this tidbit from Crain's…
Profits in Illinois also remain higher than elsewhere, with retailers here selling marijuana for 48% more than they pay to buy it from growers in the state. That works out to a gross profit of about $7.62 per gram in Illinois, compared with $4.62 in Massachusetts and $1.84 in Michigan, Cantor Fitzgerald says.
If the retailers think prices are too high, maybe cut their own prices first? Hopefully, with more competition coming soonish, they'll have no choice but to cut prices.
* Also, from ABC 7…
Twenty five percent of Illinois' pot tax goes to non-profit organizations with small budgets in communities designated as socioeconomically disadvantaged. Another 20% of the state's marijuana tax revenue goes to substance abuse, prevention and mental health care programs.
Cutting the cannabis tax means reducing those programs unless the tax cut is completely offset by higher sales. But there's no guarantee of that happening.
* Related…
* Green Thumb sales jump as New Jersey, Illinois enjoy the high: U.S. cannabis producer Green Thumb Industries Inc (GTII.CD) posted higher third-quarter sales and core profit on Wednesday, as strong demand in newly legalized New Jersey and home market Illinois helped ward off some of the hit from inflation. … However, adjusted earnings before interest, tax, depreciation and amortization (EBITDA) rose 4% to $84.5 million. "Inflation is real…However, with the measures we put in place, we were able to control costs and increase margins," Kovler said.
20 Comments



























































Sorry, comments for this post are now closed.