* Senate Democrats' backgrounder…
Pretrial Fairness Act – 5 key points

Transition to new system

Q: What happens to those currently detained on Jan. 1?

A: Those currently detained can request to have the new system applied to their situation. To make this manageable for courts, there will be a tiered system for granting hearings on these requests. These hearings are to determine whether they should be released.

• Lowest level offenses (example: petty shoplifting) hearings must be within 7 days of request.
• Those detained but considered flight risks would get hearings within 60 days.
• Those considered to be potential threats to safety get hearings within 90 days.

This system is designed to give the court extended time to examine requests involving more serious cases.

Trespassing
Q: Can police detain or arrest someone from trespassing?

A: Yes. The Pretrial Fairness Act always allowed this. This amendment clarifies that a police officer can arrest someone for trespassing if …

• The person poses a threat to the community or any person;
• *Arrest is necessary because criminal activity persists after issuance of the citation; or
• The accused has an obvious medical or mental health issue that poses a risk to their safety.

If the above conditions are not present, a citation would be issued.
*Note: This provision was added to clarify the intent of the initial Pretrial Fairness Act.

Dangerousness standard

Makes consistent throughout the entire act what a prosecutor must show to detain an individual on grounds the individual is a threat. This "dangerousness standard" is: the person poses a real and present threat to any person or persons or the community, based on the specific, explainable facts of the case.

Detention net

Adds non-probationable felonies, forcible felonies, hate crimes, attempts of crimes that are otherwise detainable, and others to the list of crimes that qualify someone for detention. The underlying goal for all of this is that dangerous people should be detained while those who merely lack resources and do not pose a threat should not.

Judicial arrest warrants

Clarifies that judges can issue arrest warrants or summons when someone misses their court date. They currently lack this flexibility.

A summons is an official notice to appear in court.

An arrest warrant tells police to arrest and detain.

Also clarifies what constitutes "willful flight" to stress that the intent is to detain those who are actively evading prosecution, not someone who failed to appear in court because, for example, they missed their bus.
Discuss.
*** UPDATE 1 *** List of groups registered as neutral on the bill…
Religious Action Center of Illinois, Labor Council, Troopers Lodge 41, Illinois Alliance for Reentry & Justice, ACLU of Illinois, Live Free Illinois, Chicago FOP Lodge 7, IL Fraternal Order of Police, Illinois Council of Chief Defenders, Illinois State Bar Association, Illinois Sheriffs' Association, Illinois Justice Project, Illinois Network for Pretrial Justice, Illinois Assn of Chiefs of Police, SAFER Foundation, Cabrini Green Legal Aid, Illinois Network for Pretrial Justice, Law Office of the Cook County Public Defender
FOP and the ACLU. Not bad.
No groups have registered in opposition as of this writing. The Chicago Alliance Against Sexual Exploitation has registered as a proponent.
…Adding… Good point…
Illinois Senate Republicans raise objections to the revised SAFE-T Act leaving non-violent burglary out of the list of detainable offenses. The bill allows judges to detain suspects accused of home burglary or "burglary where there is use of force against another person." pic.twitter.com/86dM7lmQbH

— Mark Maxwell (@MarkMaxwellTV) December 1, 2022
*** UPDATE 2 *** Senate President Harmon just said there was a "technology issue" that kept members from voting. Could be a redo…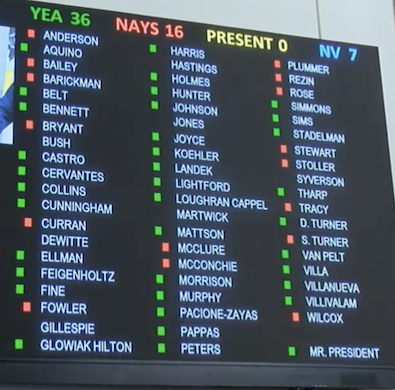 *** UPDATE 3 *** Harmon moved to reconsider the vote. Motion passed. They're checking the equipment now.
*** UPDATE 4 *** New roll call…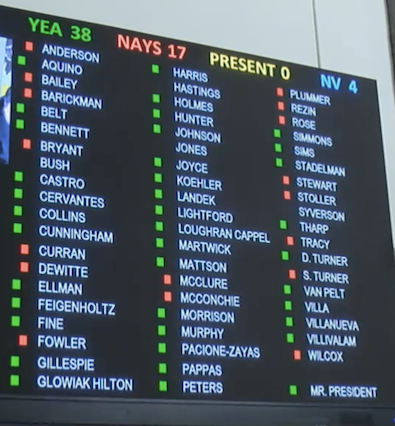 *** UPDATE 5 *** Press release…
Senate President Don Harmon (D-Oak Park) issued the following statement today after the Senate passed legislation clarifying certain portions of the Pretrial Fairness Act:

"Our goal when we passed the Pretrial Fairness Act nearly two years ago was to overhaul a broken criminal justice system, one in which dangerous people could buy their way out of jail while people accused of non-violent crimes remain detained as they await their day in court simply because they lack resources.

"The measure we passed today preserves that goal while providing clarifications to eliminate any misunderstandings and ensure the implementation of this groundbreaking reform is smooth."

*HB1095 is now pending before the Illinois House.
*** UPDATE 6 *** Since this topic was repeatedly mentioned during the debate…
Re-upping this because of another press conference: The Pretrial Fairness Act makes it *harder* for defense attorneys to call victims to the witness stand in detention hearings. #twill https://t.co/cYxf1Fc51r

— Madeleine Behr (@madeleinebehr) April 6, 2022
*** UPDATE 7 ***
Just barely passed. Democratic Reps. Tarver and Yingling did not vote…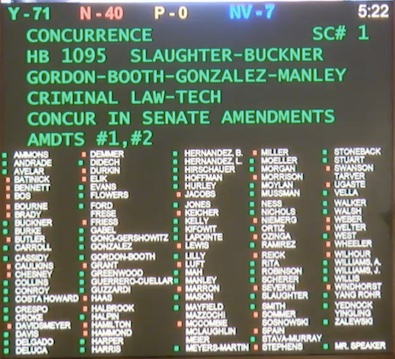 …Adding… Very close…
Dem Reps. Fred Crespo+Jawaharial (Omar) Williams were the two last-minute aye votes that pushed the bill to the 71-vote threshold required for an immediate effective date. Was a long open roll call (not the longest I've ever seen). Dem Reps. Curtis Tarver+Sam Yingling didn't vote https://t.co/Zq2SEEcZjC

— Hannah Meisel (@hannahmeisel) December 1, 2022
16 Comments















































Sorry, comments for this post are now closed.