* Press release…
U.S. Senate Majority Whip Dick Durbin (D-IL) released the following statement after being unanimously re-elected as the Senate's second-highest ranking Democrat, the Senate Democratic Whip, for the 118th Congress by his Senate Democratic colleagues this morning. Durbin has served in the number two role in the caucus since 2005. Durbin will also continue in his role as Chair of the Senate Judiciary Committee.

"I am honored to continue to serve the Senate Democratic Caucus as Whip and Chair of the Senate Judiciary Committee. The midterm elections showed that Americans support the vision Senate Democrats, along with President Biden and Vice President Harris, have for the nation. And we will continue our work for the American people."

Only five other Illinoisans have served as leaders for their parties in the Senate. Shelby Moore Cullom served as Republican Conference Chairman from 1911-1913; J. Hamilton Lewis became the first Democratic Whip of the Senate in 1913, and was again elected Whip in 1931; Scott W. Lucas served as Democratic Whip from 1947 to 1949 and Majority Leader from 1949 to 1951; Everett McKinley Dirksen was elected Republican Whip in 1957 and Minority Leader in 1959, a position he held for ten years; and Alan Dixon served as Chief Deputy Whip from November 1988-January 1993, the chamber's third-ranking Democrat.
* Hmm…
Outgoing Rep. Rodney Davis was the only Illinois Republican to vote yes on protecting same-sex marriage.

Bost, Miller, LaHood voted no and Kinzinger did not vote https://t.co/U5ymzlWmqM

— Jake Lewis (@jake____lewis) December 8, 2022
* More national stuff with an Illinois angle…
I joined MSNBC to discuss my efforts urging Elon Musk to address possible manipulation of information by the Chinese Communist Party. "We are asking Mr. Musk… what are we going to do to prevent this from happening going forward?" Full interview: https://t.co/w1RhSdNZ4i

— Raja Krishnamoorthi (@RajaForCongress) December 8, 2022
* Press release…
Illinois State Rep. Kelly Cassidy (D-Chicago) joined roughly 50 Democratic lawmakers from 31 states at the White House this week to discuss top issues for the 2023 legislative session.

Biden administration policy experts organized discussion panels to allow lawmakers to collaborate and better align on strategies to protect the rights of all Americans. On Wednesday, Rep. Cassidy was the only legislator to participate in all three sessions which included gender equity and economic justice, reproductive freedom, and LGBTQI+ issues.

"I am thankful to have this opportunity to meet with my peers from across the country as we begin the very serious task of protecting and preserving rights that many conservative lawmakers are working to take away," said Rep. Cassidy. "During these strategy sessions, I was able to relay the work of our Reproductive Health Working Group and what Illinois is considering to address the devastating impact of the Dobbs decision."

"Our working group and staff continue to work tirelessly to ensure we can protect and expand reproductive health care. We recognize the importance of the task ahead and this meeting at the White House allowed for an opportunity to collaborate with other policymakers and get a better understanding of the national landscape.

"We are at the precipice of what we have set out to accomplish since the Supreme Court overturned Roe and it's imperative we leave no stone unturned. After my visit to the White House, I am even more motivated and energized to make sure that Illinois remains a safe haven for reproductive freedom."

In addition to the panels on Wednesday, Rep. Cassidy will also participate in discussions on Thursday.
* News…
The Illinois Supreme Court announced today the creation of the Supreme Court Committee on Domestic Violence. The Committee is tasked with reviewing and making recommendations on matters affecting domestic violence, human trafficking, and the court system. https://t.co/oKBXOjhhRf

— Illinois Supreme Court (@illinoiscourts) December 8, 2022
* The chair and treasurer of this group is Christopher Cooper, whose listed address is in Chevy Chase, Maryland…
A new PAC formed today called "Chicago Leadership Committee" is supporting Paul Vallas @PaulVallas for mayor of Chicago #twill pic.twitter.com/P8V6Z5A4Yk

— Frank Calabrese (@FrankCalabrese) December 8, 2022
* They've been asking that I post this, so here you go…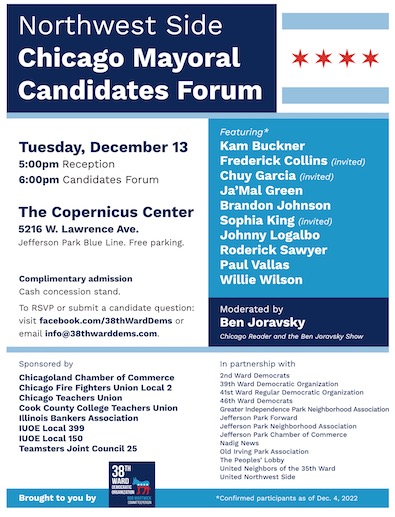 * I occasionally get emails from companies asking me to include links to old stories, but this is the very first time I've received a corporate request to add a link to a post about a federal criminal investigation of a major corporation…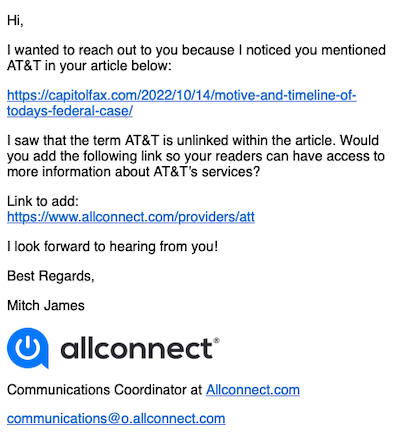 Should I add it?
* Isabel's roundup…
* Patch | U.S. House Passes Respect For Marriage Bill: How Illinois Reps Voted: On Thursday, 39 Republicans joined all Democrats in favor of the bill a week after Republicans also voted on the bill during last week's Senate vote. Illinois Republicans Rodney Davis (Taylorville) was among the Republicans who voted in favor of the bill on Thursday while Darin LaHood (R-Peoria), Mike Bost (R-Murphysboro), and Mary Miller (R-Oakland) voted against the measure.

* Block Club | After The Buses: Meet The Migrants At The Center Of Texas' Manufactured Crisis: Block Club Chicago and Borderless Magazine followed 10 of the thousands of Venezuelan migrants sent to Chicago as part of Texas Gov. Abbott's political stunt this year.

* Sun-Times | Nearly 2,000 granted U.S. citizenship in largest Chicago ceremony ever: 'I consider this my home': When Svjetlana Kiponjic left Bosnia nine years ago, she was looking for a better life. She got a green card, worked a cleaning job, then met the love of her life. They married six years ago and had a child, David, now 2. On Wednesday, she clutched a bouquet of flag-themed balloons minutes before she was granted U.S. citizenship in the largest naturalization ceremony ever held in Chicago.

* WSIL | What is in the proposed bill to ban assault weapons in Illinois?: The proposed legislation, HB 5855 or the "Protect Illinois Communities Act," would not only ban the future sale of assault weapons, but also high capacity-magazines. It would also raise the minimum age to purchase or own a weapon.

* KPVI | Gun bill vote could come sooner; property tax board wants more space; first social equity dispensary opens: State Rep. Bob Morgan expects to get his proposed bill banning future sales of certain types of semi-automatic firearms and magazines passed when lawmakers return for the lame-duck session starting Jan. 4. Morgan told WMAY his goal is to pass the measure, which also restricts anyone younger than 21 from getting a Firearm Owner's Identification Card unless they are enlisted in the military or National Guard, by Jan. 10. Gun rights groups have promised lawsuits if the measure passes.

* Sun-Times | Police don't need unfettered right to surveil First Amendment-protected gatherings with drones: Privacy on the ground is receding more quickly than a drone speeding through the air. The Legislature should step in to protect Illinoisans. Most recently, we're told an effort is underway in Illinois to weaken an almost decade-old law that governs how police may use drones, which are aerial vehicles that can fly without a human pilot aboard. The proposal being pushed by law enforcement would expand the ability of police to use drones in a variety of settings, including mass gatherings that could include protests, rallies and other types of First Amendment-protected activity.

* Crain's | NLRB: Weed shop violated labor law by refusing to bargain with unionized Chicago workers:Curaleaf Holdings Inc. (CSE: CURA) (OTCQX: CURLF) violated labor law by refusing to bargain with unionized workers at its Chicago location, the U.S. National Labor Relations Board ruled Tuesday. A three-member panel said that the company, GHG Management LLC, which oversees Windy City Cannabis and Curaleaf Weed Street, must recognize and bargain with workers within 21 days of receiving the notice from the NLRB, Law360 first reported.

* Daily Herald | Funerals are changing. One McHenry funeral home wants liquor license to adapt to those changes: "With the growing shift to cremation as (the) method of disposition, we have more and more families wanting to have a celebration of life, … a short service not necessarily religious but mainly a gathering with some beer and wine and appetizers," [Robert Justen, owner of Justen Funeral Home] wrote on his liquor license application.

* Block Club | Dying Oak Tree That's Older Than The City Of Chicago To Be Removed From Lincoln Park Zoo: The bur oak tree, one of the city's oldest, has reached the end of its natural life cycle at an estimated 250-300 years old, said Katrina Quint, the zoo's director of horticulture.

* IL Lottery paid $2.2B to winners last fiscal year. Where does the remaining money go?: Illinois Lottery officials say it's a "common misconception" the lottery was created with the intention of fully funding education in the state. That said, 25% of Illinois Lottery proceeds went to fund education and other specialty causes in fiscal year 2022, officials report.

* Sun-Times | School of the Art Institute rescinds Ye's honorary degree: "The School of the Art Institute of Chicago condemns and repudiates Kanye West's (now known as Ye) anti-Black, antisemitic, racist, and dangerous statements, particularly those directed at Black and Jewish communities. Ye's actions do not align with SAIC's mission and values, and we've rescinded his honorary degree," SAIC officials said in a statement.

* Florida Politics | Author of 'Don't Say Gay' Bill Indicted for Money Laundering: The indictment alleges that between Dec. 1, 2020 and March 1, 2021, Harding committed two acts of wire fraud through a scheme to defraud the Small Business Administration (SBA) and by obtaining COVID-19-related small business loans through false and fraudulent pretenses.

* The Conversation | Gen. Ulysses S. Grant's pending promotion sheds new light on his overlooked fight for equal rights after the Civil War: Tucked away in an amendment to the FY2023 U.S. defense authorization bill is a rare instance of congressional bipartisanship and a tribute to U.S. President Ulysses S. Grant. If approved, the measure would posthumously promote Grant to the rank of General of the Armies of the U.S., making him only the third person – along with John J. Pershing and George Washington – to be awarded the nation's highest military honor

* Washington Post | She founded Moms Demand Action for gun reform. 140 of its volunteers won office.:Shannon Watts spent midterm election night glued to her phone, tweeting as Nabeela Syed won in Illinois. And Erin Maye Quade in Minnesota. Then Jennifer Boylan in Rhode Island. In total, up to 140 candidates who were volunteers with the organization she founded, Moms Demand Action for Gun Sense in America, and its newly formed arm, Demand A Seat, were elected to office. In Rhode Island alone, seven of the eight Moms Demand Action volunteers running won. Sixteen won in Illinois. Seats were flipped in previously Republican-held districts.

* NPR | WNBA star Brittney Griner freed from Russian prison: Griner is heading home after being detained since February. Her release was part of a prisoner swap with Russia, President Biden announced Thursday.
16 Comments















































Sorry, comments for this post are now closed.