* House Speaker Chris Welch has filed an amendment to SB2226 containing the assault weapons ban, etc. language. The bill is now on 2nd Reading. Working on getting you a one-pager, but take a look for yourself in the meantime.
[Deleted some excerpts because the one-pager below explains it better than I did on the fly.]
…Adding… As I told subscribers earlier this week, this provision was doomed…
Gun control advocates had hoped to increase the age a person can purchase a gun/obtain a FOID card to 21 (with exceptions for active duty military/National Guard). But this provision made many moderate Dems uneasy. So it's out. #twill https://t.co/MXDG67lUtS

— Brenden Moore (@brendenmoore13) January 5, 2023
…Adding… The House Executive Committee will take up the amendment soon. Click here to watch.
*** UPDATE 1 *** One-pager…
• Assault Weapons Ban (prohibits manufacture, possession, delivery, sales, and purchase)
o Immediately ends the manufacture, sale, and purchase of assault weapons (unless exempted below)
o Allows possession and legal use of existing assault weapons by a person who possessed them before the effective date, so long as the weapon is endorsed with ISP within 300 days of the law taking effect
o Exemptions: The following are not affected by the endorsement affidavit requirement:

• Active-duty and retired peace officers (ISP, sheriff's deputies, municipal police)
• 10 or more years of service
• Retired or separated in good standing
• Local law enforcement acquiring and possessing for the purpose of equipping peace officers
• Wardens, superintendents, and keepers of prisons, penitentiaries, jails, etc.
• U.S. military and Illinois National Guard and Reserve Forces
• Manufacture, transportation, or sale of weapons, attachments, or ammunition to the persons listed above (manufacture, transportation, or sale is only allowed in state in this circumstance, except that existing contracts may be performed)
• Nonresidents transporting a banned weapon through this State within 24 hours if the weapon is broken down and unloaded.
• Possession and travel of a weapon while at an event held at the World Shooting Complex in Sparta. The weapon must be broken down and unloaded during transport
• Blank-firing versions possessed by authorized or permitted individuals

• Large Capacity Magazines Ban (immediately prohibits delivery, sales, purchases)
o Immediately bans devices with a capacity of, or that can be readily restored or converted to accept, more 12 rounds of ammunition; or any combination of parts from which such a device can be assembled
o 90-day grace period for modification, personal destruction, or surrender to law enforcement
o Does not affect the same people/entities as the AWB

Rapid-fire Devices Ban (prohibits manufacture, possession, sale; offers to purchase, import, transfer)
o Immediately bans devices that increase the rate of fire of a semiautomatic firearm

FRO

• Increases the duration of a Firearm Restraining Order ("FRO") from 6 months to up to 1 year, including renewed FROs
• Includes a representative from an association of court circuit clerks to be appointed to the FRO Commission

ISP Firearms Anti-Trafficking Unit: Establishes within the duties and powers of ISP that the Criminal Division shall also investigate illegal firearm trafficking
…Adding… Press release…
Today, mayors and village presidents from across the state are calling on legislators to pass the Protect Illinois Communities Act, as they conclude the current legislative session. In a new letter signed by 27 mayors and village presidents who are encouraging swift passage of common sense legislation that includes bans on assault weapons and high-capacity magazines and other steps to protect residents of their communities.

Mayors are often on the front lines of working with local law enforcement to combat gun violence and coordinating with health care officials in the aftermath of shootings that leave families and communities shattered by their impact.

Among the mayors who signed on to today's letter are:

"We need urgent action to reduce gun violence that tears entire communities apart. It's our obligation as mayors to fight and advocate to pass laws to keep guns out of the wrong hands so no other city experiences the pain that we know all too well. I urge lawmakers to safeguard our communities by voting yes on the Protect Illinois Communities Act," said Matteson Mayor Sheila Y. Chalmers-Currin.

"I am proud to join fellow mayors and leaders across Illinois in urging the General Assembly to pass this critically needed, common-sense, and lifesaving legislation," said Chicago Mayor Lori E. Lightfoot. "The flow of illegal guns is an inherently cross-jurisdictional challenge that requires collaboration and decisive action from both the State and Federal government to alleviate the scourge of senseless gun violence which threatens our communities. The Protect Illinois Communities Act will absolutely make a marked, positive difference when it comes to safeguarding Illinois residents and families."

"Gun violence poses a pervasive threat to each of our communities, and now is the time to step up and take action to prevent more senseless deaths. We need to get weapons of war off of our streets so that each of our cities is a safe place for all. Our legislators must pass the Protect Illinois Communities Act now," said Rockford Mayor Tom McNamara.

"I have long advocated for gun reform and hope to see lawmakers pass the Protect Illinois Communities Act as the next step in making our state safer," said Urbana Mayor Diane Wolfe Marlin. "Assault weapons and high capacity magazines are too deadly to serve any purpose but to injure and kill. Lawmakers must stand up to the NRA and pass this commonsense legislation as soon as possible."
The letter, with signatories, is here.
…Adding… The bill was sent to the House floor on a partisan roll call.
*** UPDATE 2 *** The bill was amended to take out criminal penalties that were inadvertently left in the bill…
Sentence. A person who knowingly delivers, sells purchases, or causes to be delivered, sold, or purchased in violation of this Section a large capacity ammunition feeding device capable of holding more than 12 rounds of ammunition commits a petty offense with a fine of $1,000 for each violation.
The roll call…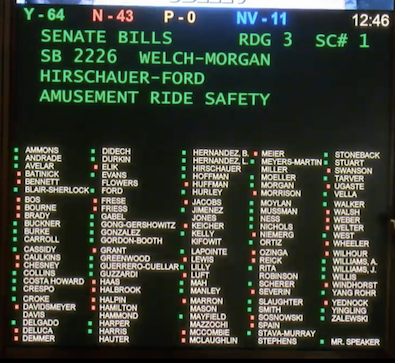 Durkin has been open to these sorts of bills in the past…
Outgoing House GOP Leader Jim Durkin quoted the late conservative Republican US Rep. Henry Hyde, who voted for an assault weapons ban, by saying "Enough is Enough." So, the bill could get at least one Republican vote.

— Capitol Fax (@capitolfax) January 6, 2023
Democratic Reps. Anthony Deluca, Mike Halpin, Larry Walsh and Lance Yednock voted "No."
The governor was present for the debate…
Pritzker sits next to Speaker Welch as he presents his assault weapons ban bill pic.twitter.com/iqEGZJuVw7

— Capitol Fax (@capitolfax) January 6, 2023
27 Comments
















































































Sorry, comments for this post are now closed.