* From a bit earlier today…
The Dobbs Working Group has filed HAM1 to SB3799, the Patient & Provider Protection Act (PAPPA) to protect patients, providers, families & supporters who access reproductive or gender affirming care from criminal & civil penalties from hostile states. https://t.co/CoLSVdLQkQ

— Rep. Kelly Cassidy (@RepKellyCassidy) January 5, 2023
As noted before, the Senate has yet to sign off on this bill.
* Here's your one-pager for HA1 to SB3799…
Reproductive Health & Dobbs Working Group Agenda
Patients and Providers Protection Act
January 5, 2023

Article 1 - Plan B Vending Machines at Colleges: Requires public colleges, community colleges, and universities to each make emergency contraception accessible for purchase in at least one vending machine on each campus at a cost no greater than $40. This is similar to HB 4247 (B. Hernandez) of the 102nd, but adds community colleges back into the bill.

Article 2 - Insurance Coverage For Abortifacients, Gender-affirming health care medications, And PEP/PrEP and Advance Provision: Requires abortifacients (i.e., medications administered to terminate a pregnancy), gender-affirming health care medications, and PEP/PrEP medication (i.e., HIV treatment) to be covered by insurers at no-cost. This applies to health insurance governed by the Accident and Health Insurance Article of the Insurance Code, State Employees Group Insurance Act of 1971, the Counties Code, the Municipal Code, the Health Maintenance Organization Act, the School Code, and the Voluntary Health Services Act. Additionally, this requires abortion care coverage to include medications prescribed for the purpose of producing an abortion without proof of pregnancy. This is effective January 1, 2024.

Article 3 - Birth Center Expansion for Reproductive Health Care: Expands access to reproductive health care by permitting birth centers in Illinois to provide full spectrum reproductive health care and sexual health care, instead of only childbirth-related needs of pregnant persons and their newborns. This is accomplished by stating that nothing in the Act prohibits birth centers from providing sexual health care and reproductive health care in accordance with applicable rules, regulations and licensing requirements.

Article 5 - Hormonal Birth Control Standing Order: Allows patients to receive hormonal birth control over the counter from a pharmacist pursuant to a standing order from the Illinois Department of Public Health (IDPH). Currently, a patient may only receive hormonal birth control from a pharmacist pursuant to a valid prescription or a standing order by a licensed physician or local health department, not IDPH. This also limits an employee of IDPH issuing a standing order from liability for merely issuing the standing order.

Article 6 - Fetal Homicide Laws: Clarifies that no person is subject to civil liability for receiving an abortion under the Wrongful Death Act, clarifies that no hospital personnel shall report an abortion to law enforcement agencies; and clarifies that the statute of limitations under the RHA is 2 years

Article 7 - Parentage Act Amendments: Amends the Parentage Act to:

1. Allow intended parents or parents to dispose of any cryopreserved fertilized ovum to be governed by the intended parent's or parent's most recent informed consent or under a marital settlement agreement;
2. Allow for the establishment of a parent-child relationship in the event of gestational surrogacy in the event that an intended parent dies; and
3. Clarify that a certifying physician in the event of gestational surrogacy may be licensed in the state that the transfer or insemination took place, not just in Illinois.

The statutes collectively referred to as the Illinois Parentage Act of 2015 apply to the establishment of a parent-child relationship in Illinois.

Article 8 - Clarifying that Assisted Reproduction is Protected under the Reproductive Health Ac (RHA) and Permitting Advanced Practice Clinicians To Provide Abortions: Adds "assisted reproduction" to the definition of reproductive health care in the Reproductive Health Act. "Assisted Reproduction" means a method of achieving a pregnancy through the handling of human oocytes, sperm, zygotes, or embryos for the purpose of establishing a pregnancy. Amends the RHA to allow advanced practice registered nurses and physician assistants to perform aspiration abortions that do not require general anesthesia. This language is agreed between ISMS, the Nurses Association and abortion providers.

Article 9 - Disciplinary Protections For Professional Licenses: Prevents the Department of Financial and Professional Regulation (DFPR) from taking disciplinary action against any health care professional licensed under the Division of Professional Regulation Acts governed by DFPR based solely upon the license of the professional being disciplined by any state for providing or participating in any health care that is legal in Illinois, regardless of whether it is legal in the other state. This is an expansion of HB 1464 (Hirschauer) from the 102nd which applied only protected physicians, physician assistants (PAs), nurses, and advanced practice registered nurses. This bill protects, physicians, PAs, clinical psychologists, clinical social workers and social workers, licensed marriage and family therapists, licensed certified professional midwives, registered nurses, advanced practice registered nurses, pharmacists, professional counselors and clinical professional counselors, genetic counselors, and registered surgical assistants and registered surgical technologists. Provides the department with rulemaking authority.

Article 10 - Two-Year Temporary Licenses for Out-of-State Medical Professionals: Allows the Illinois Department of Financial and Professional Regulation to grant out-of-state physicians, physicians assistants, and advanced practice registered nurses a 2-year temporary license to authorize the practice of health care in Illinois under certain circumstances. Also makes a technical change to address the consolidation of the Medical Licensing Board and the Medical Disciplinary Board into one board, the Illinois State Medical Board. The intent behind this provision is to create an expedited process for health care providers to obtain a license in Illinois on a temporary basis. This would help Illinois continue to meet the needs of Illinois residents and out-of-state patients given the increased demand for abortion care services post Dobbs. This is modeled after the IDFPR Proclamation during COVID granting temporary licensure for licensed out-of-state professionals to meet COVID demands in Illinois.

Article 11 - Protections for Patients and Providers ("Shield Laws"): Intends to protect patients, providers, and those assisting patients and providers, from aggressive litigation from states targeting abortion and other lawful health care activity intended to impact lawful health care activity in Illinois. The bill does the following:

1. Protects information about lawful health care activity in Illinois from becoming subject to subpoenas issued from other states;
2. Protects witnesses from being compelled to testify in criminal proceedings in another state in a charge related to lawful health care activity in Illinois;
3. Creates the Lawful Health Care Activity Act to prohibit state courts from applying another state's law in Illinois cases related to lawful health care activity and prohibits courts from enforcing foreign judgments issued in connection with litigation concerning lawful health care activity; and
4. Cabins the Governor's discretion in complying with an extradition order from another state stemming from a charge based on conduct that involves lawful health care activity.

Article 13 - Parental Notice Of Abortion Act Repeal Clean-Up: As of June 2022, the Parental Notice of Abortion Act (PNA) was repealed and minors are no longer required to notify an adult family member in order to access an abortion in Illinois. However, the bill did not strike references to PNA throughout different Illinois laws. This bill would strike references to PNA in all other Illinois laws.
…Adding… I'm told an amendment filed earlier today by Senate President Don Harmon, and which is taking some heat from advocates, was designed to further discussions. A new amendment is pending.
…Adding… When asked about a competing Senate bill, Rep. Cassidy just said in committee that her intention was to run her bill and wouldn't comment or commit to the Senate bill.
…Adding… As expected, the House Exec Committee sent the bill to the floor on a partisan roll call.
*** UPDATE 1 *** OK, let's back up for a second…
Illinois Senate President Don Harmon filed an abortion expansion bill as an amendment to House Bill 4664. It would allow nurses to perform in-clinic abortions in addition to medication abortions, and grant temp licenses to out-of-state providers. https://t.co/28FvSVUld5

— Mark Maxwell (@MarkMaxwellTV) January 5, 2023
Brigid Leahy, the Vice President of Public Policy at Planned Parenthood of Illinois said during a press conference tonight that she didn't see Harmon's bill until about 11 o'clock last night. Leahy continued…
We've had a preliminary conversation with the Senate sponsor [Sen. Celina Villanueva]. There are some differences, and we believe that this [House] bill may be stronger in some areas. We are still looking at the Senate version. I hope that we can come to an agreement so that we can get legislation that, as Rep. Cassidy said, does what the stakeholders needed to do. […]

We did months ago provide some language to staff over in the Senate, but we had not seen the language until it was filed last night. So we are we are kind of still digging through it and figuring out. There are many parts of the bills that are exactly the same. And then there are parts that are different and that's what we're trying to figure out right now.
Leahy also said the House version "actually does accomplish a lot of what we need," but also said proponents "will be coming back with certain issues that were very complex and need some more work."
*** UPDATE 2 *** Large majority…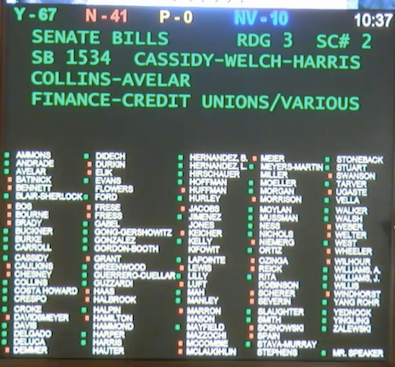 Democratic Reps. Mary Flowers, Thaddeus Jones, Stephanie Kifowit, Joyce Mason and Lamont Robinson all did not vote. Jones, Kifowit and Mason all had excused absences today. Robinson was recorded as absent on another roll call today.
…Adding… The governor went to the floor after the vote…
Here he is hugging Cassidy pic.twitter.com/x9VXrXKrax

— Capitol Fax (@capitolfax) January 6, 2023
Isabel took those pics.
5 Comments














Sorry, comments for this post are now closed.