* Pearson with the scoop…
On Tuesday, when the 102nd General Assembly is scheduled to come to a close, Durkin will retire after 24 years in the legislature — the last nine as House GOP leader, he said. […]

"The politics have changed. The party over the last at least six years has shifted," he said. "The only way you can win in Illinois is that you're going to have to just find the candidates that reflect the district. And we should not hold anyone to the 100% (party) purity test that some people in this party expect throughout the state." […]

Shortly after the Nov. 8 election expanded the Democrats' advantage in the House to a record 78 members compared to 40 Republicans, Durkin announced he would not seek another term as House GOP leader, and his decision to resign his seat had been expected. The Republican leader for the 103rd General Assembly will be state Rep. Tony McCombie of Savanna. Durkin's successor representing the 82nd House district will be selected by local Republican township officials.

Durkin points the blame for the disastrous election results — particularly in the suburbs that were once a cornerstone of Illinois Republicanism — on a statewide GOP ticket led by gubernatorial candidate Darren Bailey, a state senator who leaned heavily on his evangelical Christianity in his campaign and who was endorsed by Trump. A new legislative map drawn by Democrats also was a factor.
…Adding… Durkin's resignation letter…
As the duly-elected and certified Representative-Elect for the 82nd Representative District in the 103rd Illinois General Assembly, I am declining service in the office.

It is with a heavy heart but a lifetime of great memories that I submit my resignation from the House of Representatives at 11:59pm on January 10th, 2023. After 22 years in the General Assembly, 9 as the minority leader, it is time to give this great responsibility to the next generation of public servants.

Serving in this august chamber will be the pinnacle of achievement in my life. To the countless members I have been fortunate enough to work with over the years, thank you for everything. To every employee of the General Assembly, who treat this institution with white gloves and hard work, thank you for being the best. I am eternally thankful to the people of Illinois for entrusting me with their democracy.

I hereby inform you I will not attend the January 11, 2023 convening of the 103rd Illinois General Assembly and I ask that you please accept this letter as a declination to serve notice for my duly-elected position as Representative-Elect for the 82nd Representative District.
…Adding… Updated seniority and demographic numbers from John Amdor…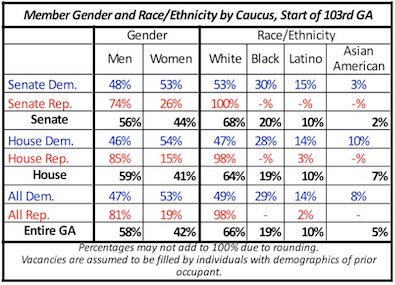 …Adding… Glad to see he's no longer bitter about the election /s…
Well, it took four years, but he finally took my advice!🤗🤗 Now we can get back to restoring Illinois! What a lovely article from the left wing, fake news Tribune…#twill https://t.co/w7WTNLkJXp

— Darren Bailey (@DarrenBaileyIL) January 8, 2023
…Adding… Press release…
The Illinois Freedom Caucus is issuing the following statement on the news current Republican Leader Jim Durkin will be resigning as a state legislator.

"Leader Jim Durkin is offering all kinds of excuses as he leaves the General Assembly, but the truth is under his leadership our caucus is at its lowest point in membership in a very long time. Leader Durkin squandered money in the 2022 Primary to secure legislative candidates in open seats who were loyal to him and who were not necessarily the best fit for the districts in which they ran, and this proved to be a disastrous decision. We are in this mess not because of our principles but because of our leadership' lack of commitment to our principles. Jim Durkin has abandoned Republican principles of lower taxes, reduced spending and standing up for our Constitutional rights. Raising taxes to spend more money we don't have and attacking the Constitutional rights of honest citizens is not a winning message. We need to be united as a party against tax increases and we need to be the party of fiscal responsibility. Jim Durkin's strategy of offering voters a 'Democrat Lite' agenda has been a colossal failure. Our party needs bold leadership if we ever hope to get out of the super minority. Jim Durkin has made it clear he is not willing to provide that bold leadership and is leaving the General Assembly. We wish him good luck on his future endeavors."

The Illinois Freedom Caucus is comprised of State Representatives Adam Niemerg (R-Dieterich); Chris Miller (R-Oakland); Brad Halbrook (R-Shelbyville); Blaine Wilhour (R-Beecher City) and Dan Caulkins (R-Decatur). The members of the Illinois Freedom Caucus are members of the Illinois General Assembly who are advocating for limited government, lower taxes and accountability and integrity in government.
No Comments
Be the first to comment.
Sorry, comments for this post are now closed.