* There is a deal on assault weapons. HB5471.
Senate President Don Harmon said the bill provides for an "immediate ban on manufacture, delivery, sale, import or purchase of assault weapons, assault weapon attachments, 50 caliber rifles and 50 caliber cartridges. It also bans rapid fire devices, those attachments to weapons that can dramatically increase the rate of fire of a semi automatic weapons. Ban the manufacture, delivery sale or purchase or possession of large capacity magazines. For long guns, it's a 10 round magazine. For handguns, it's 15. We do grandfather possession of both the firearms and the magazines for the firearms." On that point, FOID cardholders would submit the make, model and serial number of their weapon. They're also expanding the duration of the firearms restraining order from six months to one year.
More in a bit, but they're debating the bill now.
…Adding… Sen. Darren Bailey just said he and "millions" of others "will not comply" if the bill becomes law. Republican Sen. Neil Anderson claimed that the 2nd Amendment authorized citizens to possess "weapons of war."
…Adding… "'The right of the people to keep and bear arms' is intended to produce a secure state," Senate President Harmon said, quoting the US Constitution in closing. "We do not have a secure state." "We'll see you in court."
…Adding… The bill passed and heads to the House…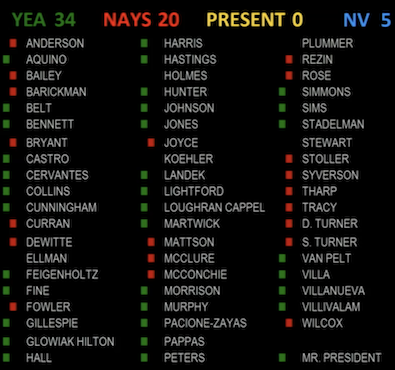 …Adding… Press release…
Gov. JB Pritzker, House Speaker Emanuel "Chris" Welch and Senate President Don Harmon issued a joint statement in support of a sweeping assault weapons ban. The Senate passed the legislation Monday and the House is expected to put final approval on it Tuesday to send to the governor's desk.

Joint statement from the three leaders:

"After continued negotiations between the leaders, stakeholders and advocates, we have reached a deal on one of the strongest assault weapons bans in the country.

"Gun violence is an epidemic that is plaguing every corner of this state and the people of Illinois are demanding substantive action. With this legislation we are delivering on the promises Democrats have made and, together, we are making Illinois' gun laws a model for the nation."

Key components of HB5471 include:

· Immediately ends the sale, delivery and purchase of assault weapons and high-capacity magazines. The legislation includes a comprehensive, detailed and updated list of assault weapons subject to the ban. High capacity magazines are also prohibited.

· Strengthens assault weapons ban by allowing Illinois State Police to update as needed.

· Those already owning guns on the assault weapons list would have to provide information to the Illinois State Police.

· Immediately bans the possession and use of rapid-fire devices that increase the firing rate of semiautomatic weapons.

· Expedites the implementation of universal background checks.

· Does not change the FOID card age.
…Adding… Press release…
Everytown for Gun Safety, Giffords, and Brady released statements applauding Illinois Senate lawmakers for passing the Protect Illinois Communities Act, a critical gun violence prevention legislative package. The bill now returns to the Illinois House for concurrence.

"Today, Illinois lawmakers listened to voters and agreed on a package of common-sense policies to get assault weapons and high-capacity magazines off the streets, help keep guns away from people in crisis, and hold illegal gun traffickers accountable for taking advantage of weak laws in neighboring states," said John Fienblatt, president of Everytown for Gun Safety. " This victory was made possible by Illinois Moms Demand Action volunteers, who were a constant presence in Springfield. Everytown is grateful to Representative Morgan, Speaker Welch, President Harmon, Governor Pritzker, and their colleagues for honoring the victims and survivors of gun violence, from Highland Park to the South Side of Chicago, with lifesaving laws."

"Since July 4th of 2022, thousands of activists across Illinois have been asking their legislative leaders to produce strong, effective gun violence prevention legislation. Today, leaders like Representative Bob Morgan, Speaker Welch, President Harmon, and Governor Pritzker came together to introduce and pass a strong gun safety bill that will get assault weapons off the streets," said Peter Ambler, executive director of Giffords. "Giffords thanks all of those who worked hard to make this day happen, including groups like GPAC and Protect Illinois Communities."

"Brady applauds the passage of this life-saving legislation that will better protect communities across Illinois. Put simply, weapons of war have no place in civilian hands and in our communities at large," said Kris Brown, president of Brady. "This assault weapons ban will add to Illinois' record of strong gun laws and help prevent tragedies like Highland Park and countless others from occurring again. We have the power to prevent these uniquely American tragedies, and a ban on weapons of war and the magazines that further increase their lethality is a critical step towards that future."

This omnibus package was introduced during the Illinois veto session in December. It includes legislation that would prohibit assault weapons and high-capacity magazines, prohibit rapid-fire devices that dramatically increase the rate of fire of semi-automatic firearms, facilitate better implementation and efficacy of Illinois's Firearm Restraining Order (FRO) law, and address illegal gun trafficking in the state. The package introduction came following a year that saw at least 23 mass shootings across the country, including one in Highland Park, where seven people were shot and killed and an additional 48 people were wounded at a July Fourth parade by a shooter using a high capacity assault weapon.

Policy experts and volunteers from Everytown, Moms Demand Action and Students Demand Action, Giffords, and Brady have been at the forefront of advocating for the Protect Illinois Communities Act, attending and testifying at hearings, meeting with legislators, and engaging in public discourse explaining the need for these life-saving measures.

In an average year, 1,505 people die and 2,715 people are wounded by guns in Illinois. Gun violence costs Illinois $18.6 billion each year, of which $625.5 million is paid by taxpayers.
* Press release…
Today, Protect Illinois Communities Chair and President Becky Carroll released the following statement on the Senate's passage of the Protect Illinois Communities Act:

This is a historic day for our state, as the Protect Illinois Communities Act stands to become one of the strongest gun safety bills in the nation. Soon, survivors and their families throughout Illinois can breathe a little easier knowing that this bill will help save lives. From Chicago to East St. Louis to Highland Park, our communities deserve to live free from the devastating trauma of gun violence. Today, we are taking another step toward making that a reality. 

This moment would not be possible without the countless individuals and organizations who have worked tirelessly, not only in recent months, but for years, to move comprehensive gun reform forward here in Illinois. We appreciate the unrelenting dedication of Brady United, Everytown for Gun Safety, Giffords Courage, Gun Violence Prevention PAC, and many others who lent their time, energy, and resources to getting this done.

We applaud the legislature and leadership of both chambers including Speaker Chris Welch and Representative Bob Morgan, the initial bill sponsor of the Protect Illinois Communities Act, and Senate President Don Harmon for their continued collaboration that sets the stage to pass a model assault weapons ban supported by the three leading national gun safety groups.

We also want to thank Governor JB Pritzker for his courageous, vocal leadership and commitment to signing a strong bill. 
* Morgan…
Following is a statement from State Rep. Bob Morgan in response to the Illinois Senate's passage this evening of SB 5471, a sweeping gun reform bill that includes an assault weapons ban, on Monday evening:

"The Senate stepped up and took bold action to save lives in Illinois tonight, and I applaud Senate President Don Harmon and his Democratic caucus for their leadership. Tomorrow, we have the chance to pass this once and for all, and send it to the Governor's desk for signature. I urge my fellow Representatives to vote yes."
47 Comments












































































































































Sorry, comments for this post are now closed.