* Press release…
The Illinois Freedom Caucus today is announcing the addition of their newest member, State Representative Jed Davis (R-Newark) who was elected to the Statehouse in the 2022 election.

Representative Davis is a 5th generation resident of Kendall County. He married his high school sweetheart, Melissa, and together they have four children with one being adopted from foster care. Jed is a firm believer in local government and the freedom of local boards to direct the institutions they represent without overreach from state agencies or officials.

"Jed ran for State Representative because he is concerned about the direction of our state and because he wants to ensure his kids and grandchildren are not saddled with out-of-control debt and are not forced to comply with over-the-top government mandates," said Illinois Freedom Caucus Chairman Chris Miller. "He is a man of integrity and someone who will fight for lower taxes, limited government, and stand up to the corruption that has become so pervasive in Illinois government. We are pleased to welcome Jed to the Freedom Caucus to help us stand up for Illinois families.

Davis said joining the Illinois Freedom Caucus was an easy decision.

"I ran on a platform of family, finances and freedom," Davis said. "These are the values of the Illinois Freedom Caucus. We are fighting every day to improve the lives of Illinois families, to get our state finances in order, to lower the tax burden and preserve our Constitutional rights and freedoms. I did not get elected to get a title. I ran and won my elections to fight for the rights of families and to stand against government overreach. That is what being an Illinois Freedom Caucus member is all about."

The Illinois Freedom Caucus is comprised of State Representatives Adam Niemerg (R-Dieterich); Chris Miller (R-Oakland); Brad Halbrook (R-Shelbyville); Blaine Wilhour (R-Beecher City); Dan Caulkins (R-Decatur); and State Representative Jed Davis (R-Newark). The members of the Illinois Freedom Caucus are members of the Illinois General Assembly who are advocating for limited government, lower taxes and accountability and integrity in government.
Accompanying pic…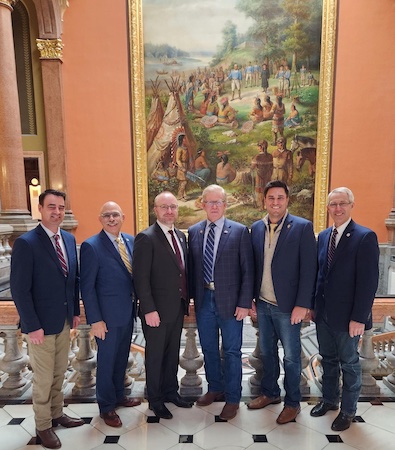 * ILStateHouse.com explains the backdrop…
This depiction of George Rogers Clark negotiating with Native Americans at Fort Kaskaskia in 1778 is the largest painting in the Capitol and is best viewed from the third floor. It was done by Gustav A. Fuchs, a German immigrant from Chicago, and completed in 1886. The painting measures 40 x 20 feet and has been criticized because the Indian culture portrayed was never found in Illinois.
61 Comments






















































































































































































Sorry, comments for this post are now closed.