* The Illinois Supreme Court has set a March 14 hearing for SAFE-T Act oral arguments.
* The Daily Herald on the Florida governor's speech yesterday in the Chicago suburbs…
DeSantis also criticized legislation and policies in other states, including Illinois, that he labeled anti-police, such as a controversial — and legally stalled — plan to eliminate cash bail here.

He blamed crime rates on "politicians putting woke ideology ahead of public safety" and complained about the "woke-ification of law enforcement," lines that got the expected responses from the audience.
Gov. Pritzker was asked about the woke stuff today…
[Gov. DeSantis] tries to use this word 'woke' to describe everything. He doesn't even know what the word means, and he has no definition of it. It's just anything he doesn't like is 'wokeism.' And all I can tell you is that I don't know what that means. And frankly, what I can say about Illinois is that we're a state that cares about equity. We're a state that cares about our families. We're making the investments that are required so that our youngest children will do better and better. And I'm really excited about the direction of our state, as opposed to a state where they don't make the investments that are necessary to lift up their education system, or their healthcare system.
* Gov. DeSantis also attacked Gov. Pritzker's family, aided by Politico…
"During Covid, even though your governor would lock you down, his family was in Florida," DeSantis said, referring to Pritzker family members who retreated to their second home in Florida during the pandemic.
Um, they were in Florida before the stay at home order was issued and then sheltered in place (his kid goes to college there). Did they know what was coming? Probably. Not saying it was the case with them, but I had friends down there who were miserable during the spring. The beaches and pools were closed. The restaurants and taverns were shuttered. And then summer hit and COVID zoomed as people retreated indoors to avoid the Florida heat and humidity. I put off visiting the Sunshine State to the fall, when cases were rising in Springfield as people went back inside and Florida's dropped because people could enjoy the outdoors again.
* Press release…
Governor JB Pritzker today announced he will join the Reproductive Freedom Alliance (RFA), a non-partisan group of state Governors focused on working alongside one another to identify best practices for legislative and executive action to protect reproductive rights. The RFA will work in partnership with The Raben Group to facilitate conversations and share information on successes and risks in the fight for reproductive justice. […]

Twenty states representing over 167 million Americans have signed on to the Alliance. Members of the RFA will share strategies on advancing legislative and executive action to protect reproductive rights. 11 states have full bans on abortion in place, and many more have restrictions to access that can prevent patients receiving care. Illinois is one of the only states in the Midwest to have maintained protection for abortion services since the overturning of Roe v. Wade last year. […]

The states who have signed on to the Alliance include: California, Colorado, Connecticut, Delaware, Hawaii, Illinois, Maine, Maryland, Massachusetts, Michigan, Minnesota, New Jersey, New Mexico, New York, North Carolina, Oregon, Pennsylvania, Rhode Island, Washington, and Wisconsin.
* WCIA…
If you live in a rural area, you may have to travel far to get to a grocery store. But the governor has a plan for that.

One part of the State of the State address Wednesday was Governor J.B. Pritzker proposing the Illinois Grocery Initiative.

The Illinois Grocery Initiative is a plan to invest $20 million in local to fight food deserts to expand food access by opening more grocery stores in underserved communities. The governor also wants at least $2 million to go to buying produce from local farmers.
* IMA…
The initial round of voting is now open in the Illinois Manufacturers' Association's (IMA) fourth annual "Makers Madness" contest, a bracket-style tournament in which the public will decide what product earns the 2023 title of The Coolest Thing Made in Illinois.

Presented by Comcast Business, the competition celebrates the incredible work of manufacturers across Illinois, which have long served as the backbone of our state's economy. A recent study found the total economic impact of manufacturing in Illinois is estimated to be between $580 billion and $611 billion every year – the largest share of any industry to the state's Gross Domestic Product.

Nearly 250 unique products from every corner of the state were nominated for this year's contest, with nominees ranging from agriculture equipment and COVID testing supplies to iconic pantry staples, sweet treats and a variety of vehicles. Voting throughout the contest will take place at www.makersmadnessil.com, where voters can now choose which products will advance to the Top 16. Voting for this round is open now and runs through 11:59 p.m. on March 5, and participants can vote for up to five times per day. Consecutive rounds of voting in head-to-head matchups will take place each week, culminating with an awards ceremony on March 29 when The Coolest Thing Made in Illinois will be named.
* Before the rumors start, I do not live in Orland Park and I am not running for Orland Fire Protection District Trustee…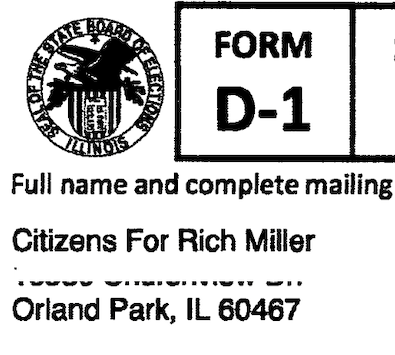 No relation that I'm aware of.
* Paczki day!

Picked up my 5 boxes of paczki from Can at @BridgeportBakery 2.0. He is the embodiment of the American Dream, learning the recipes from the former owner so that the community can continue to enjoy these traditional treats! pic.twitter.com/mKHfwVvPoc

— Theresa Mah (@ChicagoTM) February 21, 2023
* Isabel's roundup…
* Pantagraph | Sen. Duckworth to lead delegation to Indonesia, Japan: While on a congressional trip to South Korea last summer, Sen. Tammy Duckworth was drinking coffee with a vice president at LG Corp when she made an offhand remark that had more impact than she could have known at the time. The remark, about the geology that makes Illinois uniquely positioned for carbon sequestration, ended up being the catalyst for sparking a larger conversation that culminated months later with LG announcing a partnership with Archer Daniels Midland Co. to construct facilities in Decatur that will produce thousands of tons of environmentally-friendly ingredients.

* Our Quad Cities | 'New Illinois' sets meetings to pursue forming new state: "The United States Constitution gives us the right to a representative government in Article IV, Section 4," the release says. "However, in Illinois this is not the case. All power in Illinois government is concentrated in Cook County and Chicago. This leaves the rest of the States' residents with no real representation."

* WQAD | Family of man killed by law enforcement in Toulon says deadly force was not necessary: Rodney Williams' family told News 8 that he had been struggling with mental health for three years after being diagnosed with dementia and Alzheimer's.

* The Guardian | US local news outlets need tax breaks to help save democracy, says advocate: Steven Waldman, co-founder of Report for America, said a new initiative, called Rebuild Local News, wanted to revitalize hundreds of local news outlets across America decimated by changes in the industry, shifts in the sector's advertising revenue structure and more recently, the pandemic.

* Crain's | Chicago's Black restaurant owners develop their own recipes for financial success: Hart is among a growing number of Black entrepreneurs in Chicago's food and hospitality industry, and across the country, who are positioning their businesses for growth. They say it's time to move beyond the kitchen and mostly menial restaurant and food service jobs, a stigma they're working to erase as they seek increased economic mobility.

* Sun-Times | Bally's recruiting dealers for Chicago casino: Classes begin in April. Dealers who complete the course, pass an "audition" and obtain a gaming license will be able to hit the casino floor when it opens this summer at the company's temporary location at the Medinah Temple, 600 N. Wabash Ave. Bally's hopes to open its permanent casino, which still needs to be built on the site of the Chicago Tribune Freedom Center publishing site in River West, in 2026.

* WBEZ | Bridgeport Bakery has prepped thousands of paczki, but they won't last long: This week, Lao anticipates they'll sell 10,000 paczki when it's all said and done — although he admits he hasn't had time to tally up all the orders. It's scaled back from the bakery's heyday, when they'd move north of 25,000 pastries on Paczki Day to devotees lined up for blocks.

* NPR | Instagram and Facebook launch new paid verification service, Meta Verified: The monthly subscription service will start at $11.99 a month on the web or $14.99 a month on iOS or Android. In addition to a verification badge, the service includes more protection against impersonating accounts, increased visibility in areas such as search and recommendations, and more direct access to customer support, according to a news release.

* Daily Herald | DuPage forest preserve board retains legislative lobbyist: The board on Tuesday approved a one-year, $60,000 contract to retain Government Navigation Group as the district's lobbying firm.

* SJ-R | Bob Vose, the 'Korndog King' and northend stalwart, dies at 94: Vose was known for championing those beautification projects. He became the "unofficial caretaker of Monument Avenue," the northern extension of First Street, according to SangamonLink, the online history of the Sangamon County Historical Society. Vose raised money for banners and signs and personally tended to trees and flowers in the parkway leading to Oak Ridge Cemetery.

* The Guardian | In Wisconsin's supreme court race, a super-rich beer family calls the shots: Millions of dollars have been injected into the battle by members of the Uihlein family, a manufacturing dynasty with roots in Milwaukee. The huge sums could help determine the balance of power on the state's top court and in turn influence critical areas of public life – from abortion to voting rights, and potentially even the 2024 presidential election.

* NPR | An activist group is spreading misinformation to stop solar projects in rural America : Citizens for Responsible Solar is part of a growing backlash against renewable energy in rural communities across the United States. The group, which was started in 2019 and appears to use strategies honed by other activists in campaigns against the wind industry, has helped local groups fighting solar projects in at least 10 states including Ohio, Kentucky and Pennsylvania, according to its website.
14 Comments









































Sorry, comments for this post are now closed.