* Tribune…
When the whistle blows at the Belvidere Assembly Plant on Tuesday, it may signal the end of an era.

For nearly six decades, the massive auto plant has been the economic engine of the small river city near Rockford, churning out everything from the Plymouth Fury and the Chrysler New Yorker to the Dodge Dart.

But after several years of downsizing and dwindling demand for its current product, the Jeep Cherokee, Stellantis is idling the plant "indefinitely," laying off the last 1,200 workers and perhaps closing it for good.
Statement from the Pritzker administration…
Illinois is focused on supporting workers impacted by the plant's idling and has been on the ground providing workshops and support services to furloughed workers since receiving notification of the company's plans in December 2022. In partnership with local leaders, community colleges and workforce partners, the State continues to work diligently to ensure impacted workers have the support they need. At the same time, Illinois continues to work closely with Stellantis as the company works to identify opportunities to repurpose the Belvidere facility to adapt to changes in the automotive market. REV Illinois and the closing fund, combined with our top-ranked infrastructure, abundant workforce and investments in statewide training, make Illinois a turn-key choice for any large company in the clean energy sector.
Not looking good.
* Pew…
Nationwide and in 32 states as of the end of the second quarter of 2022, cumulative tax receipts since the pandemic's start, adjusted for inflation, were even higher than they would have been if pre-COVID growth trends had continued—despite fallout from the pandemic and a two-month recession. According to Pew estimates, New Mexico led all states, with 17.1% more cumulative tax revenue than it would have collected under its pre-pandemic growth rate. Idaho was second at 16.7% above the trend. Nationally, combined tax revenue at the end of the second quarter of 2022 was 4% above estimates of what might have been collected had the pandemic not occurred.

However, estimates also show that cumulative tax revenue fell short of its pre-COVID growth trend in slightly more than a third of states since the pandemic's onset. This suggests less extraordinary growth than the recent spate of budget surpluses and the scale and scope of enacted tax cuts might otherwise indicate.
Illinois in orange compared to all 50 states in blue and Ohio in green…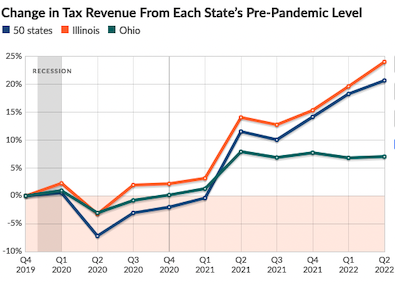 Click here to do your own comparisons.
* Tribune…
The Illinois Supreme Court should reject a "grab-bag of constitutional theories" put forward by prosecutors across the state who are challenging a measure that would eliminate cash bail, the attorney general's office argued in a final appeal brief filed Monday. […]

The brief said the high court has "no persuasive reason" to side with the prosecutors, and argued that their position would "effectively bar the General Assembly from ever reforming pretrial procedures in the State." […]

"The clause by its plain language guarantees rights only to crime victims; it cannot reasonably be read to require a system of monetary bail," the brief said, "and it is easily squared with the pretrial release provisions, which at multiple stages require courts to consider crime victims in making release decisions."
* Crain's…
The practice of considering environmental, social and governance, or ESG, risk has gained mainstream traction over the past two decades — in some quarters, it's almost routine. Is it wise to invest in an oil and gas producer if the market is shifting away from fossil fuels, or in a company that has a record of sexual harassment complaints?

Some Republican officials have decided, however, that they've had it with what they call "woke" investing. A dozen states have enacted bills or issued advisories restricting ESG investing for public pension funds and other public money. Other states are considering similar measures.

Florida's hard-line conservative Gov. Ron DeSantis led a resolution to bar state pension funds from considering ESG factors, and the state pulled about $2 billion in assets managed by investment giant BlackRock, an advocate of socially conscious investing. Texas blacklisted BlackRock and other financial firms it determined divested stocks of fossil fuel companies.

The backlash worries asset owners and managers in Illinois and other blue states. Why would anyone limit the considerations that go into selecting a sound investment strategy, they ask. That could potentially depress the returns of the pension funds or deprive the fund of a superior return because it's unwilling to consider factors that impact long-term viability.
* Injustice Watch…
Illinois' state child welfare agency for years has been illegally blocking undocumented survivors of child abuse from seeking a special visa for crime victims that would allow them to remain in the United States, an Injustice Watch investigation has found.

Since 2019, state law has required the Illinois Department of Children and Family Services and all law enforcement agencies to make a decision within 90 business days on whether undocumented immigrant applicants who have been victims of certain crimes and are applying for a type of permanent visa called a "U visa" are eligible.

That visa program was set up to help law enforcement gain the trust of undocumented immigrants who might otherwise be reluctant to come forward.

But records show that DCFS so far has taken more than four years to establish a process to review the applications, potentially denying hundreds of families a chance at legal immigration status and keeping others from even trying.
Full statement from DCFS…
The safety, health and welfare of our children are the primary concern of DCFS. The Department has received 7 requests for certification since January 1, 2019 and has signed one certification. The Department has designated a point of contact to review U Visa requests and established a specific email address for individuals to submit a certification form request. The Department is committed to further developing this process to assist individuals who may be eligible for a U Visa. The Department will also reevaluate those requests that were previously submitted to determine whether the requests for a certification can be granted.
* Ralph Martire on the proposed state budget…
However, many of the structural fiscal flaws that created years of deficits remain in place. Which means Illinois decision-makers have the rare opportunity to thoughtfully consider reforming the state's fiscal system, with an eye toward building the capacity needed to sustain investments in core services over the long haul, rather than just dig out of the crisis du jour. Bottom line: the Pritzker administration should be commended for its responsible stewardship, but there's still work to do.
…Adding… Illinois Policy Institute sending text messages attacking Brandon Johnson and CTU…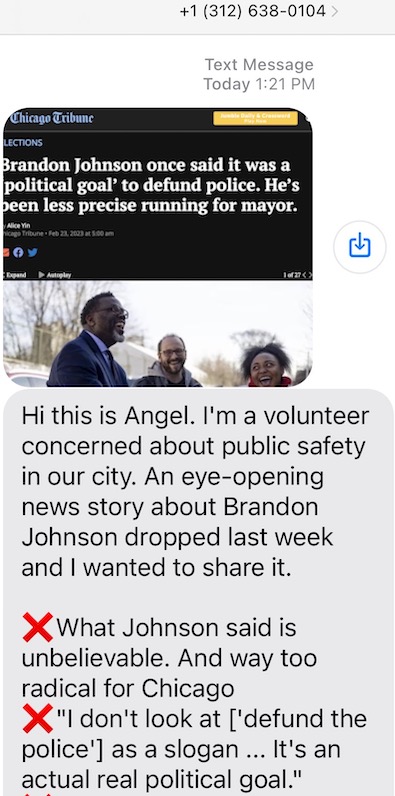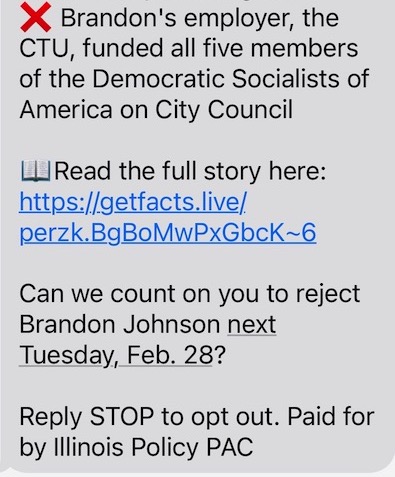 * Isabel's roundup…
* Inside Climate | Illinois Put a Stop to Local Governments' Ability to Kill Solar and Wind Projects. Will Other Midwestern States Follow?: Now, officials from places that had restricted development of renewables projects—like Ford County, located in the rural area between Chicago and Champaign-Urbana—are livid about what they view as a power grab by majority Democrats.

* The Grio | White House to meet with historic five Black speakers of state legislatures: Julie Chavez Rodriguez, director of the White House Office of Intergovernmental Affairs, and Domestic Policy Advisor Susan Rice will welcome Speaker Chris Welch of Illinois, Speaker Rachel Talbot Ross of Maine, Speaker Adrienne Jones of Maryland, Speaker Joe Tate of Michigan and Speaker Carl Heastie of New York.

* NYT | Indian Americans Rapidly Climbing Political Ranks: In retrospect, the watershed appears to have been 2016, just after then-Gov. Bobby Jindal of Louisiana became the first Indian American to run for president. That was also the year Representatives Pramila Jayapal of Washington, Ro Khanna of California and Raja Krishnamoorthi of Illinois were elected, bringing the number of Indian Americans in the House from one — Representative Ami Bera of California, elected in 2012 — to four. It was also the year Kamala Harris became the first Indian American elected to the Senate.

* CNN | 12 blue states sue FDA, saying it's too strict in limiting abortion drugs as legal battle over mifepristone heats up: The suit is a possible hedge by states waiting to see how a federal judge in Texas rules in a lawsuit brought by anti-abortion groups seeking to block the FDA's approval of mifepristone altogether. Conflicting rulings could mean the Supreme Court is asked to sort out the issue.

* Reuters | Dow said it was recycling our shoes. We found them at an Indonesian flea market: U.S. petrochemicals giant Dow Inc and the Singapore government said they were transforming old sneakers into playgrounds and running tracks. Reuters put that promise to the test by planting hidden trackers inside 11 pairs of donated shoes. Most got exported instead.
* Chicago stuff from Isabel…
* Block Club | South Siders Organizing To Help New Migrant Neighbors At School-Turned-Shelter: 'Woodlawn Is A Welcoming Community': The short-notice rollout of the Wadsworth School shelter was met with fierce backlash. But neighbors organizing to help the migrants said "it doesn't have to be an 'us versus them.'"

* Sun-Times | At final rally, Mayor Lori Lightfoot revs up crucial backers: Black women: Lori Lightfoot ran a longshot race in 2019. This time round, the stakes are higher, and her support from Black women is crucial for her re-election to a second term.

* Tribune | Chicago mayor candidates in final push for every last vote: 'Don't stand on the sidelines': Early voting turnouts suggest interest in the race is relatively high, exceeding both the 2019 and 2015 races. Early vote turnout is the highest in wards known for dense populations of city workers: the 19th Ward on the far South Side, the 41st and 38th on the far Northwest, the 13th on the Southwest Side, and the 11th, centered around Bridgeport and Chinatown.

* Politico | The 9-person stage drama in Chicago that won't end on Election Day: "It's possible that somebody gets into the runoff again with less than 20 percent of the vote," Mixon, the Urban Studies Program director at the school, said. "It's not the best way to elect people. The whole idea was to get machine politics out of elections but going to ranked-choice voting would be a better idea. We'd save a ton of money and avoid a runoff."

* Block Club | Older Voters Are Leading The Way In Early Voting For Tuesday's Election: And so far, it's older voters who are rushing to the ballot box. Among various age groups, voters 65-74 years old have had the highest turnout, making up 23.42 percent of voters so far, according to an elections board news release. Chicagoans 55-64 are next, making up 18.94 percent of voters.

* Tribune | Ald. Jeanette Taylor aims to fend off rivals to her 20th Ward seat: Four years ago, community activists Jeanette Taylor, Jennifer Maddox and Andre Smith were among a crowded field of candidates vying for the 20th Ward City Council seat, which was vacant following a string of corruption scandals. Now the three are in a rematch for the position. Only this time, Taylor — who easily topped the first-round vote in 2019 and went on to win the seat — brings the benefits of incumbency but also a record to defend.

* CBS Chicago | Candidates for 1st Ward alderperson talk crime, affordability, transparency: Incumbent Daniel La Spata, Attorney Sam Royko and Community Activist Stephen "Andy" Schneider sat down with CBS2 to discuss their positions on issues such as crime and gentrification. Twice, we had an interview set up with former alderperson Proco "Joe" Moreno but ultimately, he answered our questions via email.

* Block Club | O'Hare Travelers Won't Be Able To Get An Uber Or Lyft From Terminal 5 Starting Monday: Taxi and black car pick-ups will still be available at all terminals, the city said. Lyft riders taking Lux Black and Lux Black XL cars also can still use Terminal 5, Lyft spokesperson Katie Kim said.

* Tribune | Candidates for 19th Ward on the Southwest Side stake out positions on the left, right and the middle: On the right in the 19th Ward race, Fraternal Order of Police-backed former Chicago police Sgt. Mike Cummings is hammering O'Shea, saying he has failed to support cops and take the steps necessary to make area residents and business owners feel safe. And on the left, computer consultant Tim Noonan argues the ward is far more racially, economically and politically diverse than O'Shea and other Southwest Side Democratic machine politicians in charge over the decades have accepted.

* WGN | From Bessie Coleman to the Tuskegee Airmen, African-American aviation history took off in Chicago: A century ago, Americans were fascinated by the new spirit of aviation. And nowhere was this more the case than among the Black community in Chicago. From newspaper reports to aviation schools, many African-Americans saw potential in the freedom of the skies. Unfortunately, the segregation of the times would limit opportunity until WWII created a new chance for Black aviators to prove themselves.
25 Comments










































































Sorry, comments for this post are now closed.