* Center Square…
An attorney for state Rep. Dan Caulkins, R-Decatur, says he's confident a final judgment against Illinois' new gun ban issued by a Macon County judge Friday is statewide pending an expected appeal from the state.

Gov. J.B. Pritzer enacted the ban on certain semi-automatic weapons and magazines over certain capacities on Jan. 10. Two weeks after the ban was in effect, lawsuits were filed in federal- and state-level courts.

Macon County Judge Rodney Forbes ruled the state's gun ban and registry unconstitutional.

"The Court is bound to apply the appellate court's holdings to plaintiffs' identical equal protection claim in this case," Forbes said.
From Attorney General Kwame Raoul's office…
We believe it applies to named plaintiffs only.
* We talked about this very issue in January, but it's not quite fixed yet. If you click your back button to start a brand new search, the search page won't accept the text input and you get kicked to another page…
looks like @Giannoulias fixed the state's LLC/corp lookup website so when you hit the back button on your browser you can return to your list of results instead of having to start a whole new search.

it's a new day in illinois 🙌

— Jake Lewis (@jake____lewis) March 6, 2023
* Click here for the dashboard. Press release…
The Illinois Department of Transportation today announced the launch of a new webpage dedicated to keeping the public informed of the progress delivering Gov. Pritzker's historic, bipartisan Rebuild Illinois capital program. The online dashboard offers up-to-date cumulative data on accomplishments for improving roads and bridges since the 2019 passage of Rebuild Illinois.

"Rebuild Illinois is delivering lasting, positive improvements to transportation and infrastructure throughout our state," said Illinois Transportation Secretary Omer Osman. "Our new dashboard is a simple, effective way to share with you details on this transformational capital program in a convenient, transparent format that's easy to understand."

On the dashboard, the public can find information on number of projects awarded, miles and bridges improved and safety improvements completed, as well as the total amount of investment that has been made possible by Rebuild Illinois. The data can be looked up annually or by each quarter of each fiscal year, showing the impact of Rebuild Illinois on roads and bridges under IDOT's jurisdiction as well as accomplishments on the local system overseen by counties, municipalities and townships.

The page will be updated on a quarterly basis, adding accomplishments as the year progresses.
* My story from last week…
No, Lori Lightfoot did not blame her loss on racism and gender bias
The story included a quick interview with the AP reporter whose work was being badly mischaracterized by some Rupert Murdoch news outlets to make a point that didn't exist.
Today in another publication…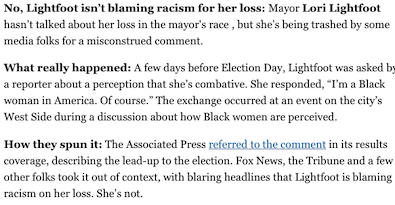 Every time I post something without explicitly mentioning it's from that publication, I receive a chiding email. Yet, that company casually rips me off on the regular. Not cool.
* On to something more fun…
The Illinois State Museum (ISM) will celebrate the opening of its Growing Up X exhibition with a Gen-X Prom on Friday, March 10 from 7 p.m. to 11 p.m. at its flagship facility in Springfield.

The Illinois State Museum invites guests to break out the hairspray and their best '80s or '90s attire. Visit the museum after hours for Gen-X Prom, a reinvented version of this high school rite of passage, including all the traditions: great music, food, keepsake photos, and prizes for best '80s and '90s attire.

"Whether you were prom queen or spent prom night playing Dungeons and Dragons at home, whether you went to prom in 1966, 1986, or 2016, this event is for you!" said ISM Curator of History Erika Holst. "We hope you'll buy tickets and join us for a truly rad night."

Tickets are $40 for ISM members and $50 for non-members and include Gen X-inspired food, non-alcoholic drinks, and sick tunes spun by local DJs. Alcoholic-beverage packages and individual beverage tickets are available for pre-purchase online or at the door.

"Buying a ticket to prom is fun with a purpose – your purchase helps the Illinois State Museum continue to put on awesome exhibits and programs," Holst said.

Gen-X Prom is an Illinois State Museum Society fundraiser. The Society, founded in 1952, is a non-profit that supports the Museum's programs, exhibitions, and research projects.

For more information, visit bit.ly/ISMGenXProm or call 217-782-7388.
* Isabel's afternoon roundup…
* Pantagraph | How Democrats can win more 'Waffle House' districts, from a congresswoman who did: "I think that Democrats, as a whole, we need to start winning more in Waffle House and Cracker Barrel districts," Budzinski told me. "I mean, I'm really honored to get to represent this district, which is very classically Midwestern. It's a big district, but it is connected by a lot of common interests, common challenges and, I think, also opportunities."

* Shaw Local | Illinois senators announce additional $51 million for LIHEAP: U.S. Sens. Dick Durbin and Tammy Duckworth announced an additional $51 million in federal funding through the Low-Income Home Energy Assistance Program to help Illinoisans pay the rising cost of home heating bills.

* Axios | Millions in Illinois hit by end of enhanced SNAP benefits: Extra food assistance benefits put into place during the pandemic ended nationwide last week. The change cut monthly benefits to nearly 2 million Illinoisans — about 16% of the state — who received the aid known as the Supplemental Nutrition Assistance Program (SNAP).

* Tribune Editorial | Carbon capture could be a boon for rural Illinois: In an ideal world, of course, emissions would stop altogether. Realistically, though, fossil fuels will be needed to produce electricity and industrial goods for decades to come. During that inevitably lengthy transition, something needs to be done to reduce their impact on the environment.

* Center Square | How the Average Wage for Interns in Illinois Compares to Other States: According to career search website Zippia, the average hourly wage for interns in Illinois stands at $15.99, the 25th lowest among the 50 states.

* Sun-Times | Near North Side condos aim to put home ownership in easier reach: The Seng, a building completed near North and Clybourn avenues, is being marketed to working families who find other starter homes beyond their budgets.

* WTTW | Childbirth is Deadlier for Black Families at Any Income, Study Finds: The nearly decade-long study from the National Bureau of Economic Research looked at births in California. The study found that babies born to the richest Black women were still more likely to die than babies born to the poorest White women.

* Pantagraph | Livingston County courthouse dispute spans more than a decade : Efforts to make Livingston County Law and Justice Center compliant with the Americans with Disabilities Act and other accessibility statutes span more than a decade. The issues stem from an alleged breach of contract between the county and the firm responsible for the design and construction of the new courthouse, 110 Main St. But after being stuck in litigation for years and hiring new architectural firms and contractors, the county could be weeks away from settling the matter.

* Tribune | Taxes, development among issues in Geneva City Council race in 4th Ward: The race for City Council in the 4th Ward in Geneva in the April 4 election is between incumbent Gabriel Kaven and challenger Martha Paschke.

* WaPo | 'Slavery was wrong' and 5 other things some educators won't teach anymore: A study published by the Rand Corp. in January found that nearly one-quarter of a nationally representative sample of 8,000 English, math and science teachers reported revising their instructional materials to limit or eliminate discussions of race and gender. Educators most commonly blamed parents and families for the shift, according to the Rand study.

* Sun-Times | A Winnetka man spent decades trying to prove he owned a Renaissance masterpiece. Does AI back his claim?: Tony Ayers died last year, but his friends now say they have proof the artwork is a rare gem worth tens of millions of dollars — thanks to artificial intelligence.

* CBS Chicago | Celebrating Pulaski Day in Illinois: The Polish Museum of America is holding a virtual ceremony at 10 a.m. with guest speakers, live performances and a wreath-laying.

* NYT | The MAGA-fication of North Idaho College: G.O.P. activists set out to root out the "deep state" at home. An Idaho community college may never be the same.

* Sun-Times | White Sox working on 'togetherness' in 2023, Tim Anderson says: "For sure, we have to find that togetherness and this spring has been good," Anderson said. "Being as one. We weren't as one last year, and it showed in the way we played. We looked good on paper but didn't look good on the field."
18 Comments





















































Sorry, comments for this post are now closed.