* With this parody account, imitation is not a form of flattery…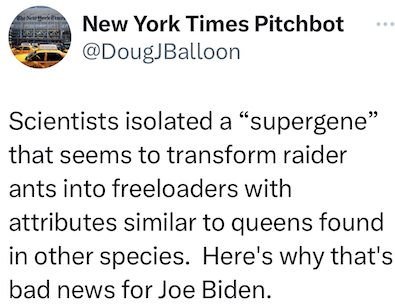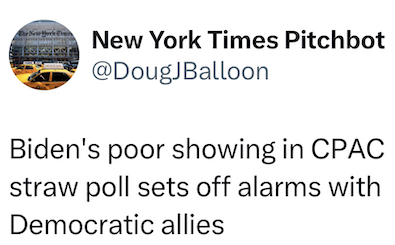 * Which brings us to this NY Times piece…
Gov. J.B. Pritzker of Illinois sat comfortably in an office board room high above the Loop on Monday and halfheartedly batted away the notion that he was preparing a run for the White House.

The billionaire heir to the Hyatt Hotels fortune may be seen by some Democrats as the "in case of emergency break glass" candidate, one of the few prominent politicians who could stand up a White House run at a moment's notice. Although President Biden has said he intends to mount a campaign, that has not eased Democrats' obvious worry: the famously dilatory Hamlet on the Potomac might decide not to run for re-election at 81, and worry could turn to panic.

But while Mr. Pritzker declined to provide a yea or nay on whether he would run, he added that a last-minute swap of an understudy for Mr. Biden was "such an odd hypothetical if you ask me."
They're really working overtime to keep that thread alive. The "in case of emergency break glass" candidate? Who came up with that pitch?
* But this bit could've been written by the pitchbot author…
Late last month in the Lexington Elementary School gym in Maywood, a Chicago suburb, Mr. Pritzker unveiled his youth mental health initiative, then waited, sitting on a foldout metal chair, as each health policy expert, school official, state representative and state senator took their turn at the lectern. His security detail and black S.U.V. were at the ready behind the school, but he listened for over an hour with a wry smile on his face.

Patience, of course, is a virtue in politics, but don't try to tell Mr. Pritzker there was a metaphor in his ability to wait out other Democrats.
Wry…
1. using or expressing dry, especially mocking, humor.
"a wry smile"
I watched that press conference. I didn't come away with "wry" at all, but maybe some saw it otherwise.
Anyway, as far as anyone can tell, he's gonna be one of several presidential surrogates. That's pretty much it.
* As for Biden…
"He's notoriously slow on campaign decisions," said Andrew Feldman, a Democratic strategist who interned on Biden's 2008 presidential campaign and worked as part of an advance staffer team during his vice presidency. "None of this should be a surprise."
…Adding… From his Face the Nation appearance…
MARGARET BRENNAN: I have a lot to get to with you. But I want to get something out of the way. New York Times has a big feature on you calling you the Democrats' SOS candidate, saying you're keeping your options open for a presidential run in 2024. In case Biden doesn't run, is that true?

GOV. PRITZKER: No, I'm supporting Joe Biden. He's running for reelection, and he's going to get re-elected. I'm just, you know, happy that people think of me in that way. That's certainly very flattering, but I intend to serve out my term as Governor of Illinois. […]

MARGARET BRENNAN: So do you think he needs to make it official and say he's running so that there isn't more speculation or people considering other options?

GOV. PRITZKER: I don't think there's anybody that's serious, that's actually considering running against Joe Biden, because he's done such a great job.
28 Comments



















































































Sorry, comments for this post are now closed.