* Gov. Pritzker was asked again today about the Chicago mayor's race and whether he'd met with the two candidates…
I have. I've met with each of them. And I've told them that my intention is to work with whoever wins this race. And so I've looked forward to hearing even more. I know we've got a few weeks left in this campaign, but you know, it's important that the governor work with the mayor, whoever that is. And so I'm gonna watch. And, of course, I'm a voter, I live in Chicago, I'll have to make that decision when the time comes.
He was then asked if the candidates had asked him for his endorsement…
They have, and I've told them, as I've told all of you, I think it's important for me to stay clear of endorsing, mainly because I want to make sure that we're able to work together, whoever it is that wins.
* Pritzker made those comments at a bill-signing event…
Governor JB Pritzker today signed SB208 into law, making Illinois the third state in the nation, and the first in the Midwest, to mandate paid time off to be used for any reason. The historic legislation provides employees with up to 40 hours of paid leave during a 12-month period, meaning approximately 1.5 million workers will begin earning paid time off starting in 2024.

"Working families face so many challenges, and it's been my mission to alleviate those burdens in every way I can. Today, we will become the third state in the nation to require paid time off, and the first among the largest states," said Governor JB Pritzker. "Employers benefit from allowing employees to tend to the urgent personal matters of their lives. Workers' productivity increases, and they often gain greater passion for their job when they can manage the stresses they face outside work. I'm exceptionally proud that labor and business came together to recognize the value of this requirement to employees and employers alike." […]

Under existing law, workers are not guaranteed pay when taking time off for sick leave, childcare, mental health reasons, medical appointments, vacation, or any other reason. Starting on March 31st, 2024, or 90 days following commencement of employment, workers can begin using their earned time off for any reason without the requirement of providing documentation to their employer under the Paid Leave for Workers Act.

This new law applies to every employee working for an employer in Illinois, including domestic workers, but does exclude independent contractors. The City of Chicago and Cook County have an existing paid sick leave ordinance in place; employees and employers in those two geographic regions will be subject to those ordinances. The law will also exempt employees covered by a collective bargaining agreement in the construction industry and parcel delivery industry.

The legislation provides that paid leave shall accrue at the rate of one hour for every 40 hours worked. Employees will be paid their full wage while on leave and tipped workers will be paid the minimum wage in their respective locale. An employer cannot require an employee to find their replacement for the leave.
* A state Representative tells me she's received 500+ emails today opposed to ranked choice voting, with these three minor variations. None of the senders live in her district…
Ranked choice voting turns winners into losers – Do not support it!
Dear Representative xxxx,
I am an Illinois voter and would like your help in fighting against ranked choice voting in our state. This unnecessary, partisan process turns winners into losers and complicates voting. Please don't let this happen in Illinois and vote against ranked choice voting.

No Ranked Choice Voting in Illinois
As an Illinois voter, I compel you to not let outside influences corrupt the voting process in our state with ranked-choice voting. Ranked choice voting disenfranchises voters and is not needed in Illinois. Please don't let ranked choice voting become a reality here.

Protect my right to vote and vote NO on HB 2807 & HB 2716
Dear Representative xxxx,
I cherish my sacred right to vote, and I do not want the process in Illinois complicated by ranked-choice voting. This is an unnecessary practice that serves to confuse voters and makes it difficult to count votes. As an Illinois voter, I ask you to vote against Ranked-Choice Voting.
* A Decatur manufacturing shutdown has had a huge national impact…
An ongoing shortage of a medicine commonly used to treat people with breathing problems is expected to get worse after a major supplier to U.S. hospitals shut down last week.

Liquid albuterol has been in short supply since last summer, according to the American Society of Health-System Pharmacists. It has been on the U.S. Food and Drug Administration's shortages list since October. The news of the plant shutdown worries some doctors who work with patients with breathing problems such as asthma. […]

The manufacturer that recently shut down, Akorn Operating Company LLC, had filed for Chapter 11 bankruptcy in May 2020.

It was the only company to make certain albuterol products used for continuous nebulizer treatment. It's a staple in children's hospitals, but had been out of stock since last fall. Without that particular form of the product, hospitals have had to scramble to find alternatives.
* Center Square…
Federal prosecutors plan to call 70 witnesses to prove that four former ComEd employees and lobbyists doled out jobs, contracts and payments to illegally influence one of Illinois' most powerful politicians.
* Something to keep in mind…
A reminder to everyone, Signature Bank Chicago is not affiliated at all to the now closed Signature Bank New York.

Again, Signature Bank Chicago is completely separate and unaffiliated to Signature Bank New York, and Signature Chicago customers should see no change in service. https://t.co/j5m16F4Yb1

— Chasse Rehwinkel (@chasserehwinkel) March 13, 2023
* How it started, how it's going…
When Mac came to Springfield in 2018 as a Senate Floor Page ➡️ Now, Mac is my District Office Intern!

It looks like we've both got a new hairdo! 💁‍♂️ 💁‍♀️ #NewHairWhoDis #38thSenateDistrict #fiveyearslater pic.twitter.com/uT9bjKmk6Z

— Sue Rezin (@SenatorRezin) March 13, 2023
…Adding… I actually am related to this Miller. He's my brother and also Isabel's father…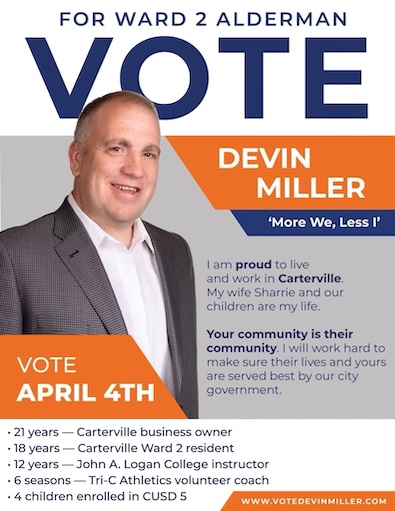 (Not an endorsement, just an acknowledgement.)
* Isabel's afternoon roundup…
* Daily Herald | Pritzker donation raises concerns of partisan influence on school board races: Pritzker's campaign committee, which has been nearly entirely self-funded by the billionaire governor, made a $500,000 donation to the state Democratic organization Feb. 27, Illinois State Elections Board records show.

* Shaw Local | Rally defends diversity in Oswego SD308: 'Our community will not be bullied, threatened or bought': "Awake Illinois and the candidates they support are trying to destroy public schools and libraries by taking over the boards and imposing their far right agenda," Donnelly said. "These groups traffic in fear and bigotry and seek to gain power by spreading moral panic and lies."

* Joe Cahill |Pritzker's power plan gets a reality check: Pritzker, for his part, shows no interest in adjusting the schedule for closing carbon-emitting plants. His spokeswoman dismisses the possibility of power shortages, saying "we'll be able to meet the power needs in Illinois," provided PJM and MISO "accelerate the interconnection of all the renewable power" that developers have proposed in their regions. She adds that CEJA is just one of many factors contributing to PJM's concerns about power capacity throughout its service area.

* KFVS | City of Carbondale, several other southern Illinois entities to receive energy transition grant: Carbondale is set to receive $80,707 from the program to address the economic and social impacts of fossil fuel plant or coal mine closures or significant reductions.

* Treasurer Michael Frerichs | China aggressiveness is opening up opportunities for Illinois businesses: We ought to support our key ally Japan and make the most of this moment to bring jobs back to Illinois. We can continue to build relationships with a strong trading partner, one that has significant influence in an area of the world that increasingly is threatened by Chinese destabilization.

* Arne Duncan and Tim Daly | Illinois can hold rogue actors in gun industry accountable under Consumer Fraud Act: Rogue gun manufacturers and dealers who negligently or recklessly sell firearms in Illinois must be held accountable to more effectively reduce gun violence in our communities. To do so, policymakers need to clarify the Illinois Consumer Fraud and Deceptive Business Practices Act, or Consumer Fraud Act, to ensure that the gun industry is held to the same basic principles of civil justice as everyone else.

* Tribune | Labor unions are split on Chicago mayor candidates as powerful IUOE Local 150 backs Paul Vallas: The International Union of Operating Engineers Local 150 initially threw its support behind U.S. Rep. Jesús "Chuy" García late last year but is now pivoting to support Vallas after García's candidacy sputtered to a fourth-place finish in the first round of voting Feb. 28.

* Daily Herald | Lake County Board might endorse using Route 53 right of way as greenway: The resolution up for action Tuesday largely is symbolic but would make official the county's endorsement of having the right of way stretching from Lake-Cook Road north to Grayslake and points west preserved as a greenway.

* Crain's | Rivian negotiating end to exclusivity deal with Amazon: report: Electric vehicle maker Rivian and tech giant Amazon are reportedly negotiating to alter their current partnership to allow Rivian to sell its electric vans to others and end its exclusive deal with Amazon. According to The Wall Street Journal, Rivian's request follows Amazon's decision to buy around 10,000 vans in 2023, which falls at the lower end of the agreement established in 2019 for 100,000 vans purchased by 2030.

* Patch | LTHS Admits Open Meetings Violations: In a letter to the attorney general Wednesday, the school's lawyer said officials failed to cite the legal exception for the board to close its doors. This happened a half dozen times for closed meetings from April to November last year. The topic was the plan to sell the school's land in Willow Springs.

* Reuters | Caterpillar union workers vote in favor of six-year labor agreement: The contract covers roughly 7,000 union workers at plants in central Illinois and a parts distribution center in York, Pennsylvania. In a notice seen by Reuters, 71.5% of union members voted to accept the tentative agreement. The union did not disclose how many workers voted.

* Forbes | What Happened To Signature Bank? The Latest Bank Failure Marks Third Largest In History: State regulators in New York shuttered Signature Bank—a 23-year-old regional bank that had previously focused on digital assets by becoming one of a few banks to accept crypto deposits—after regulators warned the stability of the financial system could be threatened if the bank remained open.

* SJ-R | Grandview municipal building to be named for former Illinois Supreme Court justice: Former Illinois Supreme Court Justice Robert Carter remembered as a kid growing up in the 2300 block of East Grandview riding his bike over, with his brother, Randy, and neighborhood friend, Dennis Dyson, several blocks to a baseball diamond where neighborhood kids would gather.

* Tribune | Taste of Chicago, Jazz Fest and 2023 summer season announced: Summer festival season has been announced. The big news: Taste of Chicago will have three preview events in Chicago neighborhoods over the summer, then take place in Grant Park Sept. 8-10. Also in the lineup, Chicago Blues Festival in Millennium Park in June, Chicago Air and Water Show Aug. 19-20 and Chicago Jazz Festival at the end of summer.

* WGN | Chicago man files class action suit against Buffalo Wild Wings, says boneless wings are just nuggets: The complaint seeks to challenge what it calls "the false and deceptive marketing and advertising of Buffalo Wild Wings' Boneless Wings," and goes on to say, "Specifically, the name and description of the Products (i.e., as "Boneless Wings") leads reasonable consumers to believe the Products are actually chicken wings."
22 Comments

































































Sorry, comments for this post are now closed.