* This is from Paul Vallas' speech at a March 14, 2021 campaign rally for some suburban school district candidates demanding that schools be reopened. It's the rally where he says Awake Illinois' Shannon Adcock should run for governor. We ran the Facebook video through Otter and then cleaned it up the best we could, but please pardon all transcription errors. Anyway, if you thought Mayor Lightfoot could be bluntly confrontational, check this out..
First of all, it's such an honor to have been invited to this event and to see this great turn out so give yourselves a round of applause. After listening to Shannon Adcock's speech, I think she should run for governor.

The only way your children stop becoming hostages is if you have a voice on the school board. The April 6th election is critical. You got to get representatives. Even if you don't get control of a board, if you have a voice on that board, they can force it or have transparency. They can force that board to answer questions. And it's important that you all support yourself and close ranks around social media because they will attack you and they will demagogue you.

This is not about bashing teachers. There have been four teachers in my household. There have been six first responders, there have been six veterans. This is not about attacking teachers. They want you to think about attacking teachers. This is about attacking the union leaders.

On the other hand if you're a teacher, and you are silent, then you are complicit by your silence.

At the end of the day, if you are silent then you're part of the problem. […]

The only way we free the hostages is by getting people elected to the school board, or we advocate for kids. It's as simple as that. That's where the rubber meets the road. Close ranks get individuals elected because this will happen again. We know this.

When you can literally say, we don't want to test this year. When you literally can say, no more accountability. When you can literally short the school day or short even the remote structure. Actually, the unions forced them to go full remote and then complained that a four-hour remote learning day was too long and they needed another hour off. If you do that, and get away and still get paid and still keep bonuses, and still get your pay increases, and still get vacations days, and still get your time off, what's to prevent you from doing it again?

This is not only about reopening the schools or fully reopening the schools. But this is about making sure that this never happens again.

The city council should not be sitting idle while those things are going on in the schools. 75% of your property taxes are going to schools. What are the council people doing? What are the local mayors doing?

So, repeat after me, Never again! [Crowd chants] Never again! Never again! Never again!

Bring back your schools! God bless.
Darren Bailey also spoke at the event.
* Vallas rolled out more endorsements early this morning…
Probably not a huge surprise to most, but Chicago Fire Fighters Union Local 2 has endorsed Paul Vallas pic.twitter.com/l0CREd84wN

— Capitol Fax (@capitolfax) March 16, 2023
And… pic.twitter.com/FxwXBceNtU

— Capitol Fax (@capitolfax) March 16, 2023
* But one of Vallas' previous endorsers, Ja'mal Green, was unaware of Vallas' comments on race…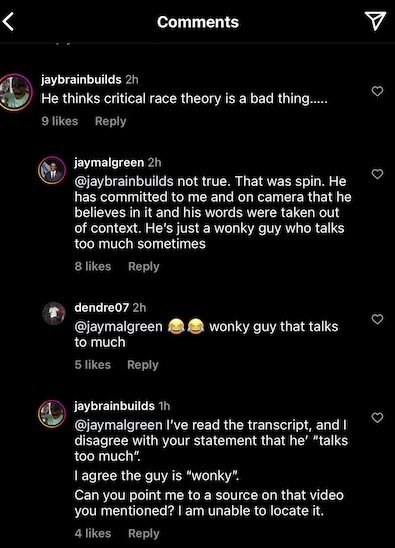 Wirepoints: Yeah, Paul, I often wonder if you're a Black kid, why wouldn't you become a criminal if you're hearing this stuff in school? It's everybody with white skin is an oppressor, if you have black skin, you're the oppressed. That makes it pretty easy to justify pretty bad conduct in my opinion.

Vallas: You're absolutely right. But what you're also doing, you know, you're giving people an excuse for bad behavior.
* Meanwhile…
Bernie Sanders endorses Brandon Johnson for Mayor. This is likely to give some energy to Johnson's campaign — but also encompasses a big part of what is already his base.

— Gregory Pratt (@royalpratt) March 16, 2023
* We've known this was happening for a while…
Rep. Jim Clyburn (S.C.), the assistant House Democratic leader, announced Thursday that he is endorsing Brandon Johnson for mayor of Chicago.

Clyburn's blessing is a major coup for Johnson, a Black and progressive Cook County commissioner, running against Paul Vallas, a white centrist and former CEO of Chicago Public Schools. Specifically, the nod from Clyburn, a staunch moderate with a national profile, stands to help Johnson consolidate the support of Black voters, including those older Black voters who might otherwise be skeptical of Johnson's left-wing views on policing and taxation.
As we've already discussed, Johnson sharply criticized Clyburn over Clyburn's opposition to defunding the police.
* Isabel's Chicago roundup…
* Crain's | More endorsements and big cash roll in to mayoral runoff: Among the contributions reported by Johnson's campaign Wednesday is $25,000 from SNC Consulting & Management. On the other side of the race, Vallas' campaign reported a big collection of contributions on Wednesday, totaling over $270,000. That includes $100,000 from Brian Miller, co-founder and managing partner of health care-focused private-equity firm Linden Capital Partners. Miller previously donated $50,000 to the Vallas campaign in February ahead of the first round of voting.

* Sun-Times | City Council OKs more video surveillance — and more automated tickets: A new batch of cameras will be mounted on CTA buses and other public transit vehicles. Drivers caught impeding traffic flow in bus and bike lanes and loading zones will be fined automatically after one warning.

* ABC Chicago | 25th Ward alderman Byron Sigcho-Lopez's press conference crashed by defeated opponent: A supporter of Aida Flores pulled the microphone away and handed it over to Flores, who then made unfounded claims of voter suppression. Election results show that Sigcho-Lopez defeated Flores with 53% of the vote. Immigrant rights activist Elvira Arellano tried to shout down Flores, eventually grabbing the microphone back.

* WBEZ | The new board of Chicago's main union for cops has 27 elected members, but just one African American: Since 2014, Black officers have run for the Fraternal Order of Police board 28 times but have failed to win except for once, WBEZ has found.

* Sun-Times | Chicago-area expressway shootings increasingly caused by road rage, state police say: In 2022, road rage was reported in about 40% of the 140 Chicago-area expressway shootings handled by Illinois State Police. That is up from 12% in 2021, ISP says.

* WGN | Chicago's top cop checks out early: WGN Investigates has learned Chicago's top cop checked-out earlier than his announced exit, originally scheduled for Thursday. Sources say Brown cleaned-out his corner office and is leaving town without the usual pomp and circumstance usually afforded a police leader. He declined all interview requests.

* WTTW | What Will Policing, Public Safety Look Like Under Chicago's Next Mayor?: "The bottom line is — I've talked about it over and over again in columns, etc. — is to restore proactive policing and proactive policing that is consistent with the consent decree, and I've said that over and over and over again," Vallas said. It's a sentiment that one former officer agrees with. Peter Koconis is a retired police sergeant who served as a special assistant to Chicago police Superintendent Jody Weiss. "When I came out and I worked on the tactical team, we were proactive," Koconis said. "Now, when I had a tactical team and a gang team in my last assignment, we were more reactive, and I think that hurts you in a way."

* Fox News | As crime ravages Chicago, pastor puts faith in pro-police candidate to turn it around: "Paul Vallas will be better for the city of Chicago," Pastor Corey Brooks told Fox News. "We need someone who's going to focus not just on the crime on the South Side and West Side, but also someone who can build back the relationships with businesses on the Magnificent Mile and on State Street."

* Block Club | City Council Accepts $20 Million From State To Support Migrants After Fierce Pushback From South Side Leaders: The $20 million appropriation from the state of Illinois will be used to help migrants who have been bused to Chicago mostly from Texas. Council members voted 32-15 to accept the funding. Ald. Gil Villegas (36th) was out of the chamber during the vote but later said he supports accepting the money.

* Fox Chicago | Tensions flare at Chicago City Council meeting over Lightfoot's handling of migrant crisis: "The administration dropped the ball with telling folks where these camps will be. And so now that they're closing, we're getting more people in the community. So the one in Maria Hadden's community closed, and those migrants were sent to of course Wadsworth which is a closed school. So with all due respect, there should have been a conversation with us. As a matter of fact, this was a conversation I asked for back in October and I'm confused how we're here again trying to pass something without having a conversation," said 20th Ward Alderwoman Jeannette Taylor.

* WGN | Little Village discount mall vendors plan caravan to avoid eviction: The 25th alderman plans to lead a group of vendors to Novak Construction, demanding a new agreement is made to avoid them from being evicted from the discount mall. Sources told WGN there will be 70 vehicles apart of the caravan and it will include street vendors as well as those who rent from the discount mall in Little Village.

* WGN | Is decision day finally near for third Chicago airport?: "You never say never," Will County Executive Jennifer Bertino-Tarrant told WGN Investigates. "I think the numbers and the interest should play a role. We don't want to start along this road and realize there's no need for it."

* Sun-Times | Northwestern begins transplant trial for stage 4 lung cancer patients who have run out of traditional treatment options: The trial is called DREAM, for double lung replacement and multidisciplinary care, and is aimed at some of the most "hopeless patients," the hospital says.
53 Comments






























































































































































Sorry, comments for this post are now closed.