* IZQ Strategies was one of the few pollsters which predicted a Vallas/Johnson runoff…
NEW: IZQ Strategies Poll of the Chicago Mayoral Runoff Election

March 15 - 16, 2023
n = 680
MOE +/- 4

Brandon Johnson - 46%
Paul Vallas - 44%
Not sure - 10%https://t.co/OwJnlLQQV6 pic.twitter.com/0WhEEYUq43

— IZQ Strategies (@izqstrategies) March 16, 2023
* From the toplines, Johnson's favorable/unfavorable rating is 51-40, while Vallas' is 47-47. Gov. Pritzker's is 64-35, Chuy Garcia's is 34-55 (see below), Bernie Sanders' is 56-36.
Among institutions, the Chicago Teachers Union's favorable/unfavorable rating is 48-46, while the Chicago Fraternal Order of Police's rating is 38-50 and the Chicago Police Department's is 57-40.
* On to the crosstabs…
[7] In the April 4th runoff election for mayor of Chicago, which candidate will you vote for?

Likely Latino voters are by far the smallest subset, so you have to be careful about assuming too much. But still. Whew.
* With that in mind, while Chuy Garcia is endorsing Johnson, he did himself no favors in the first round, particularly with Latinos…
-30 among Latinos? Whew.
* Check out the governor's numbers with Vallas voters…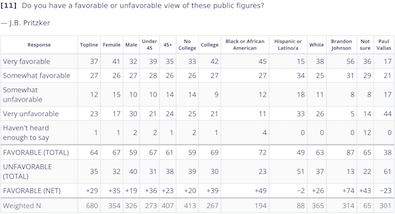 They don't like him much.
* And this is why it's so politically dangerous to call for defunding the police…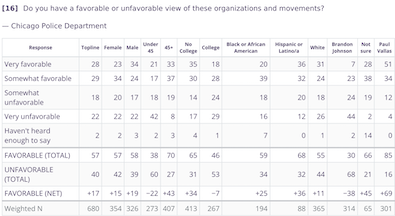 * With that last set of crosstabs in mind…
With leaders from various community organizations asking the questions, Johnson and Vallas first weighed in on the issue of public safety.

"What we're going to do is train and promote 200 more detectives because we're not solving crime in the city of Chicago, especially in Black and brown, poor communities," Johnson said.

"New York has 6,000 detectives. That's not smart policing. Smart policing is filling the vacancies and pushing the police officers down to the local beats, so they can respond within minutes of a 911 call," said Vallas.

Johnson said Chicago would become safer with more investments in affordable housing, paid for in part by raising the real estate transfer tax on million dollar homes.
* Sun-Times…
Johnson is not saying it anymore. But, he still won't commit to fully funding the Chicago Police Department's $1.94 billion budget. In fact, he's vowed to cut the CPD budget by at least $150 million, in part, by reducing the number of supervisors.

"My opponent wants to defund the police. He doesn't want to fill the 1,100 vacancies. He does not want to bring back retired officers or invite other officers who have left to return without any loss of seniority," Vallas said. […]

Vallas also took aim at the cornerstone of Johnson's anti-violence strategy: $800 million in tax increases to help bankroll $1 billion worth of "investments in people."

"You're not gonna promote businesses by re-imposing the head tax, which taxes small businesses. That is not a tax-the-rich tax. You're not gonna help businesses in general by increasing the hotel-motel tax by 66% which, of course, is part of my opponent's $800 million tax plan. Hotels and motels are already paying the highest taxes in the country and they have barely survived, if they've come close to recovering from COVID," Vallas said.

Johnson said $1 billion in social service investments is "what it takes for a better, stronger city." He argued that his tax plan is based on a "fundamental Democratic principle."
* Tribune…
"What has failed us is the politics of old," Johnson said. "My opponent talks about school closures. Well, he set up the market for schools to be closed. He got so good at it, he went around the country doing it."

Johnson then argued there is a link between violence and neighborhoods that faced school closures or privatization. To that, Vallas said his opponent is the one who should be to blame for any classroom shutdowns.

"The only one up here who has closed schools is my opponent," Vallas said, before touting new schools built and rising CPS enrollment when he led the school district. "… Have you ever been to New Orleans? Have you ever seen New Orleans after Katrina? Eighty percent of the schools were destroyed." […]

Johnson retorted that there was a "100-year pandemic" and said: "I have been to New Orleans. And I'm going to take a vacation there once I become mayor of the city of Chicago. … People from New Orleans actually came here to Chicago today, Paul, to talk about your failures," a reference to a news conference Johnson held earlier Thursday with parents from school districts Vallas previously led.
* Another trade union weighs in for Vallas…
The Chicago Laborers' District Council is endorsing Paul Vallas for Mayor and declaring that he is the candidate best equipped to create more jobs and economic opportunities for Chicagoans. Representing a diverse group of over 20,000 men and women across 15 Affiliated Local Unions in the construction, municipal, and industrial sectors, the Chicago Laborers' District Council joins other major unions like Plumbers Local 130, Operating Engineers Local 150, IBEW Local 134 and IBEW Local 9.

"Paul prioritizes infrastructure and shares our view that the city must encourage development and invest in projects that will create jobs and opportunities to build a bigger, better and safer future for all Chicagoans," said Chicago Laborers' District Council Business Manager James P. Connolly. "On behalf of our membership, we are proud to support Paul Vallas because he will be a Mayor for all Chicagoans who will fight for the middle class."
* Isabel's roundup…
* Crain's | Jesus 'Chuy' Garcia endorses Brandon Johnson: The Johnson campaign has teased an announcement for Friday morning at La Villita Community Church in the Little Village neighborhood, well-known as Garcia's home base. The City Council's Little Village rep, Ald. Mike Rodriguez, 22nd, will also be in attendance.

* Block Club | Tempers Flare As Supporters Of Mayoral Candidates Clash Over Paul Vallas' Education Record: Outside the Johnson news conference, Vallas supporters — which included several other former Philadelphia schools executives — called out Johnson out for his lack of experience and said the former social studies teacher is a "progressive pawn" for county board President Toni Preckwinkle.

* CBS Chicago | Brandon Johnson, Paul Vallas go after each other for public safety, fiscal proposals at mayoral forum: Johnson called for hiring 200 more detectives, a greater effort to implement the federal consent decree mandating reforms in the Chicago Police Department, and ensuring the enforcement of laws now on the books such as red flag laws regarding gun possession. He also called for a long-term approach to addressing the root causes of crime – including youth employment and job creation. Vallas called for a return to "community-based policing," rather than 911 calls that are answered in three hours instead of three minutes due to the lack of beat cars. He went on to accuse Johnson of "wanting to defund the police" as he claimed Johnson does not support his proposals for filling 1,100 vacancies in the CPD and bringing back retired officers and officers who have left the department.

* Sun-Times | From handshakes to hand grenades: Vallas lobs his own verbal bombs in lively debate with Johnson: During their first televised debate last week, Brandon Johnson was the undisputed aggressor. That night, Paul Vallas played it safe by trying to remain above the fray. On Thursday, it was a dramatically different Vallas who showed up to debate his runoff opponent at ABC7 Chicago.

* Crain's | Johnson insists he won't defund the Chicago Police Department at debate: Johnson has tried to walk a tightrope on the issue during the campaign, carefully avoiding using the phrase while saying he would become the "investor in chief" who invests in social policies that he says would lead to a "safer, stronger Chicago."

* Chalkbeat | Vallas supporters disrupt Johnson event focused on Vallas' schools leadership: A press conference denouncing Chicago mayoral candidate Paul Vallas' record running public schools devolved into a shouting match as his supporters interrupted an event for his opponent at Rainbow PUSH Coalition Thursday morning in Kenwood.

* Block Club | 45th Ward Runoff Comes Down To Ald. Jim Gardiner, Attorney Megan Mathias: Results made official this week showed Gardiner received 7,683 votes, or 48 percent of the vote, leading to the runoff. Mathias was his closest challenger with 2,699 votes, or 16.8 percent of the vote.

* Sun-Times | A tale of two cities, told in Chicago's mayoral election: When Harold Washington ran to become the first Black mayor in 1983, his white opponent Bernie Epton urged voters to elect him before "it's too late," a tacit racial plea. Washington battled hostile white City Council members and won reelection in 1987, besting more white candidates. Back then, the sheer audacity of a Black man as mayor rocked the city. So much so that columnist Mike Royko famously wrote, "Uncle Chester: Don't worry, Harold Washington doesn't want to marry your sister."

* Block Club | 6 South And West Side Alderpeople Endorse Paul Vallas, Banking On Him To Cut Crime And Boost Policing: Some alderpeople said neighbors are afraid to leave their homes because of crime. Vallas' pledge to boost policing with "zero tolerance for misconduct" is the best solution for the city, they said.
60 Comments



















































































































































































Sorry, comments for this post are now closed.