* Good news…
The Illinois Community College System has recorded its largest year-over-year enrollment growth in nearly 15 years. Opening Spring 2023 enrollment increased by 7.2 percent from the previous spring according to the Illinois Community College Board's (ICCB) Spring 2023 Enrollment Report.

"This upward enrollment trend is encouraging and continues to signal a shift towards pre-pandemic levels. This data furthers our confidence that efforts to expand learning opportunities and increase access to a community college education are working," said ICCB Executive Director Brian Durham.

The 2023 Spring Enrollment Report shows the first Spring-to-Spring semester increase in the last five years. It's also the second largest enrollment increase in nearly 15 years (7.8 percent increase between Spring 2009-2010), and the second consecutive semester of growth for the nation's third-largest community college system.

Significant findings from the Spring 2023 Illinois Community College Opening Enrollment Report include:

• Thirty-nine community colleges experienced an enrollment increase from Spring 2022 to Spring 2023.

• Instructional areas primarily dependent on in-person instruction had two of the largest enrollment increases: Career and Technical Education (+9.6 percent) and Vocational Skill Training (+10.1 percent).

• Enrollment for transfer programs, which is the largest instructional area in the Illinois Community College System, increased 6.4 percent from the previous year, while General Studies Certificate programs increased by 9.1 percent during the same timeframe.

• Adult Education, which encompasses a substantial at-risk population, increased enrollment by 29.0 percent from Spring 2022 to Spring 2023.

• Enrollment for Dual Credit courses, which allows academically prepared high school students to simultaneously earn credits that count toward a high school diploma and a college degree, increased 10.4 percent in Spring 2023 compared to Spring 2022 and increased 23.9 percent from 2021.

The full report is accessible online at http://www2.iccb.org/data/studies-reports/student-reports.
* Big crowd today. A friend was near the Statehouse and said the marchers walked by for eight minutes…
Thousands gathered in Springfield today to protest some of the nation's strongest abortion laws in Illinois. @BishopPaprocki said the end of Roe only means it's time to increase anti-abortion efforts pic.twitter.com/U6qL3Yd5yO

— Ben Szalinski (@BenSzalinski) March 21, 2023
* Press release…
Today Governor JB Pritzker announced that Bria Scudder will serve as Deputy Governor for Public Safety, Infrastructure, Environment, and Energy. Scudder previously worked in the Governor's Office as First Assistant to Christian Mitchell, the former Deputy Governor who stepped down from his role earlier this month. She will begin her role on April 10.

"Bria Scudder has already shown her dedication to public service and the people of Illinois through her hard work earlier in my administration, and I'm thrilled to welcome her back to continue that work as Deputy Governor," said Governor JB Pritzker. "Her portfolio includes some of the most important issues currently facing our state, and I'm looking forward to working with her to continue making Illinois stronger."

Currently, Scudder serves as Director of State Government Affairs for the Midwest region at AbbVie, where she manages state and local related issues in twelve states. She previously served as First Assistant Deputy Governor in Governor JB Pritzker's administration. In her role in the governor's office, she helped manage more than ten state agencies, and implemented the administration's top policy initiatives. During the COVID-19 pandemic, Scudder spearheaded response efforts, including securing medical supplies for front-line workers, and planning the transition to work from home for over 50 state agencies and boards.

"I'd like to thank Gov. Pritzker for his leadership and trusting me with such an important role." Scudder said. "I'm looking forward to serving the people of Illinois and making strides towards safer communities, maintaining a world-class transportation system, and meeting our clean energy goals."

Prior to serving in the governor's office, Scudder was the Senior Government and Community Liaison at the Illinois Attorney General's Office. There, she developed strategies to advance the office's legislative agenda and worked with communities on critical issues. She has also worked as a staff member for the Illinois House of Representatives and managed several state Statehouse campaigns. She is a graduate of the University of Missouri- Columbia.
* A case of mistaken identity as the Jacksonville Journal-Courier reprints a Tribune story…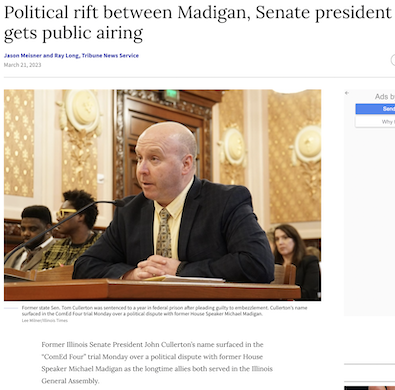 Right headline. Initially identifies the correct former Senator in the cutline, but fails to realize that a different Cullerton was the subject of testimony, as the story plainly shows.
Stuff happens.
* Press release…
Senate Republican members of the Senate Executive Appointments Committee, State Senators Jason Plummer (R-Edwardsville) and Steve McClure (R-Springfield), issued the following statement regarding the recent appointment of Donald Shelton as the Chair of the Prisoner Review Board, replacing Edith Crigler:

"We are optimistic about the recent change in Chairmanship of the Prisoner Review Board and hope this is one of many positive changes to come to this controversial body. We are hopeful this new appointment signals a new day for the PRB, where transparency, victim notification and input, and community safety are once again made top priorities.

"Over the last several years, Governor Pritzker has transformed the Prisoner Review Board to fit his weak-on-crime agenda and has allowed several of his appointees to go unvetted and unconfirmed for multiple years. Fortunately, through persistent pressure by Senate Republicans, changes have started to take place following the bipartisan movement in the Senate to deny several controversial Pritzker appointees.

"While there is still a long way to go to reform this vital agency, we are encouraged by the recent change and will continue to advocate for a Prisoner Review Board that is just, transparent, puts the victims and their families first, and above all, protects Illinois families and communities."
* Isabel's roundup…
* SJ-R | Paprocki leads Illinois March for Life rally; abortion access groups have counter protest: Thousands of anti-abortion and abortion access advocates descended upon Springfield Tuesday, marking the first Illinois March for Life in the post-Roe era. Out-of-state demand for Illinois reproductive health services skyrocketed following the U.S. Supreme Court's Dobbs decision last year as states such as Indiana and Wisconsin enacted bans or restricted access.

* Tribune | State Rep. Bob Rita testifies in 'ComEd Four' case about Michael Madigan's fingerprints on 2016 utility legislation passage: Testifying as a prosecution witness, Rita said he had no background in utilities and hadn't served on any public utility committees when a ComEd lobbyist asked the veteran Blue Island lawmaker to sponsor legislation that would help save the jobs and the nuclear facilities run by the company's parent, Exelon.

* Center Square | Lawmaker says speaker called shots on $1.8 billion ComEd legislation: State Rep. Bob Rita, D-Blue Island, was the sponsor of the Future Energy Jobs Act, a wide-ranging and controversial energy bill that state lawmakers passed in December 2016. Rita told jurors that when he was presented with an amendment to that legislation that he previously didn't know about, Michael McClain, a close-confidant of Madigan, pulled him out of a committee hearing to direct him to proceed with the amendment.

* Crain's | States' rainy-day funds surge in promising sign for finances: Balances in rainy-day funds hit all-time highs in 37 states by the end of the 2022 fiscal year. That's the biggest tally in over two decades and marks an improvement over last year's record, according to an analysis by The Pew Charitable Trusts.

* Sun-Times | Illinois lags in study of states' value to taxpayers: WalletHub puts Illinois 36th among the 50 states in overall return on taxpayers' investment, a ranking weighed down by its relatively high burden for property and sales taxes.

* Herald & Review | Decatur allows ADM to store CO2 under city-owned land: The Decatur City Council voted unanimously Monday to grant city manager Scot Wrighton broad authority to execute an agreement with ADM in what amounts to an expansion of the food processing giant's industry-leading carbon sequestration program. The city will receive $450 per acre of land in which ADM injects and stores carbon.

* Tribune | Niles is hoping an elected ethics board will nip Illinois-style corruption. But critics say it may not have enough teeth.: "Elections by themselves create their own politics," said Chris Goodman, a professor of public administration at Northern Illinois University, noting the irony of electing the board members. "You have to do the job of politicking to get elected."

* Daily Herald | A summary of endorsements in local elections: Expanded early in-person voting begins Monday for candidates for community college, school board and municipal offices in the April 4 election. Here are the Daily Herald's endorsements in selected suburban contests.

* Crain's | Economic Club names Sean Connolly as next board chair: Connolly, 57, will take over in July. He succeeds Foot Locker CEO Mary Dillon, whose two-year term as chair ends June 30. Connolly's appointment was announced to members this evening at an event that featured Chef José Andrés, founder of World Central Kitchen, which serves meals to communities impacted by conflict and natural disasters.

* NBC Chicago: On March 10, IDPH Director Dr. Sameer Vohra warned that cases of group A strep throat leading to severe complications were on the rise in Illinois, "with more cases reported in 2023 than in any of the past five years."

* AP | US home sales surged in February as mortgage rates dipped: Still, sales sank 22.6% last month from February last year, a sign many would-be homebuyers remain priced out of the market following years of price increases and sharply higher mortgage rates than a year ago.

* STLPD | New Illinois congresswoman opens Metro East office: U.S. Rep. Nikki Budzinski, D-13th District, now has opened a regional office in downtown Belleville, as well as ones in Champaign, Decatur and Springfield.

* NBC Chicago | Here's Everything You Need to Know About the 2023 Illinois State Fair: To top it all off, Grammy-winning country music star Maren Morris and 1960's rock group REO Speedwagon will headline the Illinois Lottery Grandstand on Aug. 19. Tickets for the event have not yet been announced, but they will be priced in tiers beginning at $50.

* WSIL | SIU hosts surround sound listening event for Pink Floyd album: Warner Music Group has produced a Dolby Atmos surround sound version of the album and the community in Carbondale is invited to experience the recording.
10 Comments





























Sorry, comments for this post are now closed.